Welcome to the Conservatories FAQ & Resources Section
Let us answer all your questions around designing and building your dream conservatory
How Do Conservatories Work?
In this section we look at all your questions around how conservatories work, from how conservatories can get hot in the summer and cold in the winter, to how secure they are. With over 30 years' experience at manufacturing our own conservatories, we have all the knowledge to answer your conservatory questions.
If you still have any additional questions after you've had a read, or would like more information, speak to a member of our team today.
Will a solid roof make it easier to regulate the temperature of my conservatory?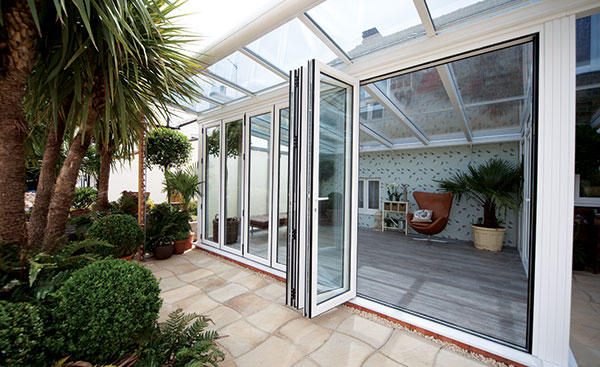 Because the roof is solid, less heat will escape from your room. However, like any conservatory, the balance between insulation and ventilation is key to maximising the usability of your new or renovated extension.
What is Solaroof?
A Solaroof is a conservatory roof upgrade that helps regulate the temperature of the room and protect your furniture from fading.
Our revolutionary Solaroof blocks up to 98% of UV rays that are responsible for fading any soft furnishings in the room.
As well as protecting your belongings, it helps block a lot of the heat from the sun beating down on the roof. It rejects up to 75% of the sun's energy resulting in a conservatory that is a more comfortable temperature, even during the summer.
The Solaroof's final benefit is its 80% reduction of glare from the sun, meaning you don't have to wear sunglasses in your conservatory on a sunny day.
Visit our conservatory page to see all of our conservatory styles available with the Solaroof.
What is Solarguard?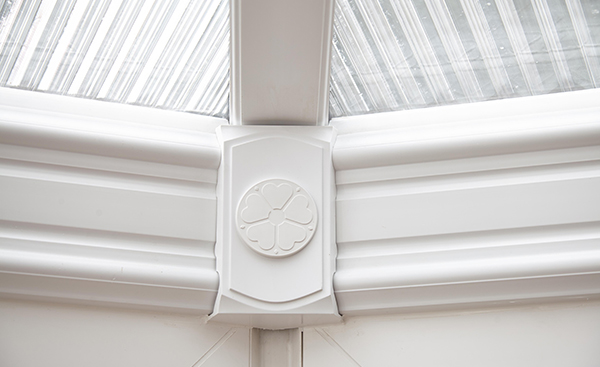 Solarguard is the polycarbonate version of Solaroof working fantastically to prevent your conservatory being too hot and bright in the summer.
It is a 25mm thick, 4 wall multi chambered polycarbonate roof panel that let's just 8% of the sun's heat through it, whilst preventing heat from escaping – it has a U value of 1.7kwh per square metre per year.
Are Conservatories Covered By FENSA?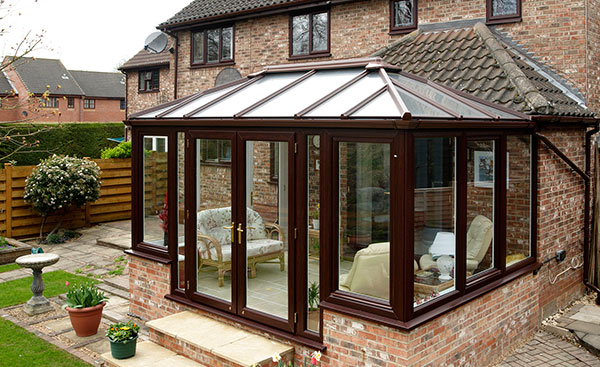 Anglian Home Improvements are a FENSA registered company, although FENSA certificates are only required for those conservatories that need to comply with building regulations. FENSA (Fenestration Self-Assessment) was set up by the Glass and Glazing Federation, with Anglian Home Improvements being the founding members, in a bid to keep up standards of insulation to prevent excesses of heat loss and adhere to energy efficiency targets.
Are Conservatories Covered By Buildings Insurance?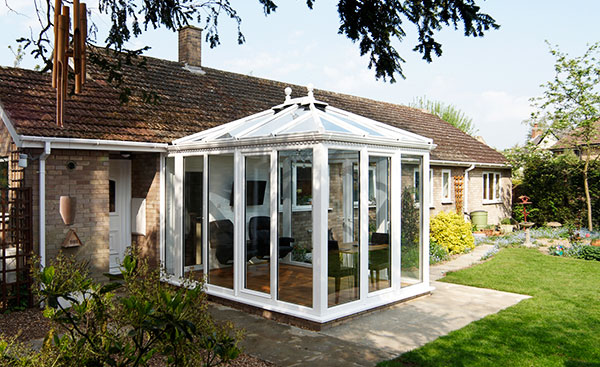 In the majority of cases, once your conservatory is erected and part of your house structure it will be covered by your building insurance. However, it is always worth checking with your insurance providers.
What Are U Values And How Are They Calculated?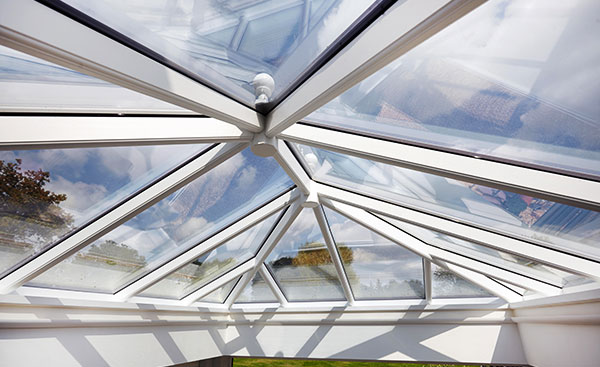 U-value is the Thermal Transmittance (heat loss) through the glass, measured in Kilowatt hours, per square metre per year. Our recommendation is to find a window where this number is as low as possible so you save the most amount of energy possible.

The number tends to be lower in triple glazing compared to double glazing windows as the extra pane of glass prevents the transfer of heat.

G-value is the Solar Factor. This is simply the amount of energy gained through your windows from the Sun. The higher the figure shown on your Window Energy Rating label, the better, as your home is harnessing more energy, meaning you're saving more money by not turning your heating on.

The G-value is measured in Kilowatt hours per metre per year, like the U-value. A+ rated windows tend to have a higher rating than triple glazed windows as the third pane of glass prevents as much heat passing through.

The L-value measures the air leakage through the window and once again is measured in Kilowatt hours per metre per year. For casement windows, this should be a 0 thanks to how good technology is nowadays.

The U, G and L value combine to give you a window Energy Index. All of these amalgamated together equates to a Window Energy Rating.
Are Conservatories Cheaper Than Extensions?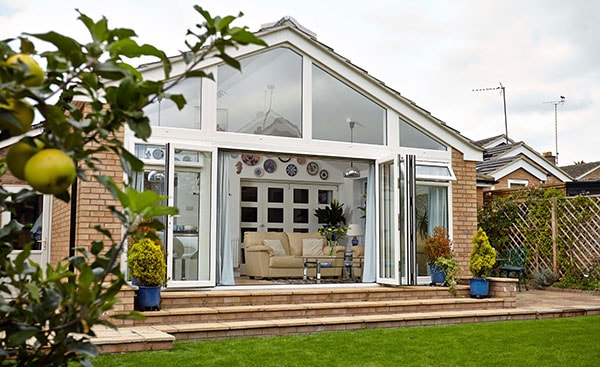 Extensions tend to be the more expensive of the two options as lots more goes into their design and build. Although extensions are traditionally seen as more energy efficient, advances in design mean that conservatories can be kept at a comfortable temperature all year round without breaking your energy budget.

There's also the added advantage that conservatories don't usually require Building Regulations (or Building Warrants) and, if you want to control the amount of light or create a more 'room-like' feel, you can opt for one of our solid roof designs - or we can add a solid roof to your existing conservatory.
Do I Need A Conservatory, Orangery Or An Extension?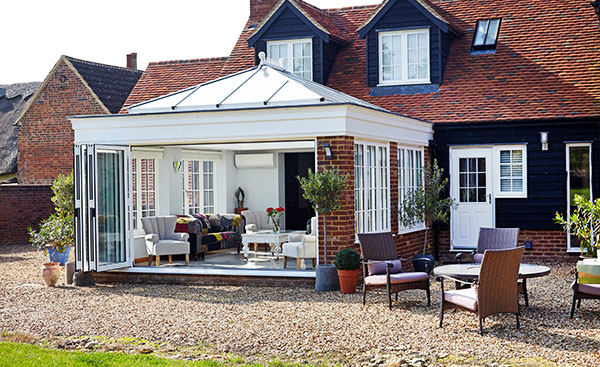 This depends on how you intend to use your new room, your budget and the space you have available. Whether you're looking for a living area, dining room or to extend your kitchen will determine whether you choose a conservatory, orangery or an extension.

A conservatory traditionally has glass walls and a polycarbonate or glass roof, trapping heat in to make a perfect space for relaxation. An orangery will see the introduction of brick piers or similar with a lantern-style roof rising up from a parapet wall or ornate fascia while, with an Extension, you can opt for a modern new solid-roofed design, controlling the amount of light entering the room without restricting the views outside.

Orangeries and extensions tend to be the more expensive options but, as all Anglian conservatories are bespoke, they can be built to almost as many different specifications. Advances in design and the option of a solid roof (with or without glazing) mean that conservatories are almost as energy-efficient as orangeries and extensions and are suitable to relax in comfortably all year round.
What Are Conservatory Roofs Made Of?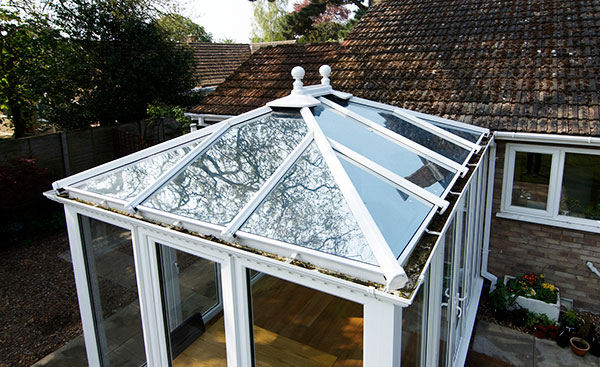 In contrast to old-fashioned polycarbonate roofs, which were not very efficient and tended to amplify the sound of rainfall, modern conservatory roofs are constructed from a combination of wood or uPVC and specially-designed, energy-efficient glass.

Anglian has developed the Solaroof, which has a slight tint to reduce the fading of soft furnishings, lessens the sun's glare and helps to keep the space stay cooler in summer, which means you can enjoy your conservatory all year round.

We also offer the option of choosing a solid roof conservatory, which gives you the extra light and all-round views of a traditional conservatory while enabling you to control the amount of sunlight entering the space from above. The lightweight slate-effect tiles need no additional structural elements and you can add roof windows or contemporary glazing, which are Solaroof compatible.
Are Conservatories Cold In The Winter?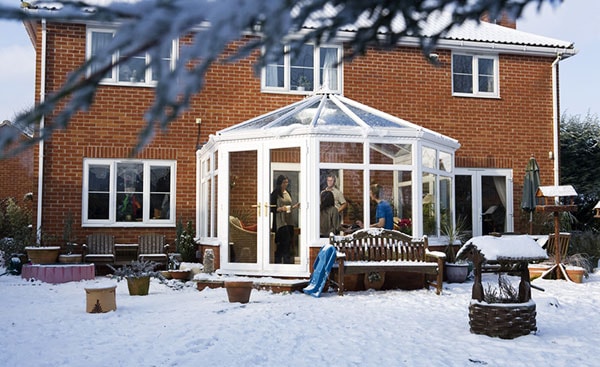 While the glass in conservatories is great for making the most of the bright sunshine, measures have to be taken in the winter months to stop the room becoming too cold. Fortunately, it's possible to enjoy your conservatory when it's cold outside either by installing underfloor heating, which is both economical and efficient, or radiators, and by using blinds to prevent heat escaping through the windows.

We use special argon-filled sealed units in our windows, which are considerably more efficient than standard air-filled windows, so you can heat your conservatory in the winter without using too much energy. This means your conservatory temperature is better regulated, so there's less need for heating, saving you money.

Alternatively, our solid-roofed conservatories give you a cosier feel in the colder months and offer an extra level of insulation from the chill.
Are Conservatories Secure?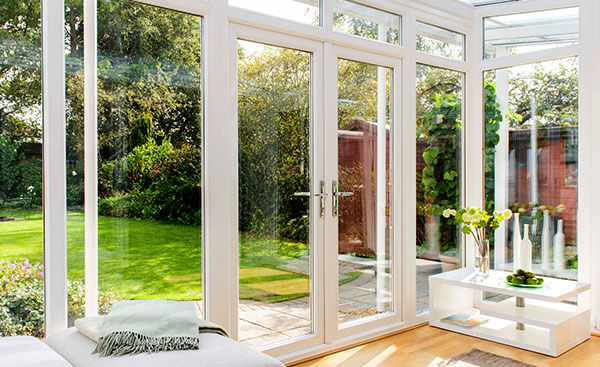 A well designed, quality-installed conservatory should be as secure as any access point in your house. It is possible to increase the security of a conservatory by installing toughened glass, internal beading, advanced locking mechanisms and force-resistant hinges. Building regulations state you should have an internal barrier between your conservatory and the main part of your house, so you can make sure these doors are secure too.

Conservatory window and door security should be treated the same as that of your front door. There are plenty of security locks to choose from for your conservatory doors including those that have:

Anti-bump, anti-pick, anti-drill, anti-plug extraction, anti-snap Yale 3-star cylinder locks
Multi-point locking system
Slimline hinges with a robust construction, capable of resisting prolonged attacks
Steel hook bolts that bed into stainless steel keeper plates deep into the frame
Aluminium back plate on the handle that resists levering or tampering
10 year guarantee on uPVC products
Are Conservatories Habitable Rooms?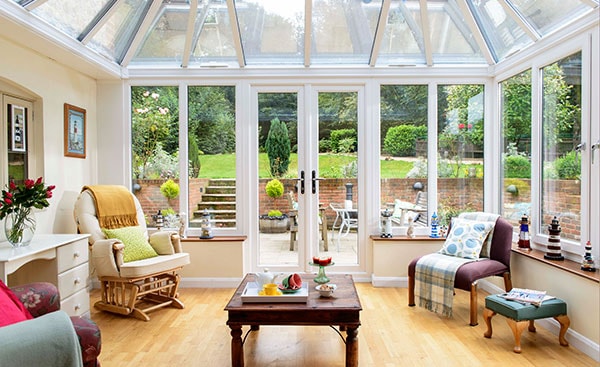 Conservatories heat up naturally in the summer, so need adequate ventilation and cooling systems, and can be warmed by electric radiators or underfloor heating in the winter. With the option of installing a solid roof instead of a traditional glass design, modern conservatories can be used as kitchen extensions, lounges, snugs, playrooms or studies.

Practical considerations do need to be made, however, such as the number of electrical sockets available, the noise of rain on a glass roof and the energy needed to keep the temperature comfortable.
Are Conservatories Too Hot, Especially In The Summer?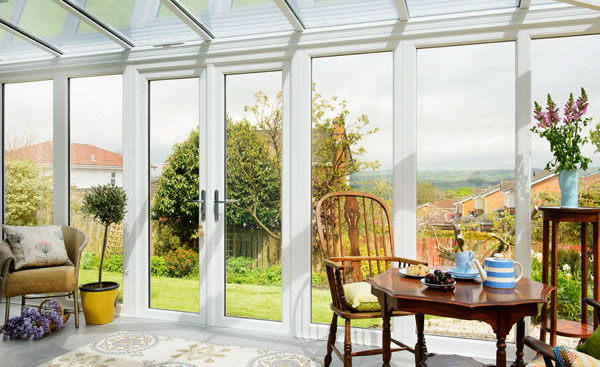 Because of the efficiency with which a conservatory warms up, some people worry that the heat can become unbearable on hot days. Luckily that's not a concern today, as modern conservatory designs offer many ways to regulate heat.

Anglian's Solaroof is a revolutionary system that rejects 98% of ultra-violet rays, 80% of visible glare and have 75% solar heat rejection. This prevents the majority of heat from entering your home, helps to stop furniture fading and means you have a conservatory you can use all year round.

You can also opt for a solid roof design instead of a traditional glass roof, which stops sunlight penetrating from above or controls it with carefully-positioned glazing.

Depending on the design, ventilation, extractor fans and air-conditioning can all keep the heat of your conservatory under control. Building regulations dictate minimum ventilation requirements depending on the conservatory's floor area. On glass roofs, roof ventilation is very effective at maintaining comfortable temperatures and blinds can block out the sun as well as help trap heat in.
How Do Conservatories Trap Heat?
A conservatory's ability to trap heat makes it the perfect place for relaxing on a sunny day and into the evening. Like a greenhouse, it absorbs warmth from the sunlight while giving shelter from cool winds and rain.

Heat enters from the roof as well as the walls when the sun is warm, so you can reduce the temperature by choosing a solid roof instead of a traditional glass one.

Double glazed windows help retain the heat and, in winter months, your conservatory can be kept warm with underfloor heating or radiators.