A guide to
Conservatories
Styling your conservatory
A conservatory is a space for living in, so it's no surprise that most people spend a lot of time thinking about the fixtures and furnishings that will go inside. Like any home decor project, your new living space might take a bit of experimentation until you find the right mix, but this guide should give you some inspiration if you're stuck for ideas on how to style your conservatory.
One of the biggest aspects that attract homeowners to building a conservatory is their versatility. Your conservatory can be a playroom for the children; an extra living room with a spectacular garden view; an all-weather dining room or a space for growing flowers and vegetables indoors. It can even be a combination of these – the only limit is your imagination!
---
Furniture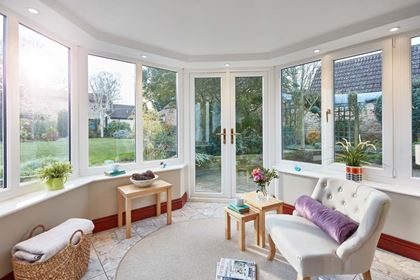 In many ways a conservatory acts as a bridge between the indoor and outdoor world, and include furnishings that reflect this. Natural accents like rattan or wicker chairs, hardwood tables and bamboo work especially well – think idyllic country kitchen and you're on the right track.
If the conservatory is to be a place of relaxation, go all-in on the idea. A free-standing hammock, rocking chairs or beanbags all provide wonderful places to stretch out and enjoy the sunshine. Plus, they add a touch of playfulness that helps cement the room as a place where you can wind down.
---
Lighting
Lighting a conservatory can be as simple as hanging a couple of ceiling lights, or as elaborate as an array of recessed spotlights for solid roofs or orangery pelmets, floor lamps and fairy lights. Glass chandeliers also work particularly well in a conservatory, as they reflect the many windows through which the light streams in during the daytime.
Many people also like to install a little garden lighting in the space immediately beyond their conservatory. This will ensure you have something to look out at after the sun goes down.
---
Plants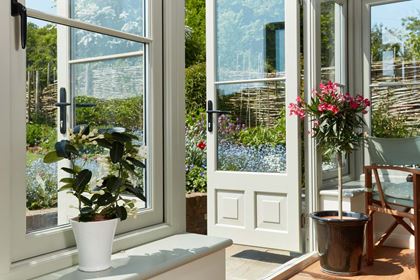 As your conservatory is likely to be the sunniest room in your home, it seems unfair not to let a bit of greenery enjoy the space too. House plants thrive in conservatories – they can even double up as a greenhouse for seedling plants if you're a keen gardener, particularly as it's easier to control the temperature in a conservatory.
If you're looking for decorative plants, palms and aloes are particularly happy in a warm, sunny room, while small citrus trees like dwarf orange and kumquat can add a tasty splash of colour to your greenery. If you're not the green-fingered type, hardy succulents are also a great choice, as they need very little care.
---
Flooring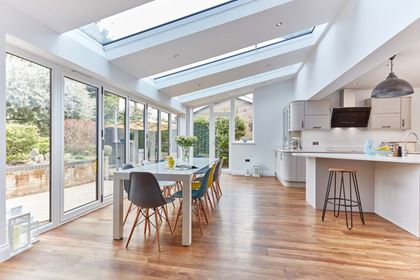 Almost any kind of flooring can work in a conservatory, from carpet through to lino and stone tiles. Carpets are a good choice if you want the space to double up as a cosy living room with comfy sofas. Alternatively you can get the best of both worlds by scattering a few rugs around on a hard floor. Light carpets tend to work best as richly-coloured ones can fade in the sunlight over the years.
Real wood flooring gives a fantastically-natural look and feel to the room. That said, engineered wood flooring or wood-effect lino can offer the same effect of real wood but with none of the fuss, particularly if you choose an ultraviolet-resistant finish.
---
Walls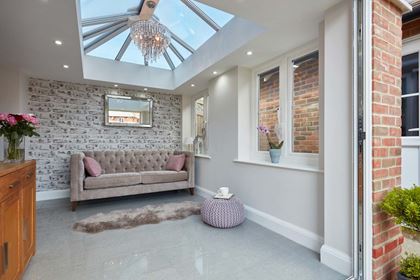 If your conservatory has a large wall section—such as the entryway between the room and the house—this can be a great place to get creative. Floral wallpaper that could look a bit cheesy or outdated elsewhere has a natural home in a conservatory.
Alternatively, a light pastel coat of paint adds to the airy, relaxed atmosphere, though you could always leave the brick exposed and decorate it with whatever accents you choose for a more modern appearance.
---
We hope these tips have got you thinking about the many different ways your inner designer can approach a conservatory – we know for many people decorating's the best part! If you're looking for more ideas, keep an eye out for our upcoming Inspiration Area.