Solid Roof Conservatories
White UPVC solid roof conservatory with replica slate tiled roof

Dark woodgrain and white dual colour uPVC French door conservatory with red tile solid roof

White uPVC solid roof conservatory with French doors interior

Replica tiled slate solid roof conservatory with glass panels

Victorian solid roof conservatory with replica slated tiles close up

Anthracite grey uPVC solid roof conservatory

Solid roof conservatory with white uPVC casement windows interior

Solid roof conservatory with replica slate tiles close up
Conservatories with a solid roof are 15 times more thermally efficient than a 16mm polycarbonate or an old glass conservatory roof. Transform your existing conservatory or extension into a cosy living space to enjoy all year round.
Solid roof conservatories come in three styles depending on your budget and how you plan to use the space. Choose from economical replica tiles, a contemporary solid panel roof or a traditional tiled roof conservatory. With tiles available in a range of colours and in combination with glass roof panels to flood your living space with light, a solid conservatory roof creates a classic look with a modern feel.
Solid Roof and Glass Conservatory Design Options
Tiled Roof
Choose from 3 replica tile solid roof colour options that replicate the look of slate, or traditional tiled conservatory roof tiles that are colour-matched to your existing slate roof tiles.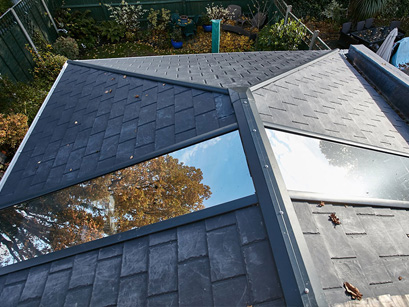 Solid Panel Roof
Transform your conservatory with anthracite grey solid roof panels for a bespoke design can be combined with glazed glass panels to let the light flood in.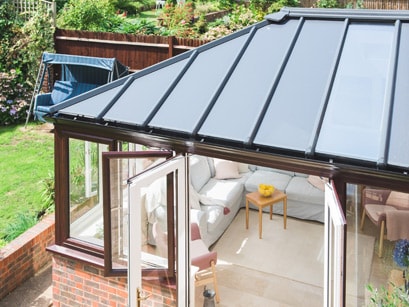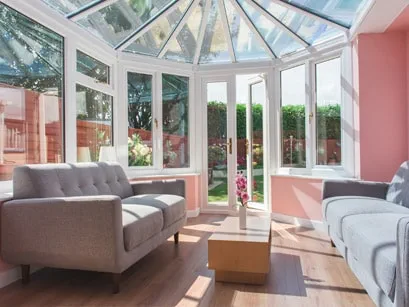 The Benefits of Tiled Roof Conservatories
Conservatories with a solid roof are an affordable way to upgrade your existing living space into a room to enjoy 365 days a year. Give your home a dramatic modern look without the cost of a complete rebuild.
Affordable Upgrade
The transformation from a glass or plastic conservatory roof to a solid roof conservatory is quick and easy. A tiled roof on a conservatory can be retrofitted to your existing structure without changing the construction of the room. They'll also add value to your home at a fraction of the cost of installing a new conservatory.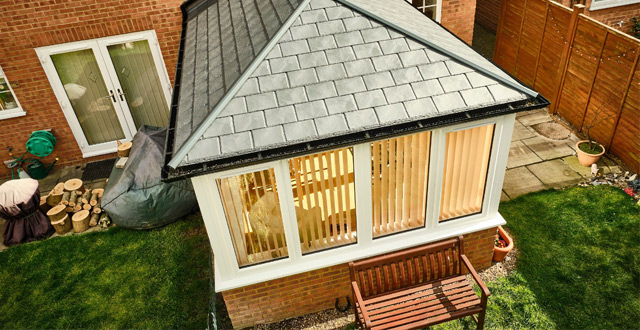 Thermally Efficient
If you have a glass or polycarbonate roof on your conservatory, you'll know how quickly your conservatory gains and loses heat. A tiled roof conservatory is 15 times more thermally efficient than older polycarbonate or clear glass roofs. Conservatories with a solid roof have better energy efficiency than glass or plastic, saving you money on your energy bills.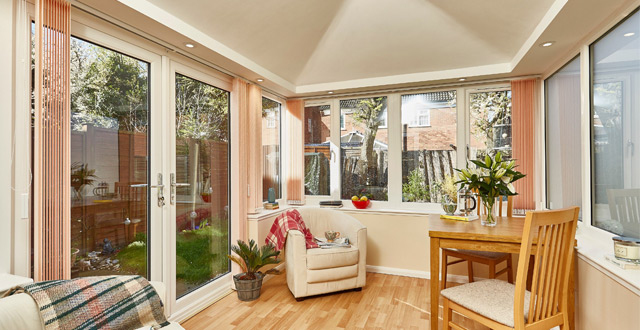 Expand Your Living Space
Solid roof conservatories expand your living, dining or kitchen space into a more versatile space for playing, studying, partying with friends or dining with family. Enjoy extra light and panoramic views of your garden without the need to build a full brick extension.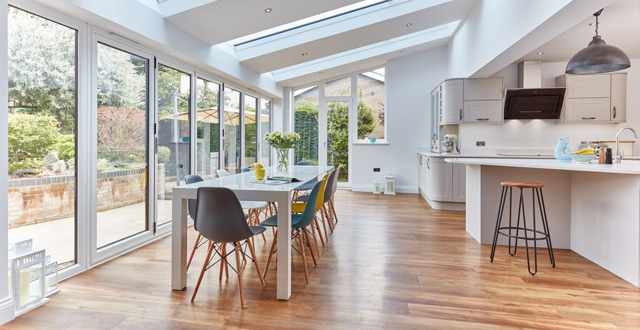 Get a Price
Why Choose an Anglian Solid Roof Conservatory?
Advanced Roofing System
An Anglian solid roof conservatory is designed to withstand hurricane force winds and be load bearing for heavy snow falls. We use location software to design your roof around the weather profile of your area.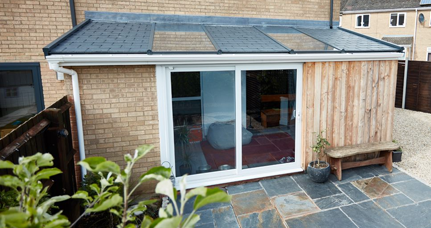 Built to fit your home
There's no such thing as a standard installation. Every solid roof is custom built to fit the structure of your conservatory or extension. Our design consultants help you select the best option for your home.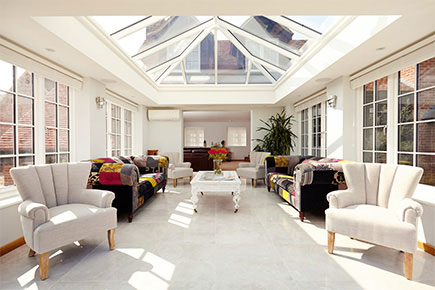 Versatile design
Combine solid panels with toughened glass panels to flood your living space with light. The glazed panels act like skylights and look great with down-lighting to create a contemporary look.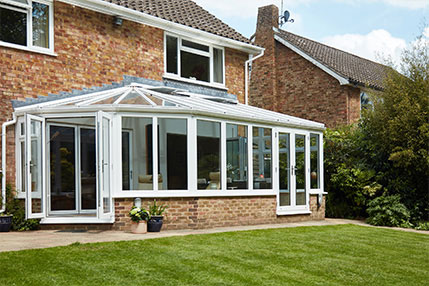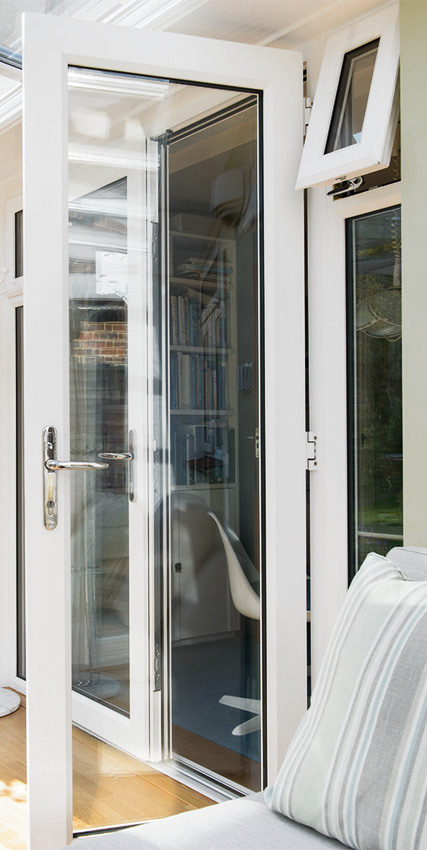 Why Anglian?
Flexible finance

Spread the cost of your new conservatory with our low rate finance plan from 12.9% APR variable with just £999.

Quality guaranteed

Anglian solid roof conservatories come with a 10-year guarantee and conform to the latest building regulations.

Delivery and Installation included

The price includes the home visit or remote quotation, and the survey, manufacturing, installation and aftersales for your conservatory roof conversion.



Get a Price
Solid Roof Conservatories FAQ
Do I need planning permission for solid roof conservatory?
In most cases, a solid, tiled or glass roof on a conservatory will not need planning permission because they are classed as a 'permitted development'. Building regulations will apply if you want to build an extension.
Can I insulate my conservatory roof?
The right conservatory roof insulation means you'll be able to find that ideal temperature all year round. A more permanent solution is a replacement solid roof or panel roof with glass panels to maintain that conservatory feel while making the space feel like part of the house.
Can I replace my current roof with a tiled roof?
Yes, you can install a new tiled roof on your old conservatory frames. We'll carry out a survey to confirm whether your existing frame is suitable for a solid roof replacement.
How much do solid roof conservatories cost?
The question everyone wants to know the answer to but often struggle to find any prices or quotes online.
Every house is different and your new conservatory could be subject to planning regulations, so one of our experienced design consultants will need to come and assess your property to work out what's best for you and your house. We'll provide you with a competitive no obligation bespoke free quote valid for 6 months. So there's no need to wait, book an appointment today.
The British Board of Agrement provides certification on the quality of our products.

TrustMark is a government endorsed not-for-profit organisation that operates through more than 30 scheme operators.

Anglian is a leading member of the Glass and Glazing Federation (GGF).

Certifies products made from start to finish in a British factory by British craftspeople.

Independent service that deals with disputes between registered businesses and consumers.