Replacement Conservatory Roofs
Tiled Roof Conservatory with Glass Panels

Glass Panels in Replacement Conservatory Roof

Replacement Replica Slate Tile Conservatory Roof

Replacement Conservatory Solid Roof with Glass Panels

Replacement Solid Roof Conservatory with Glass Panels

Full panel Solid Conservatory Roof in Anthracite Grey

Full glass Conservatory Roof with Anglian Solaroof technology
Conservatories last many years, but if yours was built several decades ago, it's likely that it doesn't benefit from the modern design or cutting-edge thermal efficiency technology which Anglian conservatories can offer. One easy and cost-effective way to transform a dated conservatory, or improve a build with poor heat retention, is having the roof replaced. Available in a variety of designs and glazing options, Anglian has a conservatory roof to suit your property, whether you want to maximise the natural light in your home or turn your conservatory into a more versatile space you can use all year round. Whichever style you choose, replacement conservatory roofs are measured up by our expert team of craftspeople, and manufactured right here in our UK factory.
Benefits of Solid Roof Conservatories
Cost effective.

Adding a solid roof to your existing conservatory can add considerable value to your home, as it's sure to make this additional reception room a more versatile space, by helping you to regulate temperature and natural light more easily.

Built-in insulation.

As solid conservatory roofs are usually comprised of tiles or panels, they're excellently insulated, and provide outstanding heat retention. The replica tiled roof replacement is 15 times more thermally efficient than an older polycarbonate or clear glass roof. That means you'll save on heating your home throughout the winter months, without spending money on extra insulation.

Quick installation.

Replacing the roof of your conservatory is a much faster process than having a new conservatory fitted. Adding a solid roof will cause minimal disruption, and you'll be able to enjoy your conservatory again in no time.

No restructure required.

There'll be no need to touch the existing shape and design of your conservatory when you have a solid roof added to it, so you won't need to plan a new layout, or apply for planning permission again.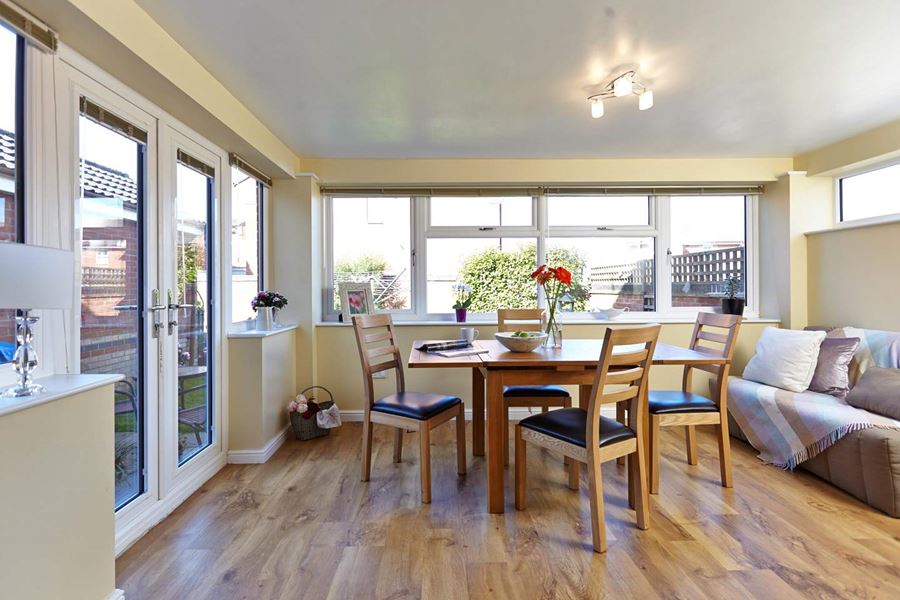 Conservatory Roof Replacement Styles
If you want to breathe new life into your conservatory, replacing the roof is a hassle-free, cost efficient way to do it. Transform your living space with an Anglian replacement conservatory roof. No matter which design you select. There's a variety of customisable options to choose from, so you can put your own stamp on your conservatory roof design with cleverly placed skylights, internal lighting and more.
Tiled Roof
Our stylish replica slate effect tiles are available in three different shades, Carbon Grey, Rich Harvest Brown and Deep Red Terra Brick. Incorporate Anglian roof windows to create perfect levels of lighting.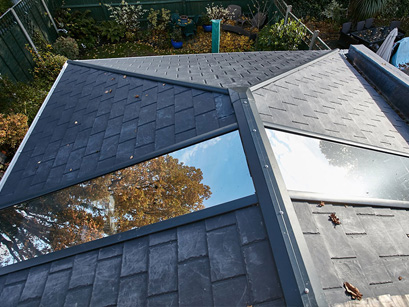 Solid Panel Roof
Anthracite grey solid roof panels add a sleek, contemporary finish to your home – you can even incorporate a number of glazed panels into your solid panel design to let more natural light in.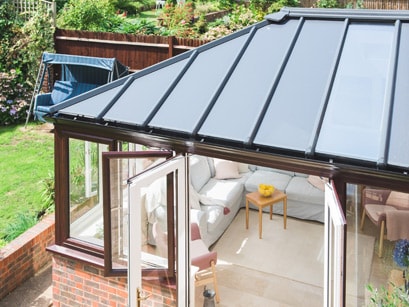 Glass Roof
For a classic conservatory style, a glass roof is the ideal choice. Using Anglian's cutting-edge Solaroof technology you'll be able to enjoy a light and temperate space all year round.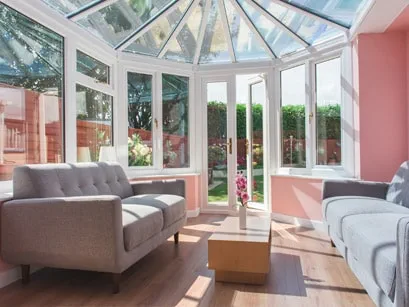 Why Anglian?
Flexible finance

Spread the cost of your conservatory roof replacement with our low rate finance plan from 12.9% APR variable.

Quality guaranteed

Your conservatory roof replacement comes with a 10-year guarantee and 15-year sealed unit guarantee.

Delivery and installation included

The price includes the home visit or remote quotation, and the survey, manufacturing, installation and aftersales for your conservatory roof conversion.



Get a Price
Replacement Conservatory Roof FAQs
How much does a replacement conservatory roof cost?
As we make each replacement conservatory roof to fit your home exactly, there are no standardised costs. We'll arrange to see your home in person, and at this stage we can give you a free, no-obligation quote for your conservatory roof, in line with the design and materials you choose, as well as the size of your property.
Can I replace conservatory roof with tiles?
Yes, you can replace an existing conservatory roof with either a fully tiled replica tiled roof replacement or a combination of replica tiles and Anglian roof glazing, both offering an internal vaulted ceiling with a plasterboard finish.
How do I insulate my conservatory roof?
Anglian solid roof conservatories come with built-in insulation, which means they perform better heat retention and temperature regulation. Adding a solid roof to your conservatory is a fool-proof way to make this space more versatile, and usable in every season.
Do I need planning permission to replace my conservatory roof?
It's unusual for planning permission to be required when you're replacing a conservatory roof. However, building regulations might be necessary in certain circumstances – for example, a survey could be needed if you're adding a solid tiled roof to a conservatory. Anglian manages planning permission and building regulations on your behalf, so you'll never have to worry about coping with this administrative process.
How long does it take to replace a conservatory roof?
Replacing a conservatory roof is a much faster process than building a new conservatory from scratch, or replacing it. While it depends on the specifics of your chosen design, our team of expert craftspeople can often replace a conservatory roof in as little as one or two days.
Which is the best replacement conservatory roof?
Choosing the best replacement conservatory roof for your property depends wholly on your budget, and what exactly you want to use this space for. Solid tile or panel roofs transform your conservatory into a versatile space which resembles an extension, while the traditional glass roof is more budget-friendly, and can offer the most natural light.
Customer Reviews
Our Accreditations and Licenses
Sets standards that ensure our products and services meet customers' requirements.

For materials used and water resistance on all sealed units.

For impact resistance and glass fragmentation on safety glass.

The British Board of Agrement provides certification on the quality of our products.

Independent service that deals with disputes between registered businesses and consumers.

Certifies products made from start to finish in a British factory by British craftspeople.

TrustMark is a government endorsed not-for-profit organisation that operates through more than 30 scheme operators.

PVC Industry initiative to improve manufacturing, minimise emissions and develop recycling practices

MyGlazing.com provides free, independent advice on all your glazing needs.