up to
27

½

% OFF
CONSERVATORIES
*
Edwardian Conservatories
Add a touch of elegance to your home as well as extra living space with an Anglian Edwardian conservatory. It's a modern design with a traditional twist.
Incorporates elegant design features characteristic of the Edwardian era, with a bold rectangular shape to create maximum floor space.
The sleek lines of the glass four-sided pitched roof let in plenty of light for a bright, airy living space, while keeping the temperature controlled.
Create a traditionally-styled yet light-filled and modern room by choosing a solid roof – or opt to replace your existing conservatory roof with a solid design
Customise your Edwardian conservatory with a choice of decorative finishes such as finials, crestings and coloured glass
Explore Edwardian Features & Options
Your Edwardian design options
Edwardian conservatories are available in uPVC and wood, allowing you to complement the character of your home perfectly. Frame finishes in uPVC include our popular White Knight, a choice of woodgrain colours and the dual option that combines a woodgrain exterior with a white interior. This choice of woodgrain-effect uPVC means you can add a stunning conservatory that complements the natural character of your home, with the benefit of it being low maintenance.
Our conservatories are purpose-built to your exact specifications and our designer will guide you through the vast array of design options that will help make your conservatory unique. These include the type of window openings, the height of walls and a choice of single, bi-fold, French or patio doors or even a solid roof. Finishing touches include ornate crestings and finials, decorative and patterned glass, and an exciting range of Laura Ashley etched glass designs.
Quality guaranteed
10 year guarantee
Made in Britain
Accredited levels of security
BBA certified products
Fast, professional installation
Anglian fit more conservatories than anyone in the UK.
Get a Quote
Be inspired by our customers who have transformed their homes
A cosy conservatory
Innovative design to create a year-round room
As a professional yachtswoman, Belinda Hamilton spent more time at sea than in her 17th-century Suffolk cottage. When she changed to a part-time skippering role, she decided that it was time to make some home improvements.
She originally planned to build a small porch at the rear of her house to protect the back door, which she uses as the main entrance, from the effects of the prevailing south-westerly winds and help to insulate the thin-walled rear extension.
Her Anglian designer suggested that a conservatory would enable her to make the best use of the space, and she's delighted with how he made it complement the existing roofline. Belinda is able to enjoy her conservatory all year round. "My neighbour's conservatory hits 110 degrees Fahrenheit, while mine's a comfortable 80 degrees, when it's sunny," she said.
She's thrilled with the design too. "I like the architectural detail and find being in it is like being in the garden – only better. It's such a joy to spend time in it." She now uses her conservatory more than any other room in the house.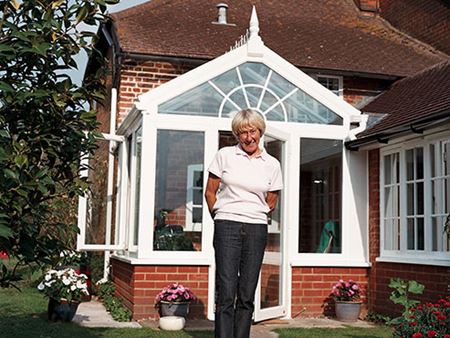 Don't move, improve
More space to enjoy family life and the garden
The combination of a growing family and a desire to make the most of their garden, made a new conservatory the perfect answer for Mark and Sharon John. "You know what it's like when your children are growing up – We wanted to have a room where we could go," said Mark.
They chose an Edwardian design and as a "bit of a cleanaholic", Sharon was impressed by the efficiency, punctuality and thoughtfulness of the fitters.
They can now enjoy the additional living space as well as great views of their garden. The large door opens onto a block-paving patio with a table and chairs so Mark and Sharon can keep an eye on their daughters playing from the comfort of their conservatory.
The quality of the conservatory has also impressed Mark and Sharon. "The brochure didn't do it justice," he said. "If ever there was an example of getting what you pay for when you choose quality over price, this is it. We love it, the kids love it and we're all enjoying the improved lifestyle."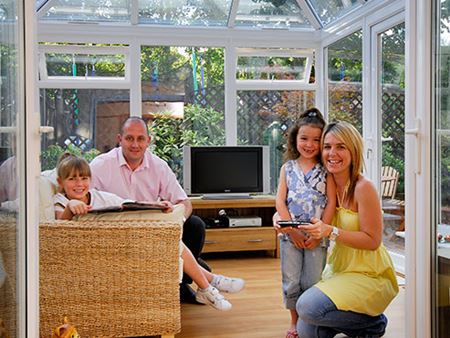 Extra space to enjoy
Bespoke design and end-to-end service
When Mr & Mrs Moss decided to add a Victorian style conservatory to their home, they wanted to create some extra space to live in and a better view of their garden. "It was an additional room we could use", said Mr Moss, "It was something we thought would enhance the house".
Mrs Moss agreed: "It's a good size, so it's a really useful space which we can use for different occasions – for dining and other things."
Modern uPVC and glass make Anglian conservatories usable all year round. They're warmer in winter, thanks to their ability to keep heat in and cold air out. And, our exclusive Solaroof system maintains a cooler temperature in the summer by reflecting virtually all of the sun's ultra-violet radiation heat.
The couple chose Anglian to build their conservatory because they wanted to work with a company who could handle all aspects of the project with quality craftsmanship at a fair price. They also chose to personalise their conservatory by adding decorative glass. "We were pleased with the product and the workmanship – they have always been extremely helpful," said Mr Moss.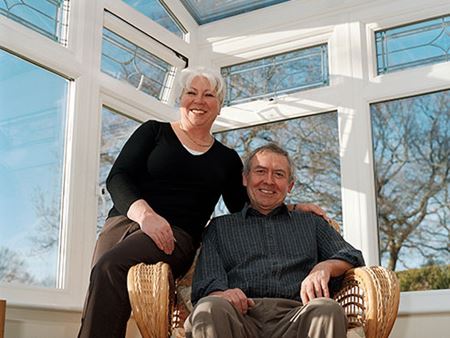 Why Choose Anglian?
From ordering to aftercare, we're with you every step of the way - one of the Benefits of an Anglian Conservatory. We'll help you create the perfect design, take care of any planning permission and carry out the installation quickly and efficiently. We're confident you'll love the quality of our work, and we back it with long-lasting guarantees.
Get a Quote
Quality
We use the best materials and skilled craftsmanship to build long-lasting, fine quality conservatories:
BBA certified products
Energy efficient
Accredited security levels
Premium materials
Why quality is important
Guarantee
Our long-lasting guarantees underline our commitment to making the highest standard conservatories:
10-year guarantee on uPVC products
10-year guarantee on base works
15-year guarantee on Ultra gas-filled sealed units
Member of the Glass & Glazing Federation (GGF)
Our guarantees
Our Accreditations
Awarded Feefo Trusted Merchant for customer satisfaction in 2015 & 2016
The British Board of Agrement provides certification on the quality of our products.
Windows with a WER rating of A or above can be registered with the Energy Saving Trust.
TrustMark is a government endorsed not-for-profit organisation that operates a quality mark framework through more than 30 scheme operators who work in the repair, maintenance and improvement sector.
Anglian is a leading member of the Glass and Glazing Federation (GGF).
Certifies products made from start to finish in a British factory by British craftspeople.
Independent service that deals with disputes between registered businesses and consumers.
Our FAQs will help you make the best choices on the design and build of your new Anglian conservatory.
Find out more
Read some of the reasons why so many people pick, and then return to, Anglian for their home improvements.
Find out more
Want to speak to an advisor?
Give our team a call on
0800 500 600
We respect your privacy and
do not sell data about your enquiry to third parties.
Our
privacy policy
explains how we use your data.
Home Inspiration From Anglian
If you need assistance with designing or dressing your new conservatory, our 'Good to be Home' magazine is full of handy advice. We'll even help improve your view from it with some great gardening tips.