Golden Oak uPVC Bargeboard on bungalow

White uPVC Bargeboard and Black uPVC guttering

Black uPVC Bargeboard on front face of house

White uPVC Bargeboard and Black uPVC guttering

White uPVC Bargeboard first floor
Complete the exterior of your home with the added strength, protection and aesthetics of new uPVC replacement bargeboards. Long, straight boards fitted in an inverted V-shape to the gable end of the roof of your property, bargeboards protect the exposed ends of the roof rafters.
Much longer than fascias, new bargeboards keep damp out and prevent damage caused by wind and rain. Save money on expensive building repairs further down the line, such as roof timber rot and decay that would otherwise remain unseen.
Why Choose Anglian uPVC Bargeboards?
Eaves Shield System
Add our all-in-one Eaves Shield System as an optional extra to prevent birds from nesting under roof tiles and protect your roof from the damage this may cause.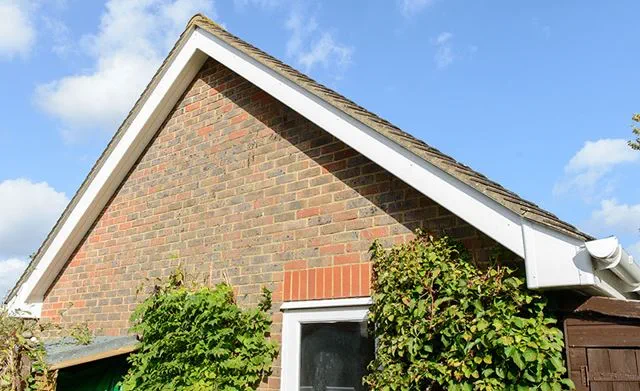 BBA-Approved
Made with a durable outer skin of uPVC and a foamed PVC-UE core, the quality and installation of our white bargeboards, soffits and fascias are BBA-certified. The Anglian 10-year guarantee covers our bargeboards, so you can rely on us to provide a reliable and long-lasting product.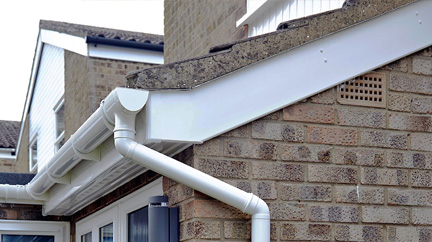 Weatherproof Seal
uPVC is affordable and built to last, making it the ideal material for exterior rooftrim products, including bargeboards. Our uPVC bargeboards provide complete protection from the elements. Where the bargeboards meet the fascias at the two box ends of the V-shape, a joining clip creates a tight weatherproof seal.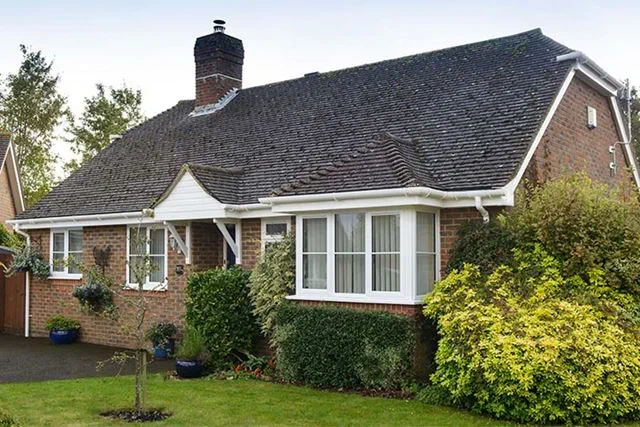 All-in-one Bargeboard Replacement Service
Positioned just below the roofline, Bargeboards and facia boards are two of the main areas for rot on the exterior of your home. Some companies swap out single bargeboards or fit new ones over the top of your existing rooftrim. Doing so can leave your roof with areas more susceptible to water damage. Once old wooden bargeboards are soaked, they can quickly begin to degrade and leave your roof rafters unprotected.
That is why Anglian offer a full replacement service for bargeboards, soffits, fascias and guttering to stop the rot and cure the leaks once and for all.
Get a Price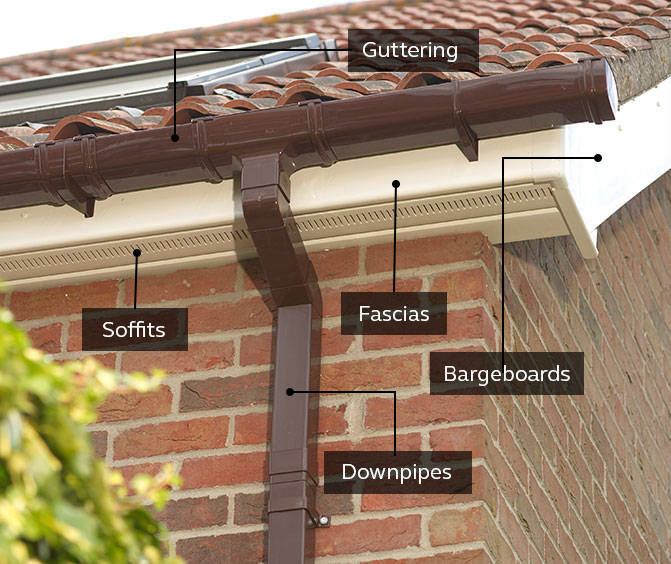 Our uPVC Bargeboard Colour Options
Replacement bargeboards are a stylish way to upgrade the exterior of your home. Our decorative bargeboards come in several different contemporary and traditional shades.
White
White Woodgrain
Golden Oak
Dark Woodgrain
Black
Anthracite Grey
The Benefits of uPVC Bargeboards
Durability

The ideal material for external components like bargeboards, uPVC is affordable and built to last. Completely waterproof, uPVC bargeboards withstand the weather and protect the timber rafters underneath.

Aesthetics

uPVC bargeboards are available in a selection of different colours and finishes to match your taste. Choose from classic shades like black or white bargeboards or a more traditional faux woodgrain finish.

Low maintenance

Whatever the weather, uPVC bargeboards do not peel or warp over time. They require very little upkeep and do not need repainting, varnishing or resealing.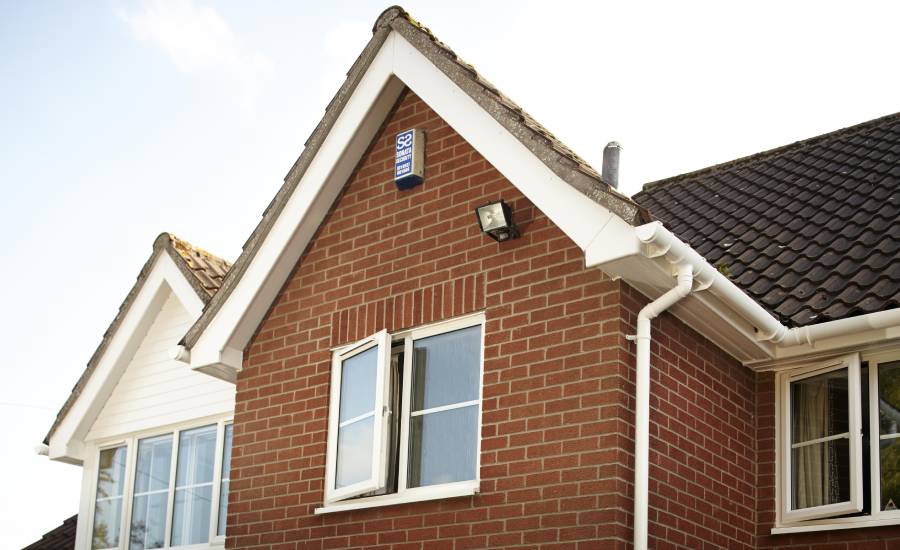 Our happy customers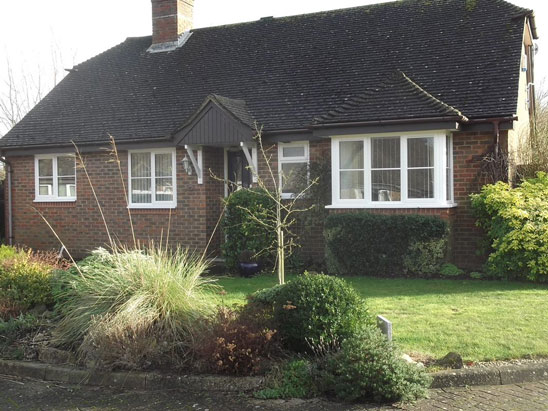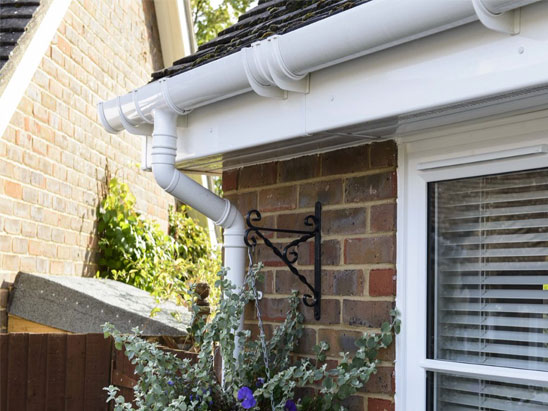 Mr Longman, Southampton
White uPVC soffits, fascias and Deepflow guttering
"Anglian's products were far superior to anyone else's which made my decision easier. The Deepflow guttering holds much more water. I cannot fault the installation team. Our new uPVC soffits, fascias and guttering are fantastic – the bungalow looks much better."
Get a Price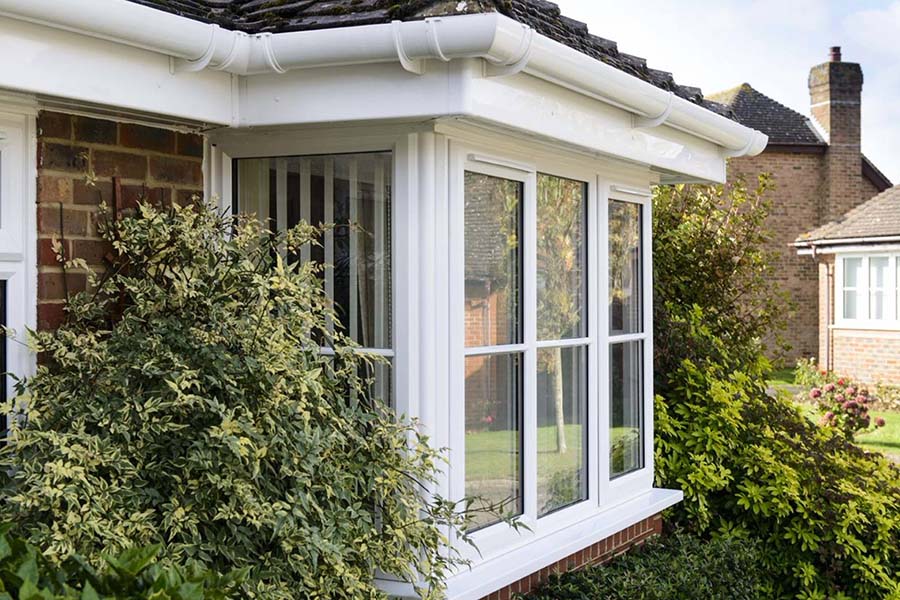 Customer Reviews
Why Anglian?
Made in Britain

Our bargeboards are manufactured right here in the UK by our expert craftspeople to fit the exact specifications of your home.

Flexible Finance

It's easy to spread the cost of your replacement bargeboards with our low rate finance plan from 12.9% APR variable.


Quality Guaranteed

Your soffits, fascias and bargeboards come with our 10-year guarantee as standard.



Get a Price
Common Questions about Bargeboards
What are bargeboards?
A bargeboard is a type of long fascia board that is attached to the projecting gables of a roof in an inverted V-shape. They provide strength and protection from the weather to the ends of the roof rafters. Bargeboards also hide the ends of timber beams within the roof.
Where are bargeboards on a house?
Bargeboards attach to the end gables of a roof and are usually front or side-facing, depending on the style of home. They provide valuable protection against rot and water damage to the roof timbers and conceal the ends of these timbers too.
What is the difference between a bargeboard and a fascia?
The main difference between a bargeboard and a fascia is its position along the roofline. Fascia boards hold the guttering and run horizontally along the edge of the roof, whereas a bargeboard fixes to the gable end of a roof in a V-shape.
What is the best material for bargeboards?
Many houses have old timber bargeboards that rot and warp over time. uPVC is an excellent material for replacement bargeboards because it is low maintenance, cost-effective and weatherproof.
Do bargeboards prevent damp?
Yes, good quality bargeboards can prevent damp from occurring in your home as they protect the ends of your roof's wooden rafters that would otherwise be exposed. This extra weather seal stops the timber from absorbing moisture from the air, so it doesn't rot or decay.
Our Accreditations and Licenses
Sets standards that ensure our products and services meet customers' requirements.

The British Board of Agrement provides certification on the quality of our products.

Certifies products made from start to finish in a British factory by British craftspeople.

PVC Industry initiative to improve manufacturing, minimise emissions and develop recycling practices