Sound Proof Windows
Noise is a part of everyday modern life whether you live on a busy street, or you're used to hearing planes flying overhead or even the birds waking you up at dawn. One way to keep the noise to a minimum is to make sure your windows are providing a good level of sound proofing, helping to block out those everyday audible intrusions. But it's important to remember that windows aren't the only way to reduce sound entering your home.
How noise enters the home
Home should be the place where you can relax and escape, so the last thing you want is excessive noise coming in from outside. The problem is that sound waves can travel through any object – including walls – and make their way into your home via open windows or gaps around doors and other openings.
Denser materials, such as the walls of your home, are harder for sound to travel through as the particles are much closer together and the sound waves run out of energy quicker. Even with your windows closed, sound can still travel through from outside, especially if you're near a noisy road. The way to combat this is to have windows that make it much harder for sound waves to pass through.
What are the main sources of noise in the home?
The most common sources of noise in the home are either airborne or structure-borne. For example, airborne noises can be externally generated from traffic, or internally generated from a television set. Whereas structure-borne covers things like a door slamming or footsteps from upstairs, known as impact noise. You can control noise in the home through design and layout, as well as a combination of other factors.
How much noise should you hear in the home?
The LAeq (Equivalent Noise Levels) value determines an average noise level, particularly with intermittent sound or noises, such as passing aeroplanes or trains. The recommended maximum LAeq levels for noises in the home - in living rooms and bedrooms for example - are between 30 and 34 decibels (dB).
How to check your home for noise to assess if new windows will help
If you get a lot of outside noise coming into your home, a good place to start is figuring out where most of the noise comes from. You'll know which rooms are the noisiest, usually the ones facing the road or street, but you can also check to see if most of the sound comes through the window, or through a duct or door.
Check your window and door frames for any cracks or gaps as well as other fixtures.
In this way, you can figure out if replacement windows might be a good option to help reduce the outside noise getting into your home.
What is the best sound reducing window?
Our range of secondary glazing is the best sound reducing window option. It is a second window installed on the inside of your existing double-glazed window to reduce noise. Secondary glazing does not need trickle vents which improves the acoustic performance. Adding secondary glazing means sound must travel through another layer of glass and air space between, helping to diminish its energy and improve sound proofing.
Why can't you get windows that are sound proof?
Sound penetrates your home through many sources such as air bricks, floors and ceilings, trickle vents, roof and loft spaces. Poorly fitted windows and doors can also create gaps that sound can find its way through.
However, not all exterior noise can be avoided. Air bricks, ventilation ducts and even window trickle vents help to increase the airflow in your home. Poor ventilation can mean harmful pollutants and moisture gets trapped in your property which can damage the health of occupants and your home itself.
Are double or triple glazed windows better at reducing noise?
Double glazing can help reduce unwanted outside noise as the two panes of glass and the inert gas in-between absorb some of the sound vibrations. As the sound hits each pane, a tiny amount of energy is lost through the air gap and becomes more diluted and therefore weaker which helps to deaden the sound inside your home.
The same logic could lead you to think that triple glazing reduces noise further as the third pane of glass and two air chambers provide another barrier between your home and external noise. However, surprisingly, the two air chambers can create resonance and echo on the internal pane, which means triple glazing alone will not reliably reduce noise. They are still absolutely the best option for reflecting more heat back into your home and helping to save money on your heating bills.
How the latest building regulations affect window and door sound reduction
An important thing to remember about sound reducing windows is that they'll never be 100% sound proof due to building regulations and the need for good ventilation in the home. When windows and doors are replaced, ventilation must be considered – whether that's in an older building with poor ventilation or replacing windows that had vents built-in. These window vents are known as trickle vents, allowing background ventilation even when your windows are closed.
Our windows include trickle vents to provide ventilation and to comply with the latest building regulations, but these vents can also be open or closed when you want to conserve heat or improve airflow.
When replacement windows and doors are installed, previous gaps and cracks where sound and air entered your home are often sealed up. While this helps to reduce noise from outside, these gaps and cracks would have previously provided ventilation and in older homes may have been the only source of ventilation. When your windows or doors are replaced, a trickle vent must be installed to replace any ventilation you lose through previously poorly fitted windows and doors.
The result of this is that some sound will get through via these vents, even with double or triple glazed windows. While you'll still be able to enjoy a good level of sound proofing, it's important to remember that trickle vents will always let in some exterior noise.
What are window trickle vents?
Trickle vents are a feature of modern windows that allow background ventilation, helping to cycle the air in a room to avoid it getting stale. In particularly well-insulated rooms, trickle vents help to avoid the build-up of condensation which can lead to the growth of mould.
What else can I do to reduce noise in my home?
If you don't fancy replacing your windows, there are other things you can do to help reduce outside noise getting into your home. These include adding heavier curtains to dampen sound and making sure there are no gaps or cracks around windows and doors. You could also make some changes outside your home, such as adding hedges or fences to block busy roads, helping to deflect the noise before it reaches your house.
Why Choose Anglian?
We go out of our way to make replacing your windows an easy and enjoyable experience, offering expert advice, fuss-fee installation and easy payment options.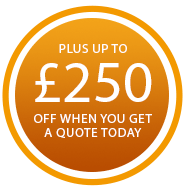 Get a Price
Guarantee
Our windows are made with the care and expertise that's you'd expect from Anglian so we can confidently guarantee them for years to come:
10-year guarantee on uPVC, wood and aluminium
5-year guarantee on stained wooden windows
15-year guarantee on our Ultra gas filled units
Additional Glass & Glazing Federation (GGF) protection
Our guarantees
Our Accreditations and Licenses
The British Board of Agrement provides certification on the quality of our products.

Anglian's PVC-U Casement and Tilt & Turn windows have enhanced security performance.

The British Fenestration Ratings Council is the UK's national system for rating energy efficient windows.

The Fenestration Self-Assessment Scheme ensures window installers comply with buildings regulations in England & Wales.

Look for our FSC® certified wooden window and door products on our website.

Anglian is a leading member of the Glass and Glazing Federation (GGF).

PVC Industry initiative to improve manufacturing, minimise emissions and develop recycling practices

TrustMark is a government endorsed not-for-profit organisation that operates through more than 30 scheme operators.
4 steps to your new windows
1

Home or Virtual Visit

Your local design expert talks you through the options and provides a free quotation.

2

Technical Survey

Our technical surveyor visits your home to measure-up and check your order.

3

UK Manufacture

Your windows are made to measure at state-of-the-art factories here in the UK.

4

Easy Installation

Our team arrange a convenient time to fit your new windows.
Want to speak to an advisor?
Give our team a call on 0800 014 2106
By providing your details you agree to being contacted under the terms of our
privacy policy
.