Smart Living
Say goodbye to your traditional set of keys and say hello to a smarter way to keep your home secure. The Conexis® L1 Smart Door Lock enables you to use your smart phone to unlock your door. It's an option that's now available on any of our uPVC doors and the great thing is that we will fit it for you.
Quick Points
Your smart phone is your key – Conexis L1® comes with five virtual keys
It's an additional option on all our uPVC doors
We fit the lock for you
Send virtual keys to your family and friends via the Conexis L1® app
You can manage who has access to your home
Connects to other Smart Home systems such as the Yale Smart Home Alarm
Why Smart Living?
Say goodbye to keys - There's now no need to carry a door key with you anymore. Simply use your smart phone to unlock your door. And, you won't need to leave a key out for any visitors - just send them a virtual key. There's no limit on the number of additional virtual keys you can buy. And, if you prefer to use key tags, key cards or phone tags you can buy up to an additional 50.
Stay in control - You'll be able to use your smart phone to control who can access your home. You can send family and friends virtual keys, limit the time of access and revoke them in an instant.
Know who comes and goes - You'll have the reassurance of knowing when your loved ones get home safely as the virtual keys can send you notification once they have entered the premises.
The Yale Lock app - The secure Bluetooth app is simple and quick to use. You can use your smart phone to configure your lock as well as unlocking your door. To unlock you simply touch the lock to activate the Bluetooth and then, using the Twist & GoTM technology, simply twist your phone through 90 degrees.
Compatibility - The Conexis® L1 Smart Door Lock is compatible with the multi-point locks we use on all our uPVC doors. We'll fit the lock when we install your door, so it'll come ready to operate.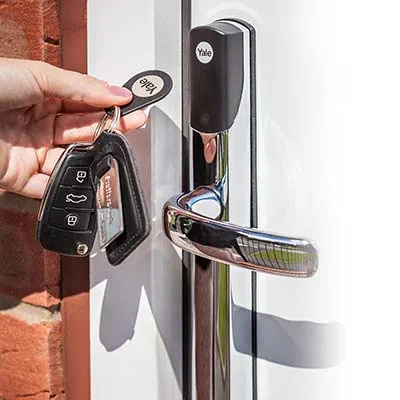 Features
Keyless door entry – you can use the Yale Conexis® L1 Bluetooth app on your smart phone to open your doors that are fitted with a Conexis® L1 Smart Door Lock. Or you can use a key card, key tag or phone tag – the choice is yours.
Take control from your smart phone – you can configure your Conexis® L1 Smart Door Lock and control who can use the virtual keys simply by using the app on your phone.
High level security – the Conexis® L1 Smart Door Lock has a tamper alarm and meets the PAS24 security standard so you can be reassured that your premises will be safe and secure.
Ready fitted – if you choose the Conexis® L1 Smart Door Lock as an additional option, it will be fitted at installation so there's nothing more you have to do.
Connectivity – the technology used in the Conexis L1® Smart Door Lock enables it to connect with the smart phone app via Bluetooth to connect with key cards, key tags and phone tags.
Always on – you don't have to worry about electricity cuts or power surges because the Conexis L1 ® Smart Door Lock is powered by four AA batteries. It will even alert you when the batteries are running low. Batteries should last for about a year (based on an average 20 uses per day).
Battery back-up – in the event of you forgetting to replace the batteries don't worry there is a back-up. There is a 9v battery connection port on the bottom of the Conexis® L1 which you can use to power it to gain entry.
Secure Push & Thumbturn – the lock is engineered to provide added security and convenience. To exit your property you simply push and turn the handle. The push feature means that younger children will not be able to open the door simply by pulling the handle.
Guaranteed for two years – the Conexis® L1 comes with a 2-year guarantee. All you need to do is register your lock at www.yale.co.uk/registeryourproduct as soon as your door is fitted.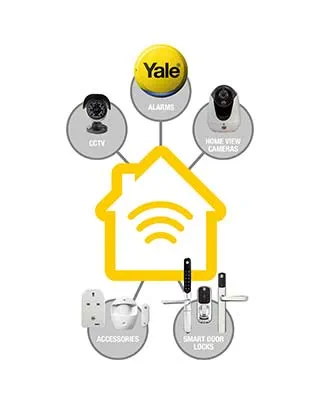 Connectivity
Yale connected – your Conexis® L1 Smart Door Lock is just one of the products available in Yale's Smart Living range. You can secure, monitor and control an alarm or CCTV system to make your home even more secure and harder for intruders to gain entry to your premises.
Control your lock remotely – even if you're not at home you can still connect your Conexis® L1 Smart Door Lock to the Smart Living home systems. All you need is the appropriate module to be fitted.
For more information about how Yale Smart Door Locks can connect to Smart Home systems making it easier for you to control the device in your property, visit https://yalehome.co.uk/smart-living
Why not enquire today?
If you're looking for a new door, want to make sure your home is secured by the latest technology and don't want the hassle of traditional keys, then the Conexis® L1 Smart Door Lock could be for you. We can fit this lock to any UPVC door in our range so visit our doors section where you will find a huge range of designs, colours and finishing touches to make your door unique.
Get a free quote online now to take a step further to the ultimate in home security.