Extension with gable end and Bi-Fold doors

Extension with Dual Dark Woodgrain French doors

External Extension image in White UPVC

Extension with gable end and open Bi-Fold doors

Extension with White Knight uPVC French doors and windows

Extension with Dual Dark Woodgrain French doors
Add a new reception area, home office or bedroom to your home with a stylish, flexible Anglian house extension. The ideal solution if you're beginning to outgrow your property, or you find yourself in need of more versatile space at home, an Anglian house extension is guaranteed to add value.
We offer a variety of single-storey house extension designs, with a selection of roof materials to choose from, including real tiled roofs, replica tiles and solid roof panels. You can also opt for your extension's windows and doors to be made in uPVC or aluminium – whichever you choose, every design is manufactured right here in the UK.
Get in touch with our expert team of craftspeople today to request a free brochure or get a quote for your house extension.
House Extension styles
Replica Tiled Roof Extension
A replica tiled roof extension is efficient with regards to both cost and heat retention, and won't require substantial structural support due to its light weight. A replica tile roof extension can be selected for a brand new extension or as an attractive and economical way to upgrade an existing polycarbonate or glass roof on a conservatory.
Replica tiled roof extensions are available in three stylish shades, including Terra Brick, Harvest Brown and Slate Effect Carbon Grey.

There are many different designs to choose from when it comes to the shape of the extension itself. You could have a Regency extension, a Garden Room, Hipped Garden Room, Elizabethan, Edwardian, Victorian 5-Facet, Victorian 3-Facet or Modified 3-Facet.

The windows and doors of your house extension are available in two different materials too: uPVC or aluminium.
Tiled Roof Extension
Our tiled roof extensions are a traditional, stylish addition to your home, and exclusively available on New Build extensions.
Solid roof tiles are available in six colours, from the subtle to the striking. These include Anthracite, Antique Brown, Mosborough Red, Old English Dark Red, Smooth Brown and Smooth Grey.

You can choose from four different designs if you choose a real tiled roof extension too. These are Regency, Garden Room, Hipped Garden Room and Elizabethan.

Once you've selected a design, you can opt to have uPVC or aluminium windows and doors within your extension.
Solid Panel Roof Extension
This option will give you more flexibility on materials, as you can choose from a complete solid panel roof construction, or a combination of solid panels and roof glazing. A solid panel roof extension can be selected for a brand new extension or as an attractive and economical way to upgrade an existing polycarbonate or glass roof on a conservatory.
The Roof is designed with an Anthracite Grey finish as standard, it has the appearance of 'rolled lead' and the insulated panels and Solaroof glass roof panels complement each other perfectly. The roof looks great on any wall frame colour.

Solid panel roof extensions have the widest range of designs available – these include the following: Regency, Garden Room, Hipped Garden Room, Double Hipped Garden Room, Edwardian, Elizabethan, Victorian 3-Facet, Victorian 5-Facet, Modified 3-Facet and P&T Shape Harmony Units.

You can opt for any windows and doors in your house extension in uPVC or aluminium.
Get a Price
Why Choose Anglian for Home and Conservatory Extensions
Planning Permission.

In most cases, planning permission isn't required for house extensions or conservatories. If for any reason your build does warrant planning permission, Anglian will manage this whole administrative process, from application to installation. If you're unsure about whether your extension will qualify as a permitted development, you can use our handy checklist to see if it meets the relevant criteria.

Design Consultation.

With finials, roof designs and floorplans to consider, choosing each element of your extension or conservatory can be a big job. That's why our expertly qualified craftspeople are on hand to help you every step of the way.

Exclusive Accreditation .

We're the only business in the industry which has the full BBA accreditation for White Knight uPVC conservatory – so you can be sure you're in safe, qualified hands.

Guarantees.

Just like all our products and services, Anglian house extensions are covered by a comprehensive guarantee. All the parts and labour included in your house extension are guaranteed for 10 years, as well as any Yale 3-star cylinder locks. Gas-filled double glazed sealed units are covered for 15 years.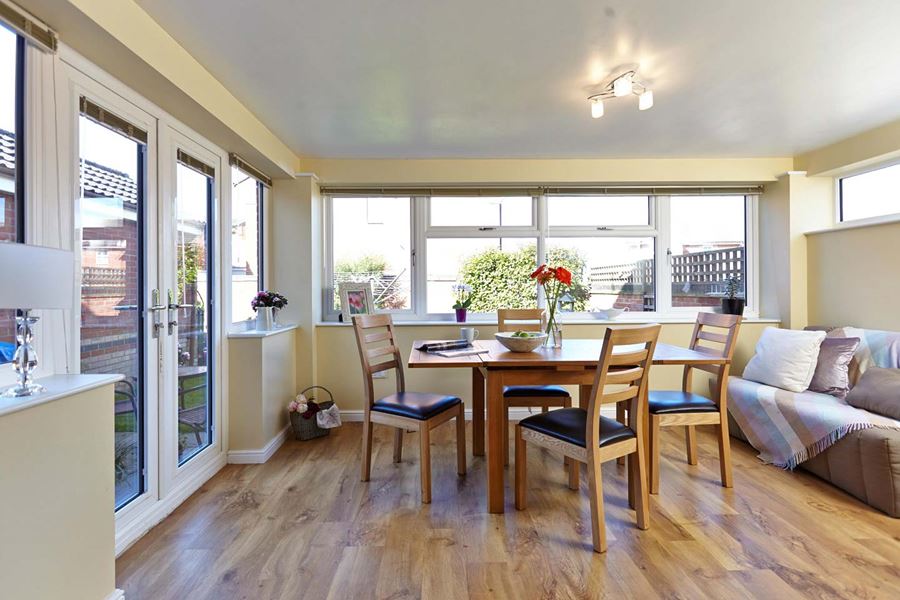 Deciding Between a House Extension and a Conservatory
House Extensions
An extension is the ideal choice if you want to increase the space in your home without the costly, lengthy process of moving.

With a more substantial feel than a conservatory, a house extension may prove to be a more thermally efficient and therefore versatile space, so making this decision also depends on what you intend to use this room for.

Anglian extensions are long-lasting builds which will add considerable value to your property – there's an extensive selection of designs available based on the kind of roof you choose, so you can find a style which will suit your home perfectly.
Conservatories
A brilliant way to maximise the amount of natural light in your home, Anglian conservatories are a light and airy second reception room, available in eight different styles.

If you're keen to make the most of your outdoor space, our conservatories provide a connection between your home and garden. We can even factor bi-folding or sliding patio doors into your design.

Conservatories are a budget-friendly way to increase the amount of space in your property – you can even opt for Solaroof technology to increase the heat retention of your build.
Why Anglian?
Flexible finance

Spread the cost of your new extension with our low rate finance plan from 12.9% APR variable.

Quality guaranteed

Your extension comes with a 10-year guarantee and 15-year sealed unit guarantee.

Delivery and installation included

The price includes the home visit or remote quotation, and the survey, manufacturing, installation and aftersales for your extension.



Get a Price
Extensions FAQs
How big can an extension be without planning permission?
As of 2019, the maximum projection of a Conservatory sited on a detached house is 8 metres from the building line and 6 metres in the case of a semi-detached or terraced property. If you want to avoid applying for planning permission, the extension must not cover over half of the land surrounding the house, or exceed the highest part of the existing roof. Our surveyor will confirm with you if planning permission or other building regulations are required and if so, we will apply for these for you.
How long does a kitchen extension take?
The amount of time it takes to complete a kitchen extension depends partially on the design and materials you choose for your build. For a standard kitchen extension, you should expect the end-to-end process to take up to 3-4 months.
Is it worth extending my house?
A house extension is an investment which will not only grant you more space to enjoy in your home, but will also increase its value in the long run. Having an additional reception room is very likely to up the value of your property when it comes to selling later down the line.
Do I need an architect for an extension?
You're not legally obliged to hire an architect to build an extension – you can ask your builder or contractor to carry out the design for you. Anglian's expert craftspeople will carry out every aspect of your build, from surveying to architect drawings, design, manufacture and after sales care.
How do you extend a kitchen?
Extending your kitchen is a simple, convenient process with Anglian. We take care of everything, from the initial survey right through to manufacturing the materials here in our UK factory, and the installation itself.
How much does an extension add to house value?
While it's impossible to predict exactly how much value an extension is likely to add to your home, research by Nationwide found that on average, a house extension increased the sale price of a property in the UK by 23% - making it a worthwhile investment.
Customer Reviews
Our Accreditations and Licenses
Sets standards that ensure our products and services meet customers' requirements.

For materials used and water resistance on all sealed units.

For impact resistance and glass fragmentation on safety glass.

The British Board of Agrement provides certification on the quality of our products.

Independent service that deals with disputes between registered businesses and consumers.

Certifies products made from start to finish in a British factory by British craftspeople.

TrustMark is a government endorsed not-for-profit organisation that operates through more than 30 scheme operators.

PVC Industry initiative to improve manufacturing, minimise emissions and develop recycling practices

MyGlazing.com provides free, independent advice on all your glazing needs.