Conservatory, orangery or extension: what's the difference?
The decision to extend your home is an exciting one, but with so many options available, it can be difficult to know where to start. Renovations naturally differ from home to home, but one common question is whether you should go for a conservatory, orangery or an extension.
With differences between each style, learning about the unique elements of each is a great place to start. Here, we detail how each style can contribute to making your home a place you're excited to return to each day.
Conservatories
Traditionally attached to the rear of your home, conservatories are mostly glass-built structures originally introduced to encourage the growth of plant life. Nowadays, their use has extended to extra living space, so if you're in need of a little more room at home, a conservatory is for you.
Other key features of conservatories are their full glass roofs and walls, not to mention the fact that they often complement the house by incorporating the same design features as the home.

This can include the same brick colour at the base and uPVC or wooden windows to match those already featured on your house. Conservatories come in all shapes and sizes, so for some inspiration, take a look at our guide on choosing your conservatory shape.
Orangeries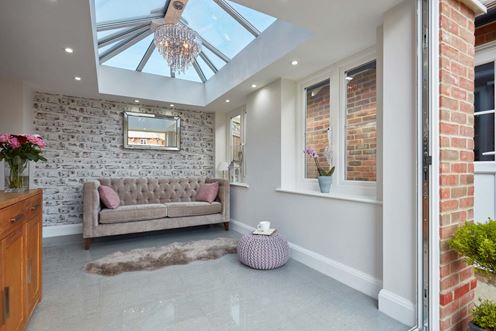 Orangeries were originally built for the aristocracy, but nowadays they're very much a contemporary design feature in Britain.
Similar to greenhouses in purpose, orangeries were once intended to support the growth of plant life, but now function as a year-round living space. Orangeries are distinguished by columns that sit beneath a roof formed of internal pelmets and glass panels.
Incorporating less glass than conservatories, orangeries don't always attach to the rear of the house. Like greenhouses, they often sit as a separate free-standing structure within the garden. They're perfect if you fancy an independent space to read a book or listen to music in private.
Extensions
Extensions can be constructed in multiple places and can be used for many different purposes.

Constructed with insulated walls and a roof, extensions are an alternative to conservatories or orangeries in that they can incorporate a new kitchen, bedroom, bathroom, lounge or dining room. Extensions are usually utilised all year round and may require planning permission. They will almost definitely require building regulation approval.

If your kitchen could do with being bigger, you have a new addition to the family on the way or you simply fancy extra space in which to relax, an extension is a great way to achieve this.
Take a look around
At Anglian, we have more than 50 years of experience working with our customers to improve their homes. Whether you're opting for new windows, a conservatory or an orangery, we proudly produce top-quality products that are all made in Britain by skilled craftspeople.

Looking for inspiration? Check out our conservatory, orangery and extension, or for a free no-obligation quote, fill out our online form.