Conservatory Roofing Options
Conservatory roof materials:
Solid tiles
Solaroof
Polycarbonate
Whether you're looking to buy a brand new conservatory or just wanting to replace the roof on your existing conservatory, we offer three different roofing options. In this section you can find out more about the different options available.
View Solid Roofs
Solid Roof
Love the space you have – and make more use of it too. A tiled roof extension is a living room and conservatory all-in-one, and is good to use all year long.
Contemporary look - A superb combination of conservatory and home extension.
Made for you – Each tile is individually made by our own craftsmen and are available in different colours: slate-effect, Carbon Grey, rich Harvest Brown or deep red Terra Brick.
Let in the light – You can incorporate roof windows into the design or integrate glazed panels, with Anglian's Solaroof.
New for old - transform your existing conservatory whether your conservatory is made from PVC-U or wood, and whether it was made by us at Anglian or by someone else.
Keep out the cold - A lightweight tiled roof extension is as much as 15 times more thermally efficient than any other roof.
10 year guarantee

Best Thermal Performance

Upgrade Existing
Solaroof
This is the revolutionary, unique roof system that allows you to enjoy your conservatory, whatever the weather.
Glass is fitted with a wafer-thin film to cut down the sun's heat and glare
Blocks 98% of UV rays which can cause your furniture to fade
Reduces glare from the sun by 80%, making it more usable in the summer
Reflects 75% of the sun's heat, helping to keep your conservatory at a comfortable temperature
10 year guarantee

Moderated Temperature

Solar Protected Glass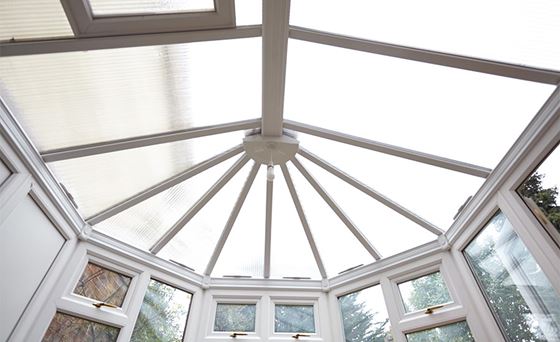 Polycarbonate Roof
This can provide a cost effective solution to roof glazing. With 25 mm thickness and 5 wall multi chambered it is available in different options: clear, bronze, opal, bronze opal and solarguard. They differ in colour, light and solar transmission, u-value and shading efficiency which your sales representative can help you to choose from and advise you depending on the orientation of your conservatory.
10 year guarantee

Economic Option

Made in Britain
Anglian's Roofing System
We are very proud indeed of our roofing system – because, quite simply, it is the best on the market. Not just because of its looks and great choice of options. This is a system that is designed to withstand even the most extreme of British weather, from high winds and snow to baking hot sun.
Controllable ventilation comes as standard in Anglian's Glass Roofing systems.
Specialist software is used to create your conservatory roof. Your postcode is used to pinpoint your geographic location so that all weather statistics are used to build a profile of your area and your roofing system's weather requirements.
Roofing systems are designed to be load bearing for heavy snow falls and can withstand extreme weather conditions. Designed in accordance with BS6399.
Every roof is custom built.
Watch how well an Anglian conservatory roof withstands strong wind compared to a standard conservatory roof (49 seconds)