up to
27

½

% OFF
CONSERVATORIES
*
Conservatory Verandas
Enjoy the outdoors from the shelter of a veranda - perfect protection from summer showers and breezes, either on its own or added to a conservatory.
Extend the front or side of your Lean to or Regency conservatory with a veranda to enjoy your garden's full potential
Add a side wall or wrap your veranda around your home to create the perfect space to relax, BBQ, sunbathe and simply enjoy the outside
Choose a glass or polycarbonate roof for your veranda to match or contrast with your conservatory – we can also create a replacement roof for your existing veranda
Create a stylish space that will enable you to enjoy the outside all year round
Explore Veranda Features & Options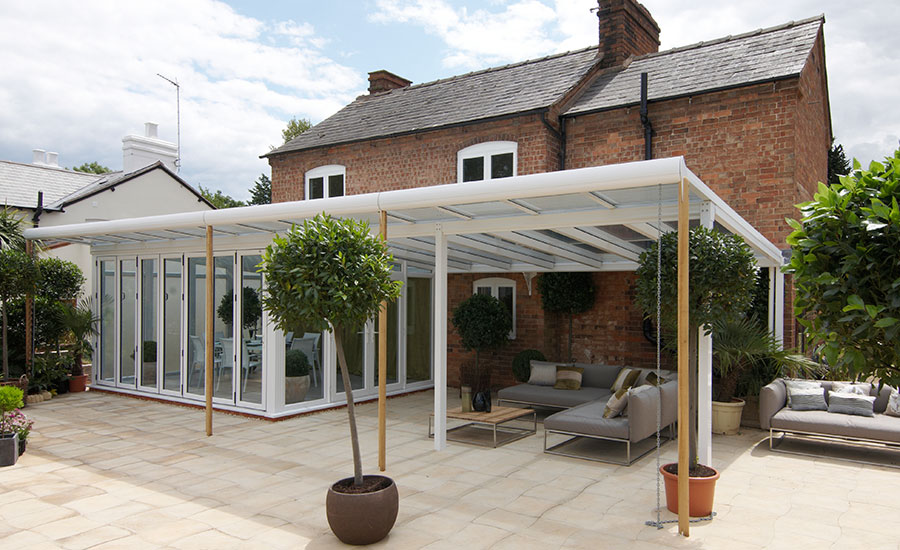 Your Veranda design options
A veranda is a great enhancement to your home, offering shelter in inclement weather so you can still enjoy life outdoors.
Our uPVC verandas are available in a choice of finishes, including our popular White Knight and a range of wood effects. We can make your veranda as large or small as you choose, have a solid roof or build a side wall for privacy and even wrap it around the corner of your home.
On its own or as an addition to a Regency or Lean to conservatory, an Anglian veranda helps you to make greater use of your garden and surrounds.
Quality guaranteed
10 year guarantee
Made in Britain
Accredited levels of security
BBA certified products
Fast, professional installation
Anglian fit more conservatories than anyone in the UK.
Get a Quote
Be inspired by our customers who have transformed their homes
An ever evolving space
A room to use all year round
John and Ruth Marks chose to add an Anglian conservatory in a White Woodgrain finish to their 1920s cottage in Welwyn Garden City. The new conservatory needed to maintain the balance and integrity of their property and adhere to strict planning regulations specific to England's Garden Cities. The couple decided against a wooden-framed conservatory, preferring to reap the benefits of low maintenance PVCU frames.
After completion the couple employed decorators to paint the walls, fit ceramic floor tiles, render the exterior and paint a black plinth on it, to ensure it was in keeping with the original house. The conservatory adjoins a small sitting room and opens out on to the patio. John and Ruth now have a light and airy room where they can enjoy picturesque views of their garden.
"I can see us using the conservatory to dine in. It's the light that appeals; we now have light in abundance. I think what we use the conservatory for will evolve and we see it as having uses at other times of the year, not just in the summer."
Expert design
Match your personality and your home
Constructing a lofty conservatory on the back of a low-eaved bungalow proved far from straightforward, but Stephen and Eva Morris were determined to create their dream addition. "We had been thinking about doing this for about five years, but it looked like it would be too difficult a project to manage."
Fitting a tall conservatory onto a low-eaved bungalow required expert design and a bit of lateral thinking. The result – an airy Victorian conservatory with a roof that Stephen estimates is more than 12ft tall – is exactly what the couple wanted, without compromising the look of the bungalow. "I just love it," says Eva.
It's an unusual conservatory that draws interest whenever the couple have visitors, but at the outset having it designed wasn't as straightforward as the couple had hoped. Tying up the rooflines between their double-height dream conservatory and their large bungalow was beyond many conservatory companies. "I'm really looking forward to being able to use it year-round. We've got such a lovely garden and it's nice to be able to see more of it," says Eva.
Extra space to enjoy
Bespoke design and end-to-end service
When Mr & Mrs Moss decided to add a Victorian style conservatory to their home, they wanted to create some extra space to live in and a better view of their garden. "It was an additional room we could use", said Mr Moss, "It was something we thought would enhance the house".
Mrs Moss agreed: "It's a good size, so it's a really useful space which we can use for different occasions – for dining and other things."
Modern uPVC and glass make Anglian conservatories usable all year round. They're warmer in winter, thanks to their ability to keep heat in and cold air out. And, our exclusive Solaroof system maintains a cooler temperature in the summer by reflecting virtually all of the sun's ultra-violet radiation heat.
The couple chose Anglian to build their conservatory because they wanted to work with a company who could handle all aspects of the project with quality craftsmanship at a fair price. They also chose to personalise their conservatory by adding decorative glass. "We were pleased with the product and the workmanship – they have always been extremely helpful," said Mr Moss.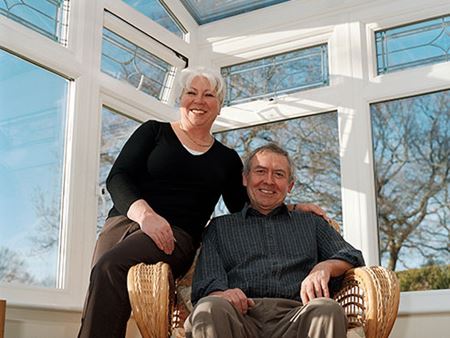 Why Choose Anglian?
We're with you every step of the way - just one of the Benefits of an Anglian Conservatory. Our expert team offers a personal and professional service from design through to installation, ensuring that you're delighted with every aspect of your new conservatory. And it doesn't stop there - with 50 years in the business, we're proud of the quality of our work and offer long-lasting guarantees.
Get a Quote
Quality
We use the finest materials and skilled craftsmanship to assure you of the quality of our conservatories:
Made in Britain
BBA certified products
Accredited security levels
Energy efficient.
Why quality is important
Guarantee
We make every Anglian conservatory individually with quality materials and craftsmanship, so we confidently guarantee each one:
10-year guarantee on uPVC products
10-year guarantee on base works
15-year guarantee on Ultra gas-filled sealed units
Additional protection as a member of the Glass & Glazing Federation (GGF)
Our guarantees
Our Accreditations
Awarded Feefo Trusted Merchant for customer satisfaction in 2015 & 2016
The British Board of Agrement provides certification on the quality of our products.
Windows with a WER rating of A or above can be registered with the Energy Saving Trust.
TrustMark is a government endorsed not-for-profit organisation that operates a quality mark framework through more than 30 scheme operators who work in the repair, maintenance and improvement sector.
Anglian is a leading member of the Glass and Glazing Federation (GGF).
Certifies products made from start to finish in a British factory by British craftspeople.
Independent service that deals with disputes between registered businesses and consumers.
Customer Reviews
Our FAQs will help you make the best choices on the design and build of your new Anglian conservatory.
Find out more
Read some of the reasons why so many people pick, and then return to, Anglian for their home improvements.
Find out more
We respect your privacy and
do not sell data about your enquiry to third parties.
Our
privacy policy
explains how we use your data.
Home Inspiration From Anglian
Our 'Good to be Home' magazine is brimming with interesting information and tips, if you want to see inside the world's most expensive apartment or are simply looking for tips on making your home more energy-efficient.