Energy Efficient Windows
Reduce your carbon footprint and heating bills with our energy-efficient windows that are available in A++, A+ and A ratings. We're always at the forefront of technology, and recent advances mean our energy-saving windows are more effective than ever. Each window is tested and rated, so you know exactly how effective it is at keeping out the cold, retaining heat and saving you money.
Casement
Sash
Tilt & Turn
Bay
Cottage
uPVC
Wood
Alu
uPVC
Wood
uPVC
Wood
uPVC
Wood
Alu
uPVC
Wood
A++ rated
✔
-
-
-
-
-
-
✔
-
-
-
-
A+ rated
✔
-
-
✔
-
✔
-
✔
-
-
✔
-
A rated
✔
✔
-
✔
✔
-
-
✔
✔
-
✔
✔
B rated
✔
✔
1.4 W/m²K U-value
✔
✔
✔
-
✔
✔
✔
✔
✔
Triple Glazing
✔
-
-
-
-
✔
-
✔
-
-
-
-
Key performance factors for energy rating
Energy ratings are calculated by measuring three performance factors: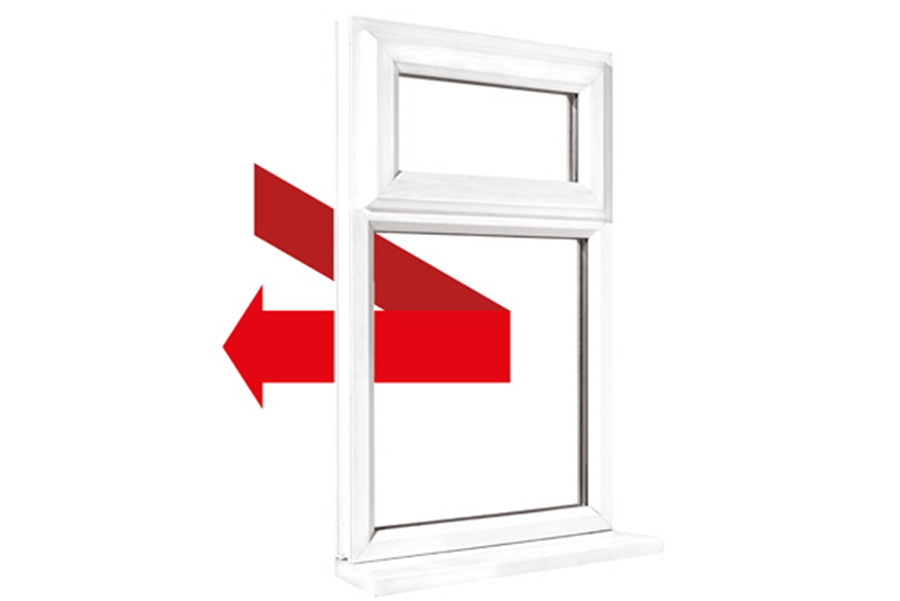 1. Thermal transmittance, (U value) - This measures how well your window retains heat. The lower the amount of heat lost and U value, the warmer your home will be.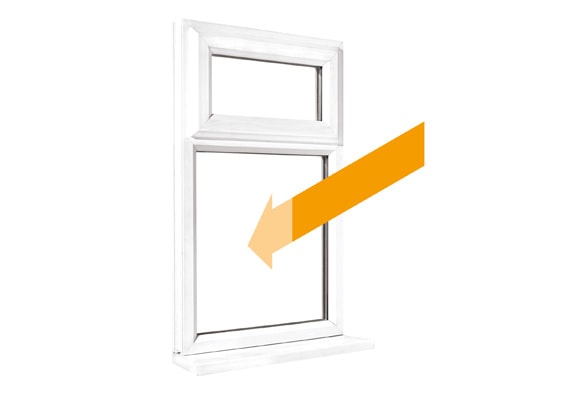 2. Solar, (G factor) - This evaluates how well your window harvests the sun's natural heat. Expressed as a number between 0 - 1, the higher the number, the better your window is at capturing heat.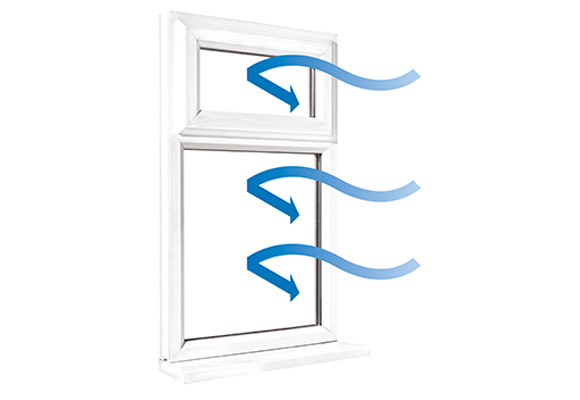 3. Air leakage, (L factor) - This measures how airtight your windows are. The lower the L factor, the less draughty your window will be.
The combination of these three factors provides an overall energy rating for each window.
Why Choose Anglian?
We understand that replacing your windows can be daunting, so one of the Benefits of Anglian Glazed Windows is the way we guide you through the process. We make things simple, so you can relax knowing you're in safe hands as we transform your home. And, as you can see below, you can also be confident about your windows' quality and the strength of our guarantees.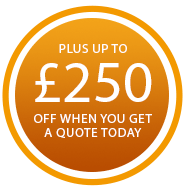 Get a Price
Guarantee
We build our windows to last, using top-quality materials and skilled craftsmanship but, should you ever need us, our guarantees mean we'll be there:
10-year guarantee on uPVC, wood and aluminium
5-year guarantee on stained wooden windows
15-year guarantee on our Ultra gas filled units
Additional Glass & Glazing Federation (GGF) protection
Our guarantees
Trusted by


The British Board of Agrement provides certification on the quality of our products.



TrustMark is a government endorsed not-for-profit organisation that operates through more than 30 scheme operators.


Anglian is a leading member of the Glass and Glazing Federation (GGF).
Find out more about double and triple glazing in our useful Window FAQs Section or read our articles below
Find out more
Got questions about choosing Anglian? Find out why Anglian is the right choice for your replacement windows.
Find out more
Energy efficiency and reducing your carbon footprint is important to many Anglian customers. To help you compare the effectiveness of each of our energy-efficient windows, we use the energy ratings system developed by the British Fenestration Rating Council (BFRC), which is the UK's nationally recognised scheme for measuring windows' energy efficiency. The BFRC scheme is used in Building Regulations to show compliance for window replacements; to comply, every window must achieve a C rating or above.
Each window is assessed to measure how well it prevents heat loss, keeps draughts out and how well it absorbs natural, free energy from the sun. This combination of factors gives an overall energy rating, ranging from A++ to G, with A++ being the highest rating.
Our uPVC windows achieve an A rating or higher as standard, meaning they gain more of the sun's free energy than they lose through thermal transmittance. Ratings of A+ and A++ are also possible with our uPVC windows. Our A+ double-glazed option makes the most of solar energy, while our triple-glazed flush casement options – available up to an A++ - offer the best in reducing heat loss. By installing Anglian's windows, you'll be confident your home will be as warm as possible, while saving you money at the same time.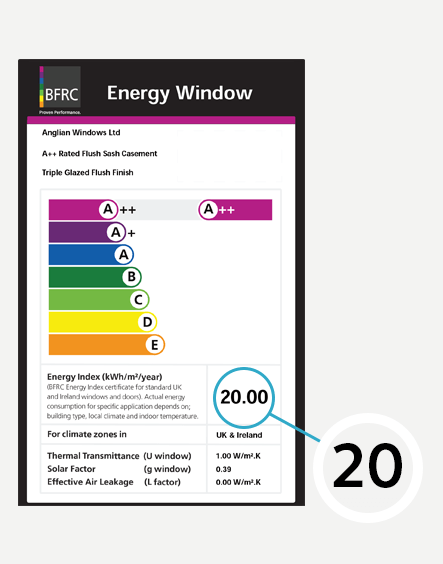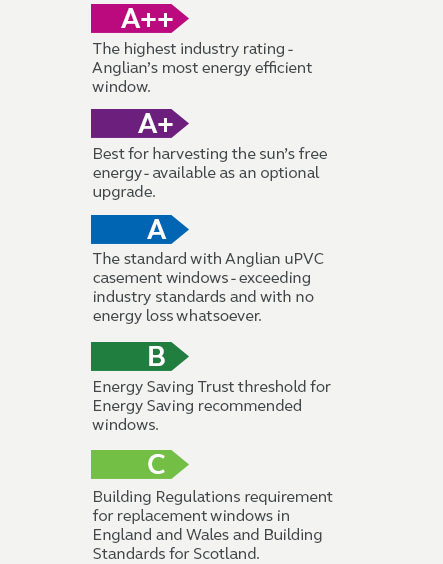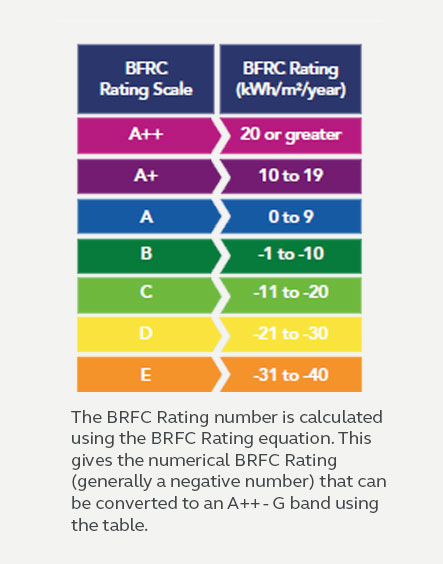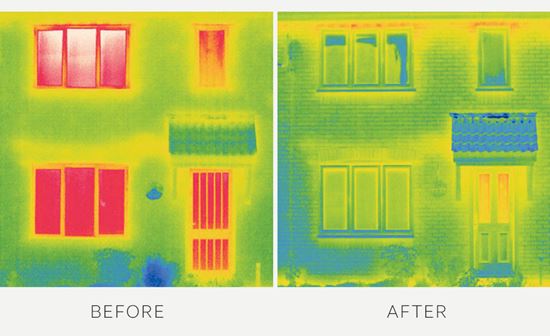 All our uPVC double-glazed windows achieve an A rating or higher as standard. The higher the rating, the more energy your windows save, which not only makes your home warmer, but helps to keep your heating bills lower. There are environmental benefits, too. By consuming less energy to heat your home, you'll also be reducing your CO2 emissions.
Switching from single glazing to our A-rated energy-saving double-glazed windows will save money and significantly reduce heat loss. Even replacing older double-glazed windows to our modern A-rated double-glazed windows will make a difference. For all-round energy performance as well as other benefits, such as better security, you can choose triple-glazed windows, which also achieve up to an A+ rating.
Our A-rated windows are available in a number of styles, but for even greater energy efficiency, you can upgrade to A+ glass in some styles or opt for triple glazing, which is particularly beneficial for hard-to-heat rooms.
4 steps to your new windows
1
Home or Virtual Visit
Your local design expert talks you through the options and provides a free quotation.
2
Technical Survey
Our technical surveyor visits your home to measure-up and check your order.
3
UK Manufacture
Your windows are made to measure at state-of-the-art factories here in the UK.
4
Easy Installation
Our team arrange a convenient time to fit your new windows.
Want to speak to an advisor?
Give our team a call on 0800 014 2106
We respect your privacy and
do not sell data about your enquiry to third parties.
By providing your details you agree to being contacted under the terms of our
privacy policy
.