Energy Efficiency Ratings Explained
Energy efficiency ratings help us make more informed purchases. But this can be confusing when not every rating means the same thing. Our handy guide curbs the confusion and explains what energy ratings mean, so you get the most out of them.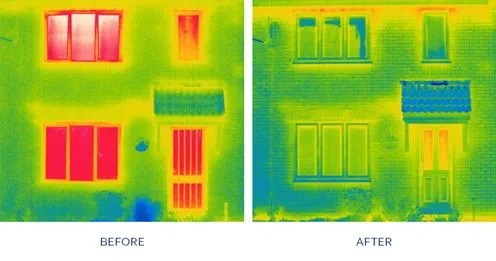 How Are Windows Rated For Energy Efficiency?
These thermal images show just how much difference new energy efficient windows and doors make to your home. But how do you know how efficient a window or door is before you install it?
There are a set of energy rating systems that rate your window and door energy efficiency. These ratings look similar to the ones on household appliances, white goods and light bulbs. Our windows have ratings ranging from B to A++, but what does this mean?
Download the Infrared Test Report
here
Window Energy Ratings
The B to A++ ratings on our windows come from the Window Energy Ratings System (WER), developed by the British Fenestration Ratings Council. The BFRC are the most trusted window and door energy performance assessors in the UK.
Building Regulations state that all new windows have to achieve a B rating to pass. Our windows meet or exceed these standards, and each one gets its own BFRC rating sticker to prove it. Only approved manufacturers may display BFRC labels on their products. But what makes up the WERs and DSERs and what does that mean for your window or door?
WERs and DSERs
These are energy performance ratings for windows and doors, on a scale of E to A++, with A++ being the most energy efficient. Ratings depend on how well windows and doors prevent heat loss, keep out draughts out absorb natural energy from the sun. An A++ rating means a window is very good at all those things, which means a warmer home with lower heating bills.
WERs and DSERs use three measurements, U-Value, G-Value and L-Value, along with the size of your property, the occupants, climate data and window size. Together, these factors and measurements make up the Energy Index Score. The index scores between -40 and 20+, with -40 rated E and 20+ rated A++.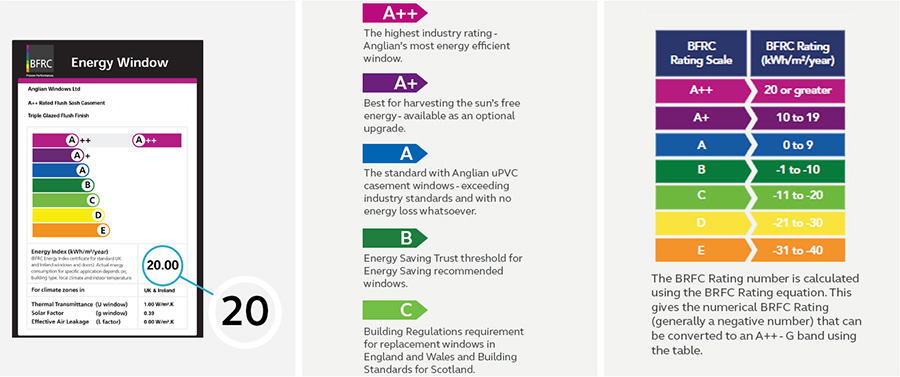 U-Value, G-Value and L-Value for Energy Efficient Windows
These three key values make up a large part of your window energy efficiency rating. Each of them measures a specific factor of window performance, taking into account every part of the window.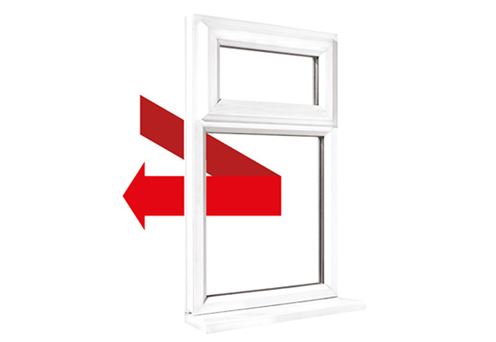 Thermal transmittance (U-Value)
This measures how easily heat gets through your windows and doors. The higher the U-Value, the more heat escapes, so the lower the U-Value, the better. A lower U-Value means your window keeps more heat in and your home is warmer for longer.
To get a U-Value, heat transference rate is divided by the temperature difference on either side of the window or door. The end value is in watts per square meter per Kelvin W/m2K. (1°C = 1Kelvin). Our A++ rated uPVC triple glazed flush windows have a U-Value of 0.95 W/m2K.
This means that for every degree of difference between the inner and outer panes of glass, 0.95 watts of heat energy is lost per square meter of glass. This is a very low amount of heat energy escaping, meaning these windows are very good at locking in the heat.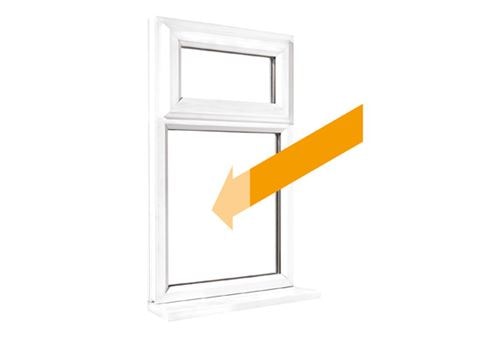 Solar Factor (G-Value)
This measures how much of the sun's heat your windows let into a room. The value is a number between 0 and 1, where 1 means your window lets in all the sun's heat and 0 means it blocks it.
G-Value is calculated using the sun's heat that passes directly through the glass, plus the heat the glass absorbs and radiates into your room.
Some windows and glass block the sun's heat by design. The idea being that allowing some, not all, of the sun's heat into your room means it is warmer in the winter but doesn't get too warm in summer.
Our triple glazed A++ flush uPVC windows have a G-Value of 0.39, lower than our A-rated double glazing. Because of this, you might think triple-glazing works well on south facing windows, but higher heat retention means they would be too warm. This means triple-glazing works best for colder rooms where heat retention and draught prevention is more important than capturing heat. Mix and match double and triple-glazing based on where they are and where they face, so your home is warm and comfortable all year round.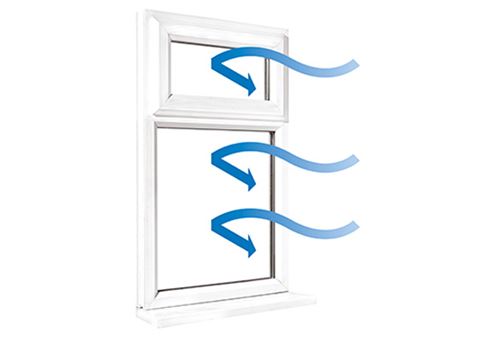 Air leakage (L-Value)
L-Value measures how airtight your window is. An airtight seal keeps cold air out and warm air in.
Like U-Value, the L-Value of your window is measured in W/m2K. The lower the L-Value, the better the window is at stopping air getting through seals and around the frame.
The L-Value on our windows is zero, which means the window is airtight when closed. This keeps draughts out and makes sure none of your warm air escapes.
Windows with gaps are not just draughty, but they let your warmth out. With an airtight seal, the heat you gain from the sun as well as the heat trapped and reflected back into your room, stays there.
The three values combine together to calculate your window energy ratings. Building regulations use these and other ratings around the home, to calculate your Energy Performance Certificate. But what is an EPC, how is it calculated and why is it important?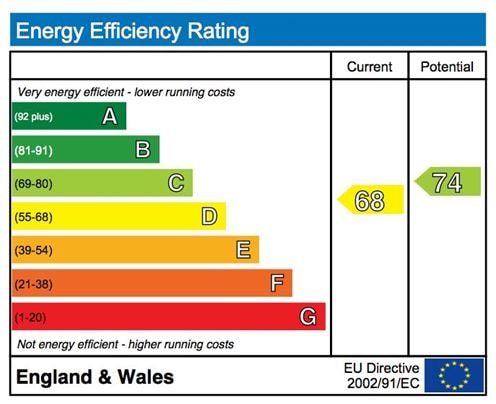 Energy Performance Certificates Explained
An Energy Performance Certificate rates the energy efficiency of a home. Carried out by an accredited assessor, EPCs rate homes from A to G, with A being the most energy efficient. Beyond the rating, the certificate provides lots of other useful information.
It tells you how much energy you use and the average that you'll pay. As well as that, the EPC suggests improvements you can carry out on your home to bring the rating up. These suggestions have typical costings to help you budget and plan improvements.
Other information includes your property's environmental impact. How much energy you use for heating and hot water, as well as whether your supply comes from renewable sources. If you are selling, buying, renting or building a home, you need to have an EPC. They are only issued by an accredited assessor, which you can book by visiting the government website. Each certificate lasts for 10 years and you'll need to get it updated if you do any work to your house that might affect your score.
A good Energy Performance Certificate rating is an asset for any homeowner. A lower score means lower running and environmental costs, but also boosts the value of your home. A Government property sales report found that making energy efficiency improvements to your home could increase its value by 14-38%. With rising energy costs, having a C rating over an E rating can mean the difference between selling your house and not.
Calculate The Energy Efficiency Of Your Windows
The Glass and Glazing Federation (GGF) have an online tool to calculate how much energy and money you could save by replacing your windows. All you need to do is enter some details about your home and windows, and the rating of windows you're thinking of buying. For more accurate results measure your windows, have a look at what they're made from and how big the spacer bar is. That's the metal bit that separates the two glass panes on double glazing. When you've done that, the calculator will estimate how much the new windows could save you every year. Below is a calculation based on a typical detached house. Find out more on our energy savings page.
A typical house upgrading from pre 2002 double glazed PVC-U windows with

gas

heating to Anglian

A rated

windows

£184.250.47

0.47 tonnes CO2


Annual Saving

£1842.50 4.7 tonnes CO2


10 Year Saving
*Source Glass and Glazing Federation. † A typical detached house has 23.7m2 of windows. Based on replacing uPVC double glazed windows with a 12-14mm sealed unit and gas central heating with A-Rated thermally efficient windows.
Replacing your old windows may seem like a big project, but old and inefficient double glazing could be costing you over £150 pounds a year. All our windows have efficient energy ratings, and we offer low rate finance, from £249 deposit and an 11.9% APR variable. With the cost of energy set to increase when the UK government removes the price cap in April, installing our A, A+ and A++ rated windows is a long-term investment against rising energy costs. Book your remote quote or in-home visit now to find out how much you could save.