White uPVC cladding Embossed Featheredge night

White uPVC cladding Embossed Featheredge day

Anthracite grey uPVC Shiplap cladding first floor

White uPVC Tongue & Groove cladding porch

White uPVC Tongue & Groove cladding front of house
Transform the appearance of your home with exterior uPVC cladding. Designed to protect and refresh tired brickwork, exterior cladding is a low maintenance and weather resistant solution to replace rotten timber cladding or add a contemporary finish to a new build property.
Made from uPVC, our plastic cladding comes in three contemporary styles available in a variety of colours: Tongue and Groove cladding, Shiplap cladding and Embossed Featheredge. Compared to cladding made of timber, Anglian uPVC cladding could help insulate your home, it's cost-effective, protects the structure of the building and is extremely low maintenance. Find the perfect style to give your home instant kerb appeal.
The Benefits of uPVC Cladding
Increase Internal Insulation

Made from PVC-UE extruded foam boards, uPVC exterior cladding offers better thermal insulation than exterior walls made from brick, stone, concrete or timber alone. The weather-resistant, durable skin makes it easier for the building to regulate the temperature, increasing heat retention in the colder months.

Add Structural Protection

Exterior cladding protects the walls of your home and keeps them watertight by preventing moisture from accessing the fabric of the building. It adds an extra barrier to shield the brickwork underneath.

Improve Kerb Appeal

Upgrade your exterior walls with modern exterior cladding. It's one of the most common ways to give your home a new lease of life and can even add value to your home. Find the look that's right for your home with our choice of three uPVC cladding styles and a big range of colours.

Easy Maintenance

Installing plastic cladding is a much lower maintenance alternative to painting or rendering your home. It's quick and easy to do, long-lasting and resistant to fading over time. Simply wash down your cladding to keep it looking its best.
Our uPVC Cladding Designs
Embossed Featheredge Cladding
Mimicking the look of woodgrain, Embossed Featheredge uPVC cladding tapers on the diagonal and the boards slightly overlap each other. Strike the perfect balance between classic and modern design with eight neutral shades to choose from, including whites, greys, creams and browns.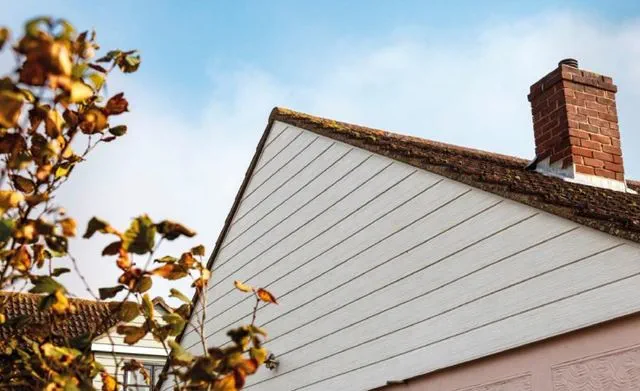 Tongue & Groove Cladding
With uPVC boards designed to slot together like floorboards, Tongue and Groove cladding gives a smooth, minimal finish. Also known as Vee Groove or weatherboard cladding, Tongue and Groove cladding is available in two different plank depths and comes in Classic White.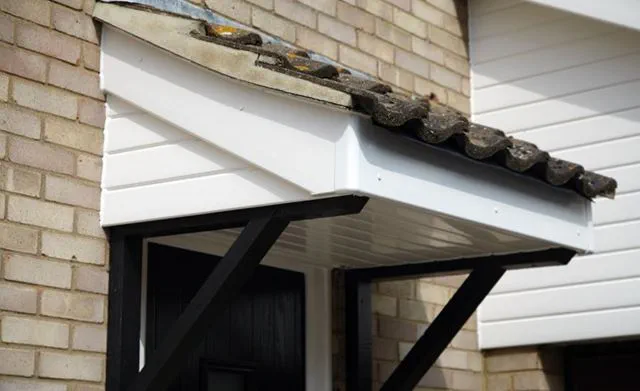 Shiplap Cladding
Shiplap cladding interlocks together like a jigsaw. The robust, flat design of shiplap with hidden pinning offers enhanced weather protection and durability. Choose from seven colours: White Gloss, Anthracite Grey, Sage Green, Golden Oak, Black, Cream Woodgrain and Dark Woodgrain.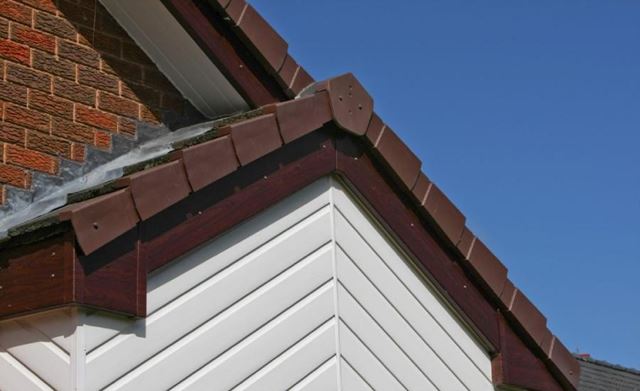 Why Choose Anglian Cladding?
Quality Guaranteed
Our rooftrim products, including uPVC cladding, come complete with our 10-year guarantee. Enjoy complete peace of mind buying from a national company that sets the standard for uPVC products.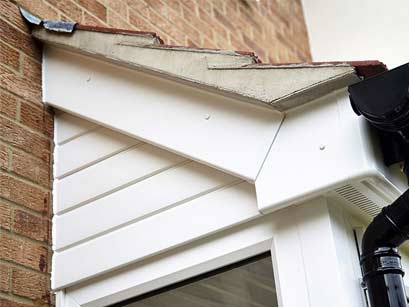 All-in-one Replacement
Replace your roofing and cladding products – including cladding, fascia, soffit, bargeboard and guttering – together in one easy Anglian installation. It's time to stop the rot, cure the leaks and transform the look of your home once and for all.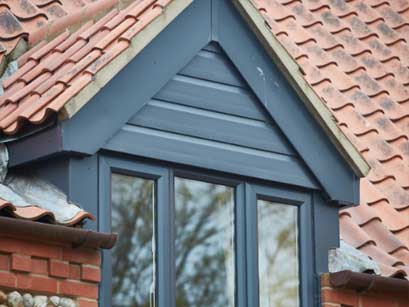 Cost-Effective
Much like its use in window products, uPVC balances affordability with quality. With a lower outlay cost than timber or metal cladding and much less maintenance, exterior uPVC roof cladding is an excellent investment.
Our happy customers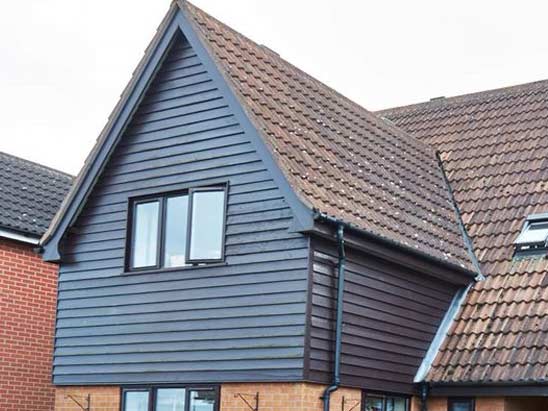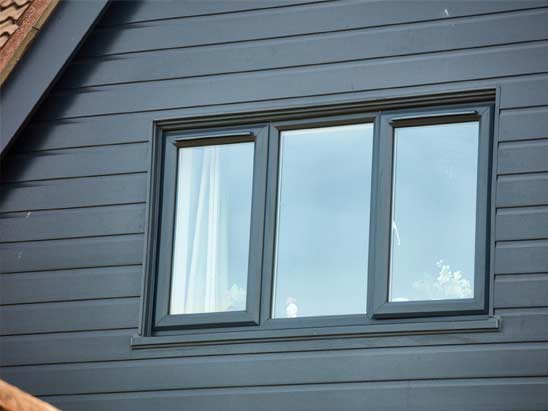 Mr Goodrum, East Anglia
Anthracite Grey uPVC cladding from the Anglian Shiplap range
"Anglian's reputation, choice of products and the overall package swung the balance. The best thing about our installation is the difference it has made to the kerb appeal of our home. It looks very neat and tidy and this will remain the case without requiring any maintenance. We have seen a reduction in draughts and have been able to keep the property warmer with lower energy costs."
Get a Price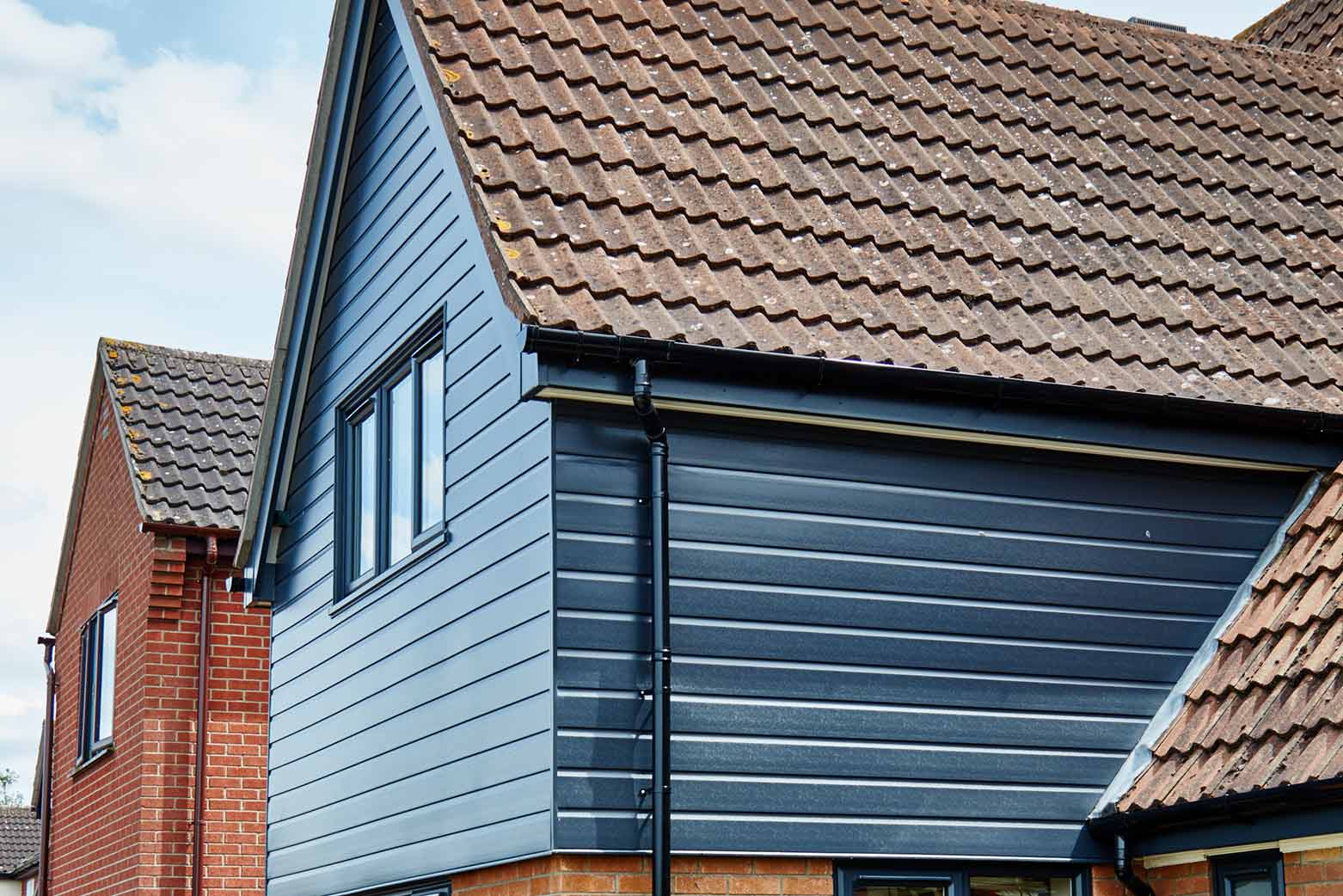 Customer Reviews
Why Anglian?
Made in Britain

Our uPVC cladding is manufactured right here in the UK by our expert craftspeople to fit the exact specifications of your home.

Flexible Finance

It's easy to spread the cost of your new cladding with our low rate finance plan from 12.9% APR variable.

Delivered and Installed

The price includes the home visit or remote quotation, and the survey, manufacturing, installation and aftersales for your uPVC cladding.



Get a Price
uPVC Cladding FAQs
How long does uPVC cladding last?
uPVC cladding is known for its longevity and can generally last several decades without deteriorating. Anglian's uPVC cladding is covered by a 10-year guarantee as standard. If you encounter any problems after installation we're here to help.
What are the different types of cladding?
The most popular types of cladding are those made of uPVC, timber, metal, brick, glass, concrete and stone. However, these different material types come in different designs and colours. Anglian offer three of the most common cladding designs: Shiplap Cladding, Tongue & Groove Cladding and Embossed Featheredge Cladding.
Does cladding improve insulation?
Adding exterior cladding to your home could significantly improve heat and sound insulation compared to your existing exterior walls. Cladding covers your brickwork in an insulating skin which provides a durable and weatherproof exterior. This prevents moisture from accessing the fabric of the building, while making it easier for the building to regulate the temperature. The improved insulation increases heat retention in the colder months.
How much does uPVC cladding cost?
uPVC cladding tends to cost less than timber or metal cladding, making it an affordable home improvement worth considering. It also offers very good insulation, structural protection and is a lower maintenance solution rather than having to maintain and repaint wood cladding.
How do you maintain cladding?
Cladding made from uPVC doesn't require any significant maintenance. Wash it clean to keep your cladding looking its best for years to come. Anglian's three cladding styles are all made from uPVC. It won't ever rust, rot, flake or peel.
Our Accreditations and Licenses
Sets standards that ensure our products and services meet customers' requirements.

The British Board of Agrement provides certification on the quality of our products.

Certifies products made from start to finish in a British factory by British craftspeople.

PVC Industry initiative to improve manufacturing, minimise emissions and develop recycling practices