Door Furniture
If you're looking to fit your doors with furnishings that combine style and functionality, you've come to the right place. We stock a huge range of door furniture, including elegant door knockers, secure handles and letter plates that make your entrance utterly inviting.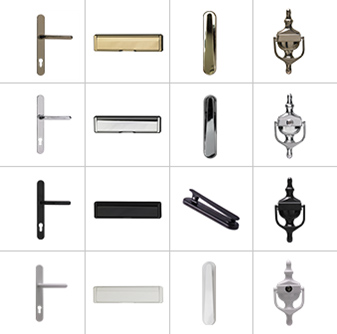 Composite Classic and Elite Furniture
Door handles
Always in use, our door handles are built to last. Resistant to wear and tear, maintenance-free and secure, you'll love our stylish range designed especially for our Classic collection.
Letter plates
Carefully crafted from durable materials, our letter plates will look wonderful right next to your front door. Styles vary, from the traditional to the modern and minimal, so we're sure to have something to suit your aesthetic.
Ponytail knockers
Add a unique touch to any of our doors in the Elite collection, and opt for a ponytail knocker. Merging the key elements of a traditional knocker with art deco-inspired features, ponytail knockers are both eye-catching and practical.
Door knockers
Combining traditional and modern features, and known for being robust yet efficient, it's only right that our GRP composite doors have a door knocker of the same calibre. We have a wide array of styles for you to choose from, from statement knockers to smaller, discreet options.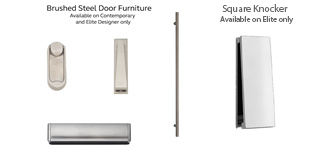 Also available
If our classic shades of black, white, gold and chrome aren't to your taste, we also stock a collection of accessories in antique black and brushed steel.
This exclusive selection of knockers, letter plates and door handles work perfectly with some of our most-loved GPR doors. Doors from our Contemporary range are available with sleek brushed steel finishes, while rustic antique black furnishings are limited to our Cottage range, including our elite stable doors.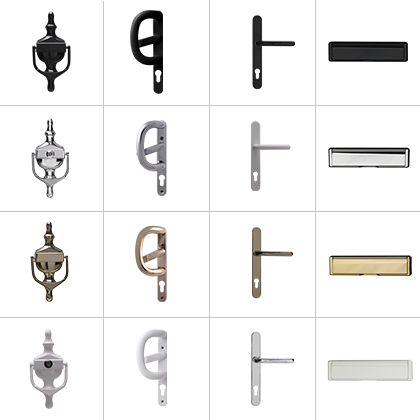 uPVC Door Furniture
Door knockers
uPVC doors are great if you're looking for a functional, stylish and maintenance-free solution, and our range of door knockers have been curated to match these practical fixtures. Eye-catching or traditional, there's a wide range to choose from.
Patio handles
Combing security and style, we have a brilliant selection of patio handles that have been specially made for use with classic and uPVC doors. Whether you're nipping out for a spot of gardening or enjoying the best of Britain's weather, these patio handles are practical and pretty in equal measure.
Door handles
We use them every single day, so it makes sense to have door handles that look great, feel good and are really durable. Whether you're looking for a handle for your uPVC door, we've got a stylish selection to choose from.
Letter plates
Whatever the colour of your uPVC, you'll love our range of beautiful letter plates. Available in all sorts of styles that'll compliment a wide range of aesthetics, they add a perfect finishing flourish to your front door.
Wooden Door Furniture
Door knockers
Specially designed for wooden doors, our beautiful door knockers look good and work perfectly. They come in a number of colours and add an excellent finishing touch to the doors they're installed on – give your visitors a real treat with one of the range!
Door handles
In need of a door handle that combines durability and good looks? Take a look through our range of door handles made especially for wooden doors. Whether you're after a stately gold design or a cool, modern chrome, you're sure to find one that suits.
Letter plates
Give your post a warm welcome with one of our letter plates, each specially made for use with wooden doors. Combining durable fixtures, quality materials and lovely looks, they're the perfect choice for front doors.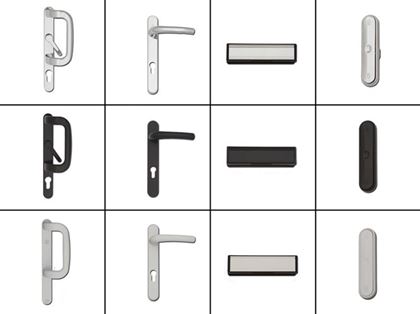 Aluminium Door Furniture
Door knockers
Your aluminium door deserves a door knocker that simply works, and our range do just that, all while being built to last and looking brilliant at the same time! Available in black, chrome and white, they suit all kids of doors, from the traditional to the modern.
Door handles
Inside and out, our selection of door handles make a welcome addition to any aluminium door, and are a slick, durable choice for any home. Look through the range and discover one that'll compliment your home perfectly.
Letter plates
If you're in need of a show-stopping letter plate that'll give your front door the stylish appearance it deserves, look no further. Our letter plates for aluminium doors are built to last and come in a number of colours – find your favourite today!