Bifold Doors
Connect your garden and conservatory with contemporary bifold doors – the new focal point of your kitchen, dining extension or lounge.
Bi Fold Doors
Get the ultimate designer look with bifold doors made from aluminium. Sleek and durable, bifolding doors can support the bigger panes of glass that flood your home with light for maximum visibility. Enhance the appearance of your home with custom made bifold patio doors made in the colour and size of your choice. Create panoramic views by adding fixed glass windows above your new doors to enjoy a wider view of your garden.
With no chance of warping, corroding, rotting or rusting, Aluminium is the material of choice for external bifold door frames. Made with advanced polymide technology for increased strength and thermal properties, Anglian bifolding doors will keep their colour and good looks for decades.
Get a Price
What are Bifold Doors?
A bifold door opens by folding back panels, or leaves. The folding doors slide open and the panels fold up and stack against the wall. Also known as concertina doors, folding doors or panoramic doors, external bifold doors help you make the most of the space in your home. Depending on the number of panels and configuration you choose, bi folding doors can have a primary door for daily use without having to slide all the panels open. Bifold doors make a brilliant alternative to traditional French doors or sliding patio doors to create a gateway between your home and your garden.
Top 5 Benefits of Folding Bifold Doors
Spectacular views

Bring a little of the outdoors-in with a conservatory with bifold doors. Admire the view of your garden from your conservatory or extension with doors that maximise the natural light flooding your home.

Security

Our bifold doors feature a locking system spread over multiple points of the sliding track and a Yale 3-star cylinder lock on the primary door. High security hinges, toughened glass and glazing beads on the inside prevent the glass being removed from the outside.

Great for any size property

Bifold patio doors take up very little space when they are open. It's in the name – they fold away neatly. This makes them the perfect option for both small and large openings.

Thermally efficient

Our bi folding doors have a thermal break to help keep the cold out. The large panes of glass let the natural heat of the sun flood your home.

Designer doors

Get creative and choose from over 200 RAL colours (i). Our long-lasting powder coat finish means our folding doors offer a vibrancy that won't wear out.
(i) RAL is a colour matching system that defines colours for paint, coatings and plastics.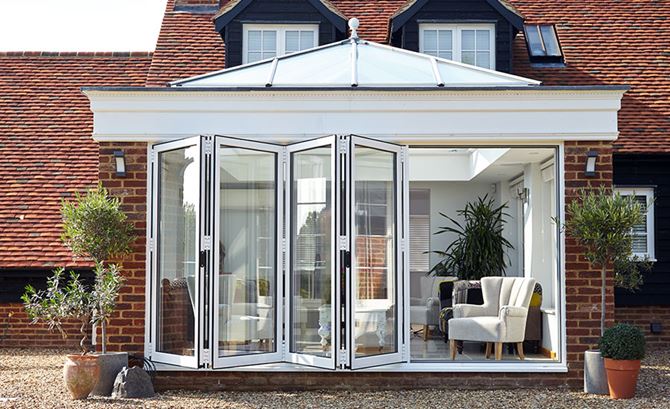 Bifold Door Configurations
Whether you're looking to add a contemporary touch to your conservatory with bi fold doors or create a feeling of spaciousness in your new extension, glass bi fold doors offer a lot of flexibility when it comes to configuration. Choose the number of panels, the direction of opening and the inclusion of a primary door, known as a traffic door. This level of choice that bifolding doors offer is harder to achieve with patio doors or French doors.
Odd number of panels
3, 5 and 7 bifold door panels
Bifold doors fold away in pairs, so when you choose a door design with an odd number of panels, one of the doors operates independently as a traffic door. It's a smart idea to include a traffic door to gain easy access without having to open the full set of doors. Trifold doors are up to seven-panels, bifold doors usually all fold in one direction.
Even number of panels
2, 4 and 6 bifold door panels
Bifold doors with an even number of panels up to six offer additional design flexibility. A 2-2 design with no primary door that fold away evenly at both ends is a popular alternative to sliding patio doors. You can also add a primary door which slides one way and the remaining three doors fold at the opposite end.
Bifold Door Design Features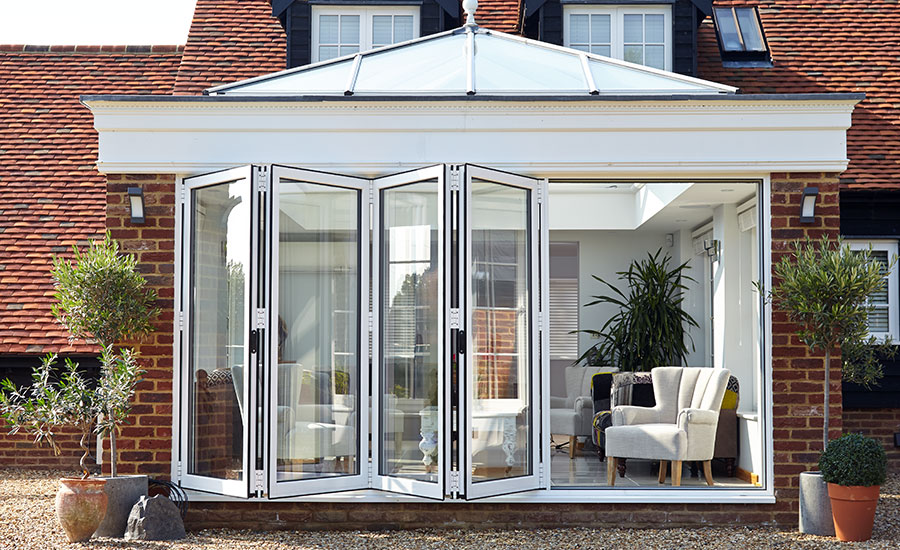 Range of Door Sizes

Option of 2-7 leaves/panels.

Our folding doors can be as wide as 6200mm and as high as 2400mm.

Aluminium Bifold Door frames

Aluminium Bifold Door frames

70mm Aluminium bifold door frame fitted with a thermal break to improve heat gain.

Multi-point locking mechanism spread over the sliding track.

Aluminium bi fold door frame does not degrade, rot or rust over time.

Choice of locking lever handle on primary door or pop-out handle openable from the inside.

Toughened double glazing

BS EN 12150 toughened safety glass.

Low-E glass fitted in the glass bifold door reflects heat back into your home.

Available with a clear or obscure glass finish.

Weather-sealed

Weather-resistant door seals to prevent cold air getting in and warm air getting out.

Low threshold and drainage tray options to keep the weather outside.

Colour options

Choose from over 200 RAL colours* plus, dual colour options are available in our most popular bi fold door colours. This means you can choose a colour for the inner frame and another for the outside.

*RAL is a colour matching system that defines colours for paint, coatings and plastics.
Why Choose Anglian for your Bifold Doors?
Your new bifold doors are guaranteed

Our insurance-backed 10-year frame and 15-year glass guarantees mean regardless of us, your bifold door guarantees remain valid until they run out.

Flexible finance

Spread the cost of your new bifold doors with our low rate finance plan and just £199 deposit.

The price you pay includes installation

Your home visit, survey, manufacture, install and aftersales service for your bifold door is all included in the price.



Get a Price
Bifold Doors FAQs
How do bifold doors work?
Bifold doors are made from multiple glass panels known as leaves that fold away like a concertina. The leaves are mounted in a mechanically jointed aluminium frame allowing the door to slide open and closed. The door leaves fold inwards or outwards, sliding away seamlessly.
How wide can bifold doors be?
Our bi fold doors can we as wide as 6200mm and as high as 2400mm, this makes it possible to create a configuration for a huge range of entranceways of different widths. Made up of a minimum width of two leaves and a maximum of seven leaves, bifold doors allow up to 90% of the width of your entranceway to be opened.
Are bifold doors secure?
Bifold doors in aluminium from Anglian offer the same great level of security as our other types of glazed doors. Bifolding doors have a secure multi-point locking system that locks at multiple points along the sliding track. A Yale locking primary door, high security hinges, toughened glass and glazing beads on the inside prevent the glass being removed from the outside of the door.
How much do bifold doors cost?
Bifold doors typically cost most than sliding patio doors or French doors in the same material but are worth every penny for the designer aesthetics and unrivalled views. Aluminium bifold doors are considered a more cost-effective choice in the long run as they offer durability, are light and have slimmer frames than bifold doors in uPVC or wood.
Trusted by



The British Board of Agrement provides certification on the quality of our products.


Independent service that deals with disputes between registered businesses and consumers.

Certifies products made from start to finish in a British factory by British craftspeople.

Anglian is a leading member of the Glass and Glazing Federation (GGF).
Want to speak to an advisor?
Give our team a call on 0800 500 600
We respect your privacy and
do not sell data about your enquiry to third parties.
By providing your details you agree to being contacted under the terms of our
privacy policy
.