Glass Options & Designs
Add that personal touch to your windows, doors or conservatory with our wide range of decorative glass styles.
Get a price for your windows. Book a free remote quote today.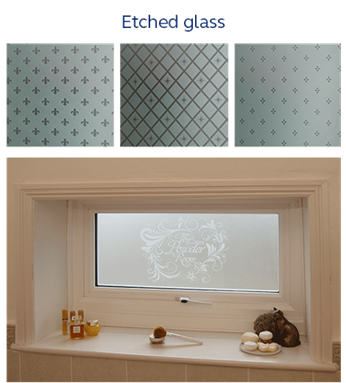 Etched Glass
Classic and period styles are perfect for owners of older homes, or for traditionalists with a modern home. Classic Fleur De Lys or traditional North Star and Snowflake patterns will all be created and installed by our craftsmen into your chosen double glazed window or door.
More contemporary designs can inject some individuality into a modern home. Be bold with funky geometric patterns, make your glass as pretty as a picture, or simply choose a design which complements your existing interior décor.
Etched glass always boasts an understated air of class, which is why simple border designs work so well. They can be used to help frame a beautiful outlook, incorporate period details or simply to add a designer touch to a high obscurity, silver misted pane.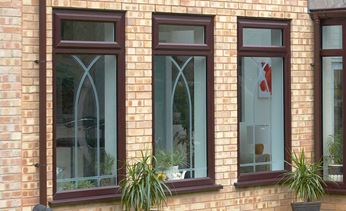 Brilliant Cut
Brilliant cut creates crisp, clean lines for a subtle yet sophisticated effect which still allows plenty of light to flood in. The diamond cut provides a stylish alternative to traditional diamond leading or you could welcome the sun into your home by adding a classic sunburst design to an arched window or a Regency gable.
Fusion
Fusion designs are a mixture of stained glass tiles, with polished edges and connected by sandblasted lines. They're like works of art in themselves and look simply dazzling when used as a colourful centrepiece or as a focal point within a fanlight window.
Incorporate art deco inspired decoration to your doors by using fusion glass tiles to add stunning splashes of colour to traditional line and border style designs. We can create antique styles with traditional shapes or hues or more contemporary looking counterparts, the design opportunities are endless.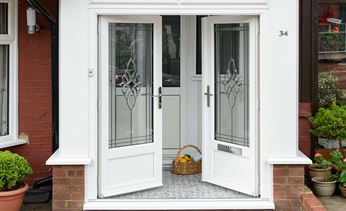 Bevelled
Bevelled glass designs manage to look both modern and classic at the same time. They're just right for adding a sophisticated 'architectural' look and are equally beautiful when kept clear and neutral, or when they're used to inject some subtle colour.
Bevelled glass is a chic way to create simple yet stunning door designs. The iconic diamond is a popular choice, but we have a wide array of shapes and patterns which we can carefully apply to create an amazing variety of elegant and tasteful designs.
Bevelled glass can also be used to create more intricate designs, featuring a mix of shapes and colours. These are just some examples of the designs we've produced, but we can also work with you to create a style that's completely unique to you and your home.
Coloured
Coloured glass is often used to create a traditional stained glass window effect. It's stunning when added to a simple, standalone design, or it can make a real impact when the design is run across a series of panes, such as in a conservatory or around a bay window.
While coloured glass flowers remain beautiful and classic, vibrant coloured glass shapes work just as well in cheery, contemporary designs. When outlined with lead it creates a modern geometric pattern which adds a real touch of fun.
Whether it's a colourful and funky pattern or a traditional geometric design, coloured glass in a door can really help to stamp character on your home and creates an entrance with real kerb appeal.
While stained glass designs are often associated with historic properties, contemporary designs work just as well in modern homes. Keep the shapes simple and bold and repeat them to build up a style and design which suits the size of the pane.