Fitting your new doors
When fitting a new external door in your home, it often helps to know the fitting process from start to finish. This way, you'll know exactly what is needed from you, as well as what to expect in terms of timescales and other practicalities.
Here, we break down how the door-fitting process works from a customer perspective, from the first enquiry through to enjoying your new door.
---
Get in touch
Even if you're not 100% certain you'd like a new door, get in touch with our team at Anglian, and we'll be able to help you see what's available and possible for your budget.
To do this, we'll send one of our design professionals to your home to meet with you and discuss your requirements, and guide you through the different options available.
If you're unsure of what would be the best choice for your home, this meeting is the perfect opportunity to discuss all things doors with an expert. They can tell you all about the different materials available, the styles that match your home design and practical options such as bi-fold doors. They can even show you samples of what the designs look and feel like up close.
Once you've decided on a style, our designer will take measurements of your home and give you a quote. There's no obligation to order, as we provide quotes completely free.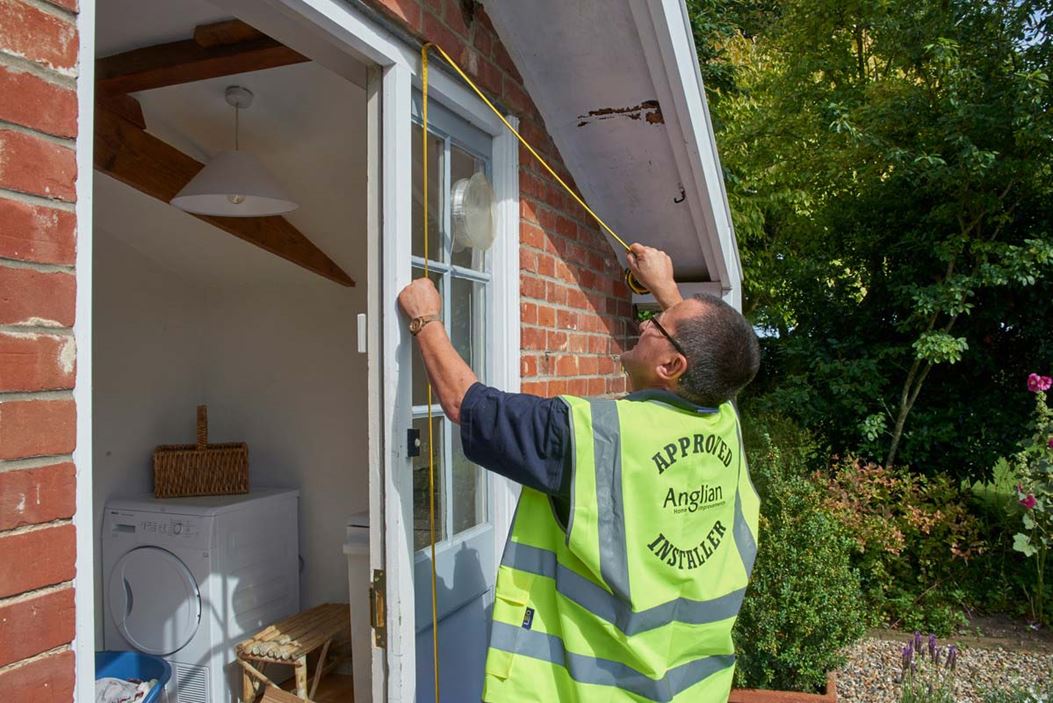 If you'd like to proceed
Once you've made your decision, we'll then send a qualified surveyor to your home. Here, the surveyor will make checks and observations to ensure the door we make will perfectly fit your home.
During this stage, the surveyor will also run you through the design, making sure you're happy with everything. You can make minor changes to your order at this stage, so this is the time to make sure you're 100% happy with your choice.  
Once you're satisfied, we'll then go ahead and make your doors. During this process, we'll keep you posted with how they're progressing as we go.
---
Fitting day
Once your doors are ready, we'll fit them for you. To do this, we'll arrange a date that's convenient for you, as on fitting day we'll need access to your property.
It's a good idea to clear the area immediately around your doors that are to be replaced before we arrive, and to cover any furniture that you can't move. Our team will work as efficiently and cleanly as possible, and tidy up afterwards, but it's wise to protect your belongings, just in case.
Once the doors are fitted, the team will run you through their operation and how to care for your products. Providing you're pleased with the finished result, we'll then take payment from you, and also guarantee your new door.
---
If you're thinking about making improvements to your home, take a look at our page on quality porches and doors made in Britain for more information on what we can offer. Once you're ready to start the process, get in touch to sort your first Anglian appointment.