Door security
As the first port of entry into our homes, doors must be hard-wearing and secure. But what can we do to ensure this? How do you know when you need to change your locks, and which type of locking mechanism should you choose? Here, we'll break down everything you need to know about door security.
---
How to tell if your locks need changing
There are a number of reasons why you might need to change your locks: 
If your home is broken into or you've lost your keys while out and about. In this instance, you should always replace your locks, as the safety of you and your valuables is worth the expense. 
Locks wear out over time, so if yours is rusted, tarnished or sticks when you use it, it's a good idea to replace it, as old locks are more easily picked.  
If you've recently hired contractors and given them a key for easier access. Even if you know your contractor well, it's easy for keys to get misplaced or fall into different hands during building works. 
You've had a recent break-up or ended a rental agreement with a tenant. Much like with contractors, even if your ex or former tenant has handed you back the key, there's a chance they could have made a copy.  
That said, having your locks totally changed isn't your only option. Rekeying – where the lock pins within the lock's cylinder are replaced – can be a cheaper alternative, particularly if you haven't lost your keys or been broken into.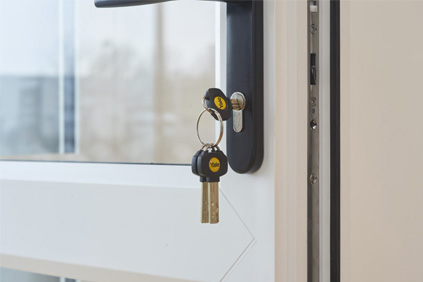 The Yale kitemarked 3-star cylinder lock
We've made it as hard as possible for Anglian doors to be broken into by constantly reviewing our locking systems. Every Anglian external door and fire door is fitted as standard with a state-of-the-art Yale kitemarked 3-star cylinder lock, which is the highest specification available.
Features of the Yale cylinder lock include:
The British Standard kitemark. This is evidence of its high quality, and is a symbol that's required by most insurers and trusted worldwide.
Three stars. The stars show that the mechanism has attained the top TS007 British Standard kitemark level of security, which includes new lock snapping tests. This is something that not all locks achieve.
A 10-year guarantee for extra peace of mind. The cylinder also adheres to the UK police's Secured by Design initiative.
---
How does a multi-point locking system work?
The cylinder on the system is built with unparalleled inner strength to protect you from burglars' different forms of attack, leaving your door safely locked. This includes features such as:
Anti-drill – Specialised anti-drill pins in the barrel provide resistance.
Anti-pick – The pin stack is designed to make picking the lock impossible.
Anti-snap – Special cuts allow a small section of the cylinder to be sacrificed under attack, leaving the remainder intact.
Anti-plug extraction – Special sections snap when attacked, leaving the rest of the plug whole. The anti-snap cuts provide additional resistance.
Anti-bump – The pin stack design prevents even the most advanced bump keys used in lock bumping – a common lock-picking method used by criminals – from working.
The cylinders are supplied with three dual-branded Yale and Anglian dimple-cut keys as well as a key identification card should you ever wish to purchase more. You can also choose from a number of lock variants in either a brass or chrome finish.
---
In short, our cylinder locks take care of all your biggest security concerns so you can relax and enjoy your new door. If you'd like more information on choosing a door, click here to view our helpful guide, or browse the different styles we carry here.