A Guide to Energy-Efficient Doors
When your doors get old, they start to let cold draughts in and warm air out. This contributes to a colder home that you use more energy to heat, costing you money on bills. Using less energy not only lowers bills, but reduces your carbon footprint too.
This handy guide helps explain what makes a door energy-efficient and how replacing yours can help save you money.
What are Energy-Efficient Doors?
An energy-efficient door stops heat escaping and stops the cold and weather getting in. How well it retains heat and reduces draughts can depend on material and construction. Made using insulating materials or composites, they help stop outside cold getting in, and indoor warmth escaping. Doors with glass also harvest natural heat from the sun. These factors help reduce the heat you lose through your door, keeping your energy usage lower.
Our doors are available in composite, uPVC, wood and aluminium. Composite doors have an insulated core for extra thermal efficiency.
How does Style Affect Door Energy-Efficiency?
Style can also affect energy performance. Doors without windows are great for north-facing walls that don't get much sunlight because they absorb less cold from outside. Doors with windows work best when they get some sunlight, as they absorb some of the sun's heat and radiate it into the room.
Our glass-panelled doors are double glazed as standard and available triple glazed in uPVC. Glazed doors are a good all-round energy-saving option.
While energy efficiency is important in a door, we know that looks matter too, and you want a door that fits your home as well as keeps you warm. That's why we offer energy-efficient front and back doors, French, patio, and bi-fold doors. We've even got a buying guide to help you decide which is the right door for you.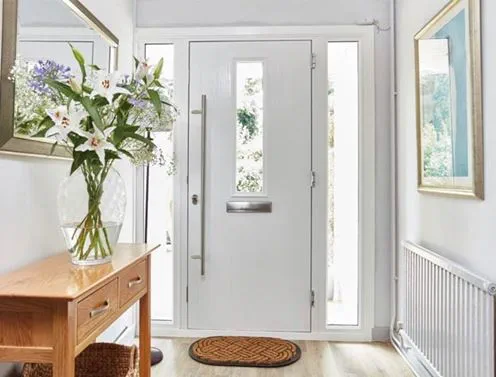 Door Energy Ratings
Like windows, some doors have energy efficiency ratings, known as DSERs. Our double glazed uPVC doors are B or C rated and A-rated with triple-glazing. Within that rating are three factors, but it is the U-value that tells you how well a door stops heat escaping. The U-Value measures total energy loss, so the lower the U-Value, the better the heat retention.
DSERs come from the BFRC, calculating heat loss, solar gain, and the amount of air lost through the door. Though unlike windows, the main factor of a door's construction is the material and not the glass. This makes it harder to grade them overall, so the U-Value is the most reliable marker for door energy efficiency.
Current building regulations state that all exterior doors at a property need a U-Value of at least 1.6 W/m²K (Scotland) and 1.4 W/m²K (England & Wales). Our range of energy-efficient doors in all materials comply with current Building Regulations for minimum heat retention, meaning our doors are excellent at retaining warmth.
Reasons to Choose Anglian Energy-Efficient Doors
Excellent heat retention

Our doors have energy-efficient U-values, meaning they stop heat escaping your home, helping save you money on energy costs. Wooden doors are natural insulators, while our uPVC doors are A to C rated for energy efficiency. Our composite doors use thick insulating material inside the door to aid heat retention, and our aluminium doors have a thermal break to reduce heat flow through the door.

Enhance comfort

The right door will keep your home warmer in winter and cooler in summer. The weathertight seals keep draughts and the elements out. The most energy-efficient doors are good at stopping the heat escaping, so you'll feel toastier during those colder months and may not have to use your heating as much.

Lower your carbon footprint

Energy-efficient doors help keep the heat inside your home that a draughty old door would lose. When you lose warmth through your old door, you end up using more central heating to replace it. This lowers the energy you use heating your home, so you produce less CO2, reducing your carbon footprint.

Increase your home value

Installing energy-efficient doors could help lower your EPC score. An EPC is an Energy Performance Certificate, which measures how energy-efficient your whole house is, and scores it from A-F. A is the highest, but most homes fall into the category of D. Making energy saving improvements could see the value of your home increase by 14-38% according to this Government report.

Helps decrease damp and condensation

Condensation forms when moist air meets a cold surface. Draughty doors are colder and more likely to get condensation, which can lead to mould, damp and even rot for wooden doors. Our energy-efficient doors have an airtight seal and insulation qualities that help prevent condensation becoming a problem.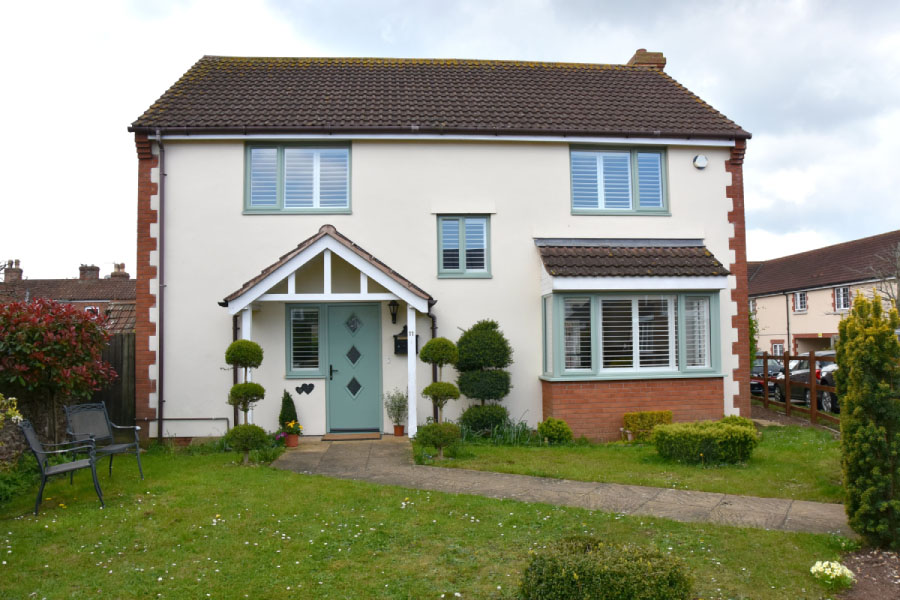 What Causes Doors to be Less Energy-Efficient?
If your doors are old, and you find your home is draughty and struggles to retain heat, you may see your heating costs increase. There are three main reasons for this:
Age - If your doors are old or worn, they're less likely to meet current regulations. Modern doors to have a minimum DSER of B or C or a U-Value of 1.6 W/m²K in Scotland, and 1.4 W/m²K in England & Wales.
Poor insulation – Not every door is good at retaining heat. Less efficient materials and constructions mean you could lose heat.
Seals and draughts – If your door has gaps or isn't sealed properly, it is no longer airtight. This causes more draughts and more heat loss.
How Much can I Save with an Energy-Efficient Door?
Choosing energy-efficient doors can have a positive impact on the warmth of your home, your energy usage and save you money. Replacing more than one door with an energy-efficient one can increase that impact further. Improving your doors could also help increase your EPC rating, which could add value to your home. To have the best impact on the energy performance of your home and to lower your energy bills, we recommend replacing doors and windows at the same time.
The most energy-efficient doors have an airtight seal that helps stop heat leaking out and draughts coming in. Made using insulating materials or composites, they help stop outside cold penetrating, and indoor warmth escaping. Doors with glass also harvest natural heat from the sun and allow it to add to the warmth of a room. These factors help reduce the heat you lose through your door, keeping your energy usage lower.
The amount you could save on energy depends on your current doors, how many doors you replace, the materials you choose and what other improvements you make. Other improvements that you can make are new windows, adding loft insulation, changing your conservatory to a solid roof one or even wall insulation. Whatever improvements you decide to make, new doors are a solid investment in saving money on energy bills.
How to Choose the Right Energy-Efficient Doors for your Home
Choosing the right energy-efficient door is an important decision. It's the main entry point for your home, so it's got to perform well and look good. You might live in a conservation area, or a listed building, so you're limited to what you can choose. If your home faces north, you'll need a door that's well insulated against the cold because it won't see much sun. That's why booking a free, no-obligation appointment with one of our advisors is the best way to help decide which door is right for you and your home.
4 steps to your new doors
1

Home or Virtual Visit

Your local design expert talks you through the options and provides a free quotation.

2

Technical Survey

Our technical surveyor visits your home to measure-up and check your order.

3

UK Manufacture

Your doors are made to measure at state-of-the-art factories here in the UK.

4

Easy Installation

Our team arrange a convenient time to fit your new doors.
Made in Britain
10-year guarantee
uPVC Windows Price Match
Want to Speak To An Advisor?
Our Accreditations and Licenses
For impact resistance and glass fragmentation on safety glass.

The British Board of Agrement provides certification on the quality of our products.

The Fenestration Self-Assessment Scheme ensures window installers comply with buildings regulations in England & Wales.

Look for our FSC® certified wooden window and door products on our website.

Independent service that deals with disputes between registered businesses and consumers.

Certifies products made from start to finish in a British factory by British craftspeople.

Anglian is a leading member of the Glass and Glazing Federation (GGF).