Windows and Doors Recycling Scheme
The Anglian Scrappage Scheme helps you to recycle your old windows and doors in return for average savings of £1,000† off new ones professionally installed by us. As a UK homeowner, you can now access immediate support to improve the energy efficiency of your home while helping to minimise your environmental impact and save money while doing it.
Keep More Money in Your Pocket
The average UK household loses around £180* worth of energy a year, every year. Much of this wasted energy is through poorly insulated windows and doors which not only leak heat but also money, which is bad for your pocket as well as the UK's carbon footprint.
According to BBC News, two thirds of UK homes fail on energy efficiency targets, with more than 12 million falling below C-grade on energy performance certificates (EPCs). Homes built before 1990 are likely to be leaking more energy and more CO2 than necessary.
By choosing Anglian to replace your old, inefficient windows and doors you could save up to £1,800** on your energy bills over the next 10 years. Plus, recycling those products with us directly through our Scrappage Scheme could achieve average savings of £1,000† towards the installation of new, professionally installed, energy-efficient Anglian windows and doors.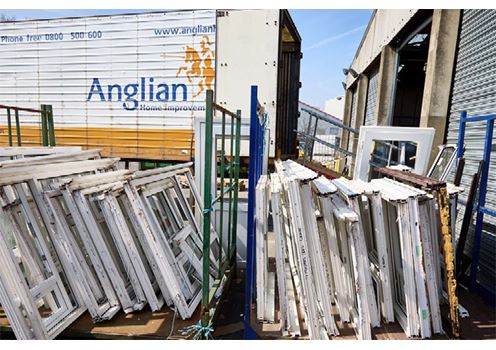 How Anglian's uPVC Window and Door Recycling Scheme Works
As well as being the smart thing to do to look after our planet, recycling makes long-term business sense. While others send to landfill, we salvage, reclaim and reuse materials wherever possible. Glass, metal and uPVC have value as waste materials which makes us more cost efficient and means we can pass the 'recycled' savings onto you when you get new windows and doors from us in the form of an average subsidy of up to £1000†.
Our window and door scheme involves recycling the uPVC parts of your old products into things like loft insulation, plastic pipes and non-visible areas of your new windows and doors. Meanwhile, glass has many uses including in aggregates for road surfaces and metal can be continuously recycled.
Each year we recycle, on average...
Our Window and Door Recycling Focus
Against Burning Plastics
Open burning of landfill waste is a major source of air pollution, and is something we do not condone or participate in. Burning plastics from old windows and doors releases a cocktail of poisonous chemicals that damage the health of the planet and the people exposed to the polluted air. Choosing Anglian means lowering your impact on the environment.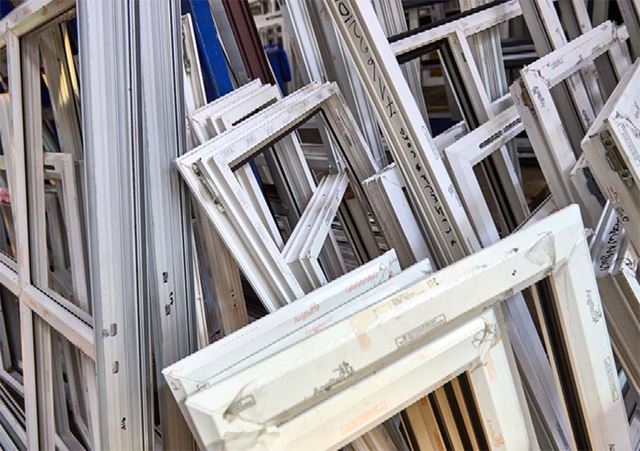 ISO 14001 and BES 6001 Certifications
The ISO 14001 certification is an internationally agreed standard for environmental management to help us make more efficient use of resources and reduce waste. We have also been awarded BES 6001 for responsible sourcing, which means our products have been made with responsibly sourced materials.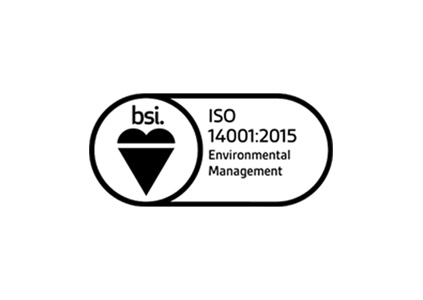 Member of Recovinyl Plus
Anglian is a recognised member of Recovinyl. This is an initiative of the European PVC industry to improve production processes, minimise emissions, develop recycling technology and boost the collection of recycling waste.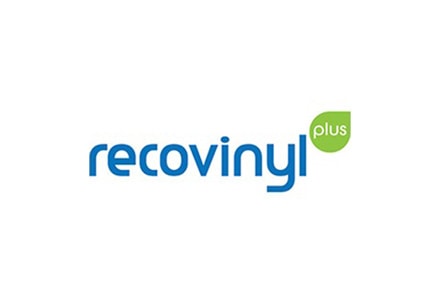 Passing Window and Door Recycling Savings onto you
1. Removing your old products

Our local experienced teams remove your old windows and doors and take them away using the same van your new products arrived on. It is then sorted by material at your local depot.

2. Preparing uPVC for recycling

The returned uPVC is then sorted by colour (white, brown and foiled products) at our head office recycling centre in Norwich. The reclaimed uPVC is then cleaned and cut into bar lengths.

3. Turning reclaimed uPVC into Pellets

The reclaimed uPVC bar lengths are fed through a machine which 'chips' them back into fine pellets. We recycle 1900 tonnes of uPVC a year through this process, saving money and the environment by purchasing less virgin uPVC.

4. Recycling glass and metals

Glass from your old windows has many uses, including as an aggregate for road surfaces, while metals like aluminium can be recycled again and again.

5. Starting a new life as windows and doors

The recycled uPVC is used to build the core of the window frame within a process called co-extrusion where it is then surrounded by virgin uPVC to create your new windows and doors.
Scrappage Scheme FAQs
Is your recycling scheme backed by Government?
The Anglian Scrappage Scheme is not supported by any Government initiative or any Government Grant. To help contribute towards the Government's ambition of being Net Zero by 2050, we want to offer immediate support to homeowners through average savings of £1,000
†
with the Anglian Scrappage Scheme. We can do this through savings made when we recycle old, inefficient windows and doors, and pass these back to our customers through the sale of
new thermally efficient ones
.
How do I qualify for the Anglian Scrappage Scheme?
If you are looking to upgrade old, inefficient windows and doors, then
get in touch with us today
 to start your home improvement journey. The Anglian Scrappage Scheme is open to all UK homeowners, and providing you allow us to recycle your old products when you purchase new thermally efficient windows and doors from us, you will qualify for the Anglian Scrappage Scheme.
Can I get a government grant for new windows and doors?
There is currently no Government Grant or Government Funded Schemes for the purchase of new windows and doors with energy efficiency improvements. However, it is always worth checking the
UK government's website
or contacting your local council to see if any schemes or funding opportunities may be available in the future.
Our Accreditations and Licenses
The British Board of Agrement provides certification on the quality of our products.

Anglian's PVC-U Casement and Tilt & Turn windows have enhanced security performance.

The British Fenestration Ratings Council is the UK's national system for rating energy efficient windows.

The Fenestration Self-Assessment Scheme ensures window installers comply with buildings regulations in England & Wales.

Look for our FSC® certified wooden window and door products on our website.

Anglian is a leading member of the Glass and Glazing Federation (GGF).

PVC Industry initiative to improve manufacturing, minimise emissions and develop recycling practices

TrustMark is a government endorsed not-for-profit organisation that operates through more than 30 scheme operators.
*Source Glass and Glazing Federation. A typical detached house has 23.7m2 of windows. Based on replacing uPVC double-glazed windows with a 12-14mm sealed unit and gas central heating with A-Rated thermally efficient windows.
** Source Glass and Glazing Federation. Savings are calculated over a 10-year period.
†
Savings are based on a typical 3-bedroom/2-bathroom property containing 12 units (windows or doors) and allowing Anglian to recycle the old windows & doors.
◊ Based on window and door units produced in FY 2022/23
ꝉ
Based on uPVC window and door units recycled in FY 2022/23
ꝉꝉ
2268 tonnes glass: Based on the average unit weighing 21kg and Anglian having recycled 108,000 units
◊◊ 282 tonnes of metal: Based on metal recycling produced in FY 2022/23