Made to Measure Front/Back Doors
If you need a new front or back door, turn to Anglian. Whatever design you have in mind, be it modern or traditional, our talented craftspeople will be able to create the perfect door for you. With over 50 years of experience, you can be confident your new door will not only look great, but endure the test of time.
Every door is made to order, from high quality materials such as uPVC, aluminium, wood or composite. Whichever style you choose, you'll find steel keeper plates and robust hinges to help keep your home safe and secure. Plus we'll be with you every step of the way, from the initial quote and manufacturing process to installation
Made to Measure uPVC Doors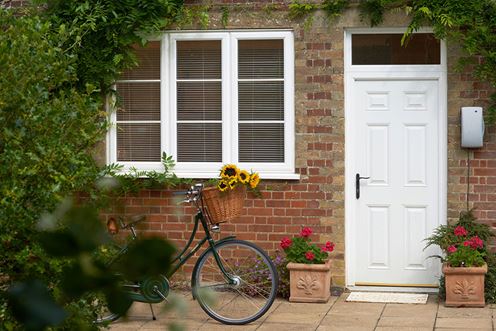 uPVC doors are an extremely popular choice, notably for their long-lasting, low maintenance properties. Tailor-made in the UK for your home, you can guarantee your uPVC door will fit perfectly. Energy efficient and offering state-of-the-art security features too, you can put your trust in Anglian.
When it comes to design, uPVC is an incredibly customisable material. You'll be able to choose from seven different colours, alongside natural-looking effects like Dark Woodgrain. There's a huge range of different uPVC door styles to choose from as well, including Georgian, Victorian, Glazed and Roman. You can discover all available styles, and learn more about our uPVC doors, here.
Made to Measure Composite Doors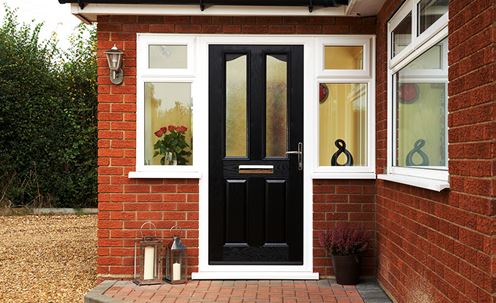 If uPVC isn't for you, you may prefer one of our front or back composite doors. All our made-to-measure composite doors fall under one of two categories: Classic GRP and Elite Solid Core.
Classic GRP composite doors are made from high quality, impact-resistant materials. They're fully insulated too, and available in 24 styles and 11 different colours. So, whether you're in the market for something contemporary or traditional, you'll have plenty of choice when it comes to design.
Elite Solid Core composite doors, meanwhile, are class leaders in strength and security. With a triple layer solid timber core and vacuum moulded on both faces with a thermoplastic skin they provide a low maintenance finish. This skin has a woodgrain effect, and a 'through colour' finish, meaning any scratches to the surface will not show a different colour underneath.
No matter what style you go for, all of our composite doors come with an Ultion 3 Star cylinder lock as standard that meets the TS007 British Standard kitemark security level, giving an extra layer of security and made right here by our craftspeople in Britain.
Click here
to get to know our made-to-measure composite door range. 
Made to Measure Wooden & Timber Doors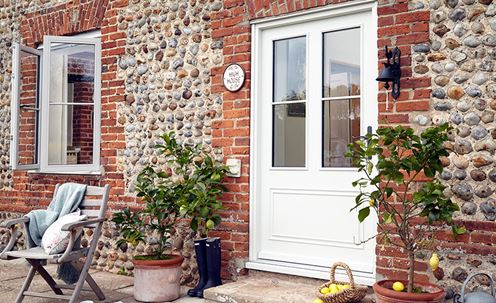 Our made-to-measure wooden and timber doors are a classic choice, and work well with just about any home. Natural woodgrain effects and neutral hues like white and olive green look particularly great on period properties, while more playful colours like pillar box red and buttercup yellow are perfect for contemporary homes looking to make a statement.
With 22 different designs available at Anglian, you won't be limited when it comes to style. The wood our craftspeople use is always high-quality, and each door is manufactured from 44mm thick laminated hardwood ply layers. There's an added layer of aluminium for extra durability and improved weather resistance too. Over time you won't experience warping or twisting, and your made-to-measure wooden door is guaranteed to withstand the test of time. Learn more and explore our range of designs here.
Made to Measure Patio Doors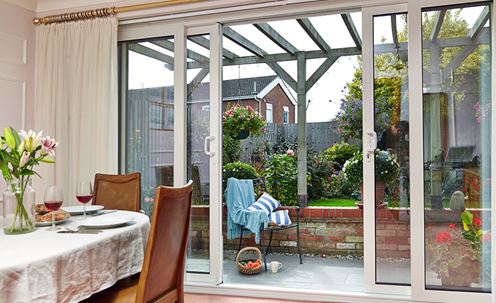 Let the light flood into your home with our sleek, made-to-measure sliding patio doors. A brilliant way to make the most of your garden in the summer months. They provide unrivalled insulation over the winter. Bespoke patio doors are a fantastic addition to any property.
Tailor-made, you'll have the freedom to choose a design that complements your home. Our patio doors are available in uPVC or aluminium, and in a wide range of different colours. You'll have the option to add obscure glass, lead effects and other decorative glass designs too. All Anglian patio doors come with a secure, Yale 3 Star cylinder lock that meets the TS007 British Standard kitemark security level.
Our qualified surveyors will visit your home before your patio doors are made to take measurements and ensure your patio doors fit perfectly. Learn more about our patio door offering, and why you should choose Anglian, here
Frequently Asked Questions
How long do made to measure doors take to make?
Again, this all depends on your individual requirements. We'll provide you with an expected completion date once our qualified surveyors have visited your home and carried out their assessment.
Contact us now to arrange a free virtual consultation and remote quote.
How are made to measure doors fitted/installed?
Once you've obtained your quote and our surveyors have visited your property, your new door will be created in Britain by our craftspeople. During this time, we'll be in touch to arrange an installation date.
When that day arrives, our installation team will fit your new door and remove your old one.
Are your made to measure doors secure?
The safety of your home is always a priority at Anglian, offering the highest level of security.
Read all about the security of Anglian doors here.
Are Anglian made-to-measure doors guaranteed?
All Anglian made-to-measure doors come with a 10-year guarantee as standard. *Exclusions apply