Can you fit a cat flap to a uPVC door?
While you can fit a cat flap to a uPVC front or back door yourself, there's an easier, safer and more convenient way to get the job done. We can install a PetSafe cat flap in any new Anglian door which has a solid flat panel or in a glazed sealed unit. We are unable to install cat flaps into glazed panels. This can be discussed with your Anglian door designer or will factor it into the production of the door.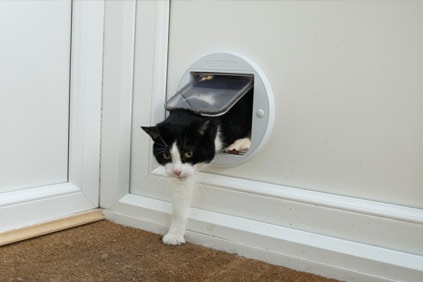 While cat flaps are not available for patio, french or bi-fold doors, we can fit them to wooden and uPVC front and back doors, so you're sure to find an option that suits you and pet.
Order your new Anglian front or back door with a pet flap and we'll add it during the manufacturing process. Installing the cat flap at this stage ensures a perfect fit and doesn't compromise the quality or durability of the door.
PetSafe cat flaps are 223mm square with a 169mm opening and withstand a weight of 7kg, making it an ideal size for small pets. We don't currently offer installation of larger pet doors, as these pose more of a security risk – a bigger pet flap means it's easier it is for an intruder to gain access. PetSafe cat flaps have four different options: open, closed, entry only and exit only.
Cat Flap Colour Choices
PetSafe cat flaps are available in three different colours: white, grey and woodgrain to match our most popular door colours
If you're looking to upgrade your front or back door and considering having a cat flap installed, order through Anglian today and get a free no-obligation quotation.
Get a Price
See What New Windows & Doors look like on your Home
Cat Flap FAQs
Can you fit a cat flap to a composite door?
While it is possible to retrofit a cat flap to a composite door, this would certainly reduce its energy efficiency significantly due to the makeup of the door. For this reason, we offer the installation of cat flaps on both wooden and uPVC front and back doors.
Can a cat flap be fitted to a double-glazed door?
It's best to fit cat flaps to doors which have a solid flat panel large enough to accommodate one. Anglian fit cat flaps to uPVC doors and wooden doors, but we can't fit cat flaps directly into double-glazed glass.
Where can I put a cat flap?
You can fit a cat flap anywhere that would function as a convenient entry or exit point for your pet, but we recommend putting a cat flap in your front or back door.