A guide to
Conservatories
Choosing your conservatory roof style
A conservatory roof can be much more than something to keep the weather out – it's part of your conservatory's design, and can incorporate some high-tech features that could save you money on energy bills.
Roofing is very important to us. We use specially-designed software that takes your home's postcode and builds up a profile of wind and weather conditions in your area, helping us to make the best roof for your local climate. Each roof is custom-built for your individual conservatory, right here in Britain.
If you already have a conservatory, we can help you upgrade the roof, even if it wasn't made by us. Our roofing system is one of the best on the market, and we want as many people as possible to benefit from it.
---
Solid roof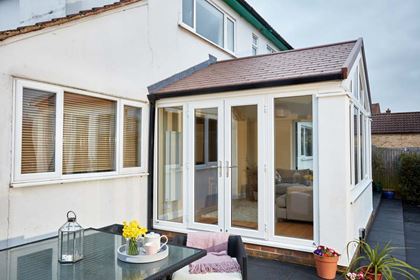 If your home has a tiled roof, we can make your conservatory blend in with your property. As well as providing your conservatory with a modern look, our solid roofs offer fantastic thermal performance and can be up to 15 times more efficient than existing roof products. They're great if you're keeping an eye on your heating bills.
Solid roof tiles can be chosen in a range of colours including red terra brick, slate-effect carbon grey and harvest brown. You can even incorporate features like Anglian's Solaroof with a glazed panel built to withstand all weather types. That way, keeping the rain out doesn't have to mean enjoying less sunshine.
---
Solaroof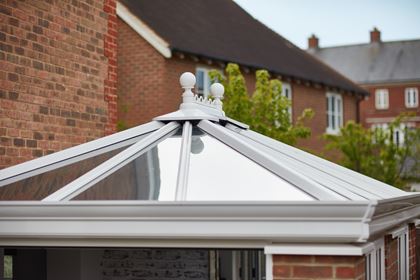 Anglian's Solaroof is one of our proudest accomplishments. It's a state-of-the-art glazing product that helps protect your home and furnishings from the elements. As a glazed roof, it allows for maximum sunlight, while clever technology minimises all the normal downsides associated with a glass roof.
Each Solaroof panel contains a wafer-thin strip of film that reduces the heat and glare from the sun, helping you to stay comfortable even on the hottest days of the year. The ultraviolet resistance also means your conservatory's flooring and furnishings will escape the worst of the sun's rays and avoid fading. 
Solaroof features toughened safety glass for added security and is ultra gas filled as standard, which helps to insulate your home and reflect more heat back inside. It's Anglian's own invention, so you won't find another provider that can offer one like it!
---
Polycarbonate roof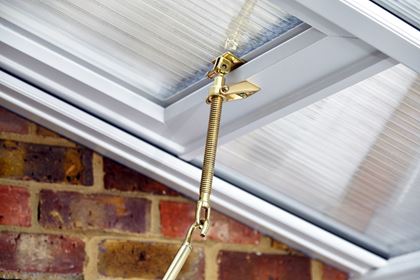 A polycarbonate roof is a great alternative to glass if you don't want to compromise on features. Available in five finishes – clear, bronze, opal, bronze opal and solarguard – it can effectively shield your conservatory from the sun while still looking stylish.
Our polycarbonate roofs are 25mm thick and feature a five-wall, multi-chambered design for strength and stability. The best variety depends on the location and orientation of your conservatory, but don't worry – an Anglian representative will be happy to advise on which one will work best for you.
---
Want to find out more about the different conservatory styles and features we offer our customers? Visit our conservatories homepage and see why so many people have already chosen Anglian.