Wood or uPVC: which is better for your conservatory?
As with so many home-related projects, materials matter when it comes to your conservatory. Both wood and uPVC are hard wearing, weather resistant and strong, so deciding between the two largely comes down to your personal preferences and budget. That said, there are some factors you may wish to bear in mind when making your decision.
Below we've outlined some of the attributes of wood and uPVC as materials for building a conservatory.
uPVC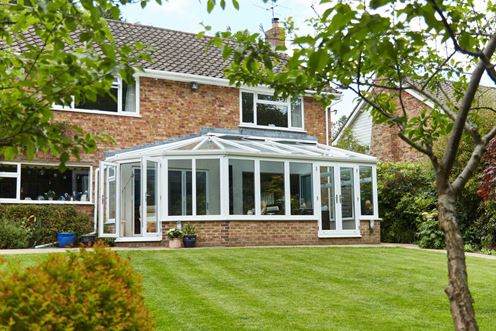 Affordable
Low maintenance
Secure
Good insulator
Versatile (lots of finishes available)
uPVC's rigidity is what makes it such a great structural material – it doesn't bend or flex when put under pressure, and won't rot or warp over time. It's also lightweight, which makes it especially easy to work with in a building project. uPVC is waterproof and extremely fire-resistant, and needs almost no maintenance besides the occasional wipe down with a bit of soap and water.
uPVC can easily be made in a range of colours or finishes such as natural wood, or even a dual finish. These finishes are "baked" into the plastic, so you don't need to worry about them fading, either. They'll still look like new for years to come. You can even opt for a wood grain finish for a more traditional look while still potentially saving a little money, as uPVC can be more affordable than hard wood.
uPVC also has thermal properties that make it a great insulator, especially compared to materials like aluminium. This not only helps to reduce the amount of money spent on energy bills, but it keeps the heat in your conservatory during the winter, so you can enjoy this area of your home all year round.
There are very few drawbacks to using uPVC, but there are a few things to consider. Some homeowners simply prefer the look and feel of real wood, especially in older properties where uPVC might look a little out of place.
When it comes to green credentials, some will tell you timber from a sustainable source is more eco-friendly than uPVC, as it has a less energy-intensive production process. While that may be true, don't forget that uPVC is completely recyclable. If you ever take down or replace your conservatory, none of the plastic will be wasted.
Wood
Before uPVC came onto the scene, nearly all conservatories were made of wood. Many people still prefer the timeless, classic appearance of natural materials. Wood is resilient, a natural insulator and, with a little bit of TLC, it'll last for decades.
In the past, wood was prone to problems like warping and rot. However, timber is now pressure treated to make it long lasting and highly resistant to decay, changes in temperature and bad weather.
As a conservatory material, wood does differ from uPVC in a few respects. First, it requires maintenance – not a lot, but depending on the type of wood used, the surface may benefit from being re-treated every couple of years. For many homeowners, this isn't so much a drawback as it is part of the pride taken in caring for a real wood conservatory.
Another difference is the price. There's no escaping that timber is a bit more expensive than uPVC. Again, devotees of natural wood usually consider the extra expense worth it when the result is a unique, hand-made conservatory.
At Anglian, we have more than 50 years of experience in the home improvement sector. We make all our products here in Britain and offer guarantees on the work we do for our customers. We'd love to help you create your dream conservatory, so if you're thinking of making home improvements, give us a call to talk through your ideas.