Decorative door furniture
Choosing a new door isn't just about the door itself – there are plenty of accessories to choose from, too. Referred to as door furniture, these accessories include handles, knockers and letter plates.
In this section of our guide, we detail the different types of door furniture that pair with our doors. Simply find the type of door you'd like to buy, and you'll see a handy description of the furniture that suits it best.
---
Composite doors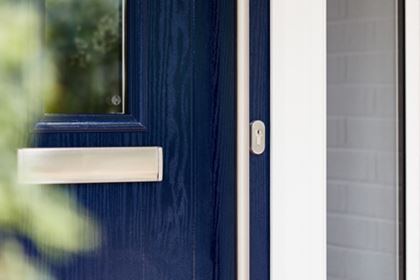 We have the following furniture available for composite doors, both for Classic GRP and Elite styles:
Handles
Letter plates
Ponytail knockers
All of the above come in either gold, silver, black or white. Our handles and letter plates are offered in one style for the composite door range and, thanks to the furniture's sturdy design and wear-resistant qualities, you simply need to choose the shade that works best with your door.
Regular door knockers are great if you'd rather forego a door bell, but don't want to appear too traditional. They're functional, modern and subtle. However, if you'd like a knocker that nods to the traditional style but isn't fully Art Deco, our modern oval knockers are a great choice.
Available in all the same shades as the handles and letter plates, ponytail knockers are a fantastic choice if you'd like to add a touch of style to your door. They're traditional in appearance, yet practical too, and go well with our Classic GRP doors.
If you've chosen a door from our Contemporary collection, we offer our door furniture in a brushed steel to match the modern style.
---
uPVC doors
For uPVC doors, we provide the following door furniture:
Door knockers
Patio handles
Door handles
Letter plates
All the furniture we offer for this door style is available in either black, chrome, gold or white so you can choose a colour that complements your door style. You can even match it to any decorative windowpanes or features you may have on your home.
The furniture in this range is sturdy, traditional in appearance and particularly practical. It's the type of accessory that you'll use every day, which is why it's so important that they're built to last.
---
Wooden doors
For your wooden door, we offer the following:
Door knockers
Door handles
Letter plates
Our wooden door furniture is available in either silver, brushed black or bronze. The shades we provide are all catered specifically to suit a wooden door, in an effort to help create a warm welcome when you return home.
The bronze shade is ideal if you're looking to create a more traditional aesthetic, whereas the brushed black and silver can add a contemporary twist to a vintage-style door.
---
Aluminium doors
For our aluminium doors, you can choose from:
Door knockers
Patio handles
Door handles
Letter plates
All our aluminium door furniture comes in either black, chrome or white. It's sturdy, reliable and hardwearing, so you can enjoy your door every time you use it.
If you want to create a modern, stylish look, there's chrome or black door furniture, while white furniture is ideal for something simple in appearance. 
---
If you need any assistance in choosing your door furniture, don't hesitate to get in touch us. You can view our full range of doors here, or find more information on our guide here.