Choosing your door materials
At Anglian, we offer four different materials for doors: composite, uPVC, wood and aluminium. Each has its own benefits, from incorporating more quirky styles to being low maintenance. Here, we break down the details of each.
Composite
Our composite doors come in three style ranges: traditional, contemporary, and cottage. We offer Classic glass reinforced plastic (referred to as GRP) and our Elite solid core style, both of which make stylish front doors.
Composite doors are secure and act as an insulator, effectively helping trap heat in your home to keep you comfortable and warm. They're long-lasting, too, and come in a wide range of colours.
uPVC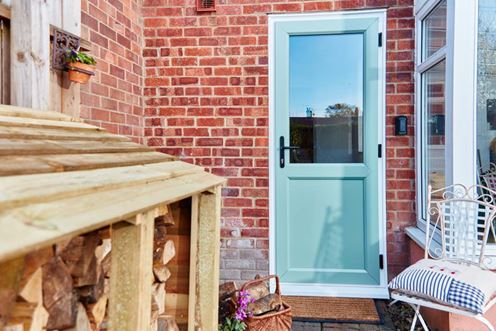 uPVC is renowned for creating a strong front door. And as we make our uPVC doors ourselves, we can provide you with accurate information on their thermal efficiency, as well as their security.
A uPVC door comes with the added benefit of being available in an impressive range of colours. They last for a long time, and often require minimal maintenance, so are a great choice if you're looking for a simple, secure and practical front or back door that won't rot, and whose colour won't fade.
Wood
Secure and high-quality wooden doors are the perfect accompaniment to a character-filled property. They're suitable for homes that are in conservation areas, and come in 22 different designs, so you're sure to find a fit for your period home.
With an Anglian wooden door, you'll have your choice of hardwood or softwood. Both options boast energy efficiency, as well as a Yale kitemarked 3-star cylinder lock as standard.
Aluminium
Safe and reliable, aluminium doors are ideal if you're looking for a door that operates smoothly, without being limited on style. These doors have many glazing options, are built to be extra strong and are fitted with a Yale 3-star cylinder lock, so they're incredibly secure too. 
Take a look at the full range of doors we have available, and find the style that would best suit your home. For more information on all things doors, take a look at our guide homepage.