A guide to
Conservatories
How long does a conservatory last?
Adding a conservatory to your home is always an exciting prospect, but you'll want to know that your investment is going to last the test of time. This can depend on a number of factors, such as the conservatory's build, the materials used and how your conservatory is looked after over the years.
With the right care, a conservatory should last for decades. To make sure your conservatory stays in great condition for longer, here's some handy advice.
---
Looking after a conservatory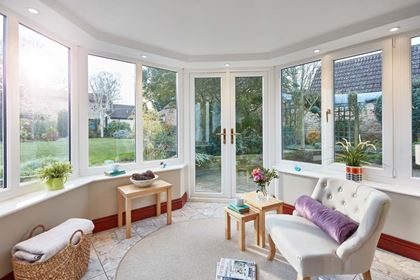 Naturally, your conservatory will need a good clean from time to time. Whatever materials are used inside and out—carpet, laminate flooring, wood or uPVC—it's important to buy the correct cleaning equipment for your space. That way you can dust, sweep, vacuum or wipe surfaces regularly to help keep things looking newer for longer.

Another area to consider is your furniture. One of the wonderful things about conservatories is that they allow in lots of sunlight, but rays can also cause your furniture to fade with time. A simple hack is to regularly rotate furniture out of direct sunlight so that sofas and chairs maintain their shades for longer. Alternatively, you can invest in roof or window blinds to avoid fading altogether. Anglian's exclusive Solaroof was designed especially for this in mind.
As conservatories have windows all over, you can purchase special cleaning equipment to reach the furthest panes. Extendable pole cleaners allow you to clean both roof and side windows with your feet safely planted on the ground. You can also use the same technique to regularly remove moss and dirt that gathers on the roof and frame to keep your space looking good as new.
---
Replacing a conservatory roof
If you find your conservatory is in need of a face-lift, replacing your conservatory's entire roof is also a viable option. A total roof replacement is a great way to give your space an update that'll instantly change your conservatory's feel. Whether you opt for a solid, glass or polycarbonate roof can depend on how old your conservatory is and the suitability of the existing structure, but we're always happy to advise if and when you get to the replacement stage.

---
Here at Anglian, we have a wide collection of materials, shades and glazing options to choose from with our conservatory products, all of which carry the Made in Britain marque. We offer a fantastic range of guarantees on our conservatories that you can read about here, but if you'd like a free no-obligation quote on any conservatory-based product, fill out our online form.