A more energy-efficient home is an effective way to help care for our planet and keep your energy bills as low as possible.
However, knowing where to start and which changes to make can be confusing. So, we're sharing our expert tips and advice on the steps to take to improve your home's energy efficiency.
We'll be looking at:
How Energy-efficient Is My Home?
Finding your Energy Performance Certificate (EPC) is the best way to see how energy-efficient your house is.
EPCs show the current and potential energy efficiency of your home, using an energy rating from A (most efficient) to G (least efficient). It takes into account insulation, heating, windows, and draughts.
The certificate gives you a list of recommendations to make your home more energy-efficient, with estimated costs and savings. You can find your property's most recent certificate on the government's EPC register.
An EPC is valid for ten years, however, if it has expired, you may need a
new assessment
. This costs between £60 and £120 depending on where you live, your property size and type. The energy savings trust have a full
guide to EPCs
and what to expect when you get one.
How to Improve Home Energy Efficiency
Depending on your budget, you can do several things to save energy at home.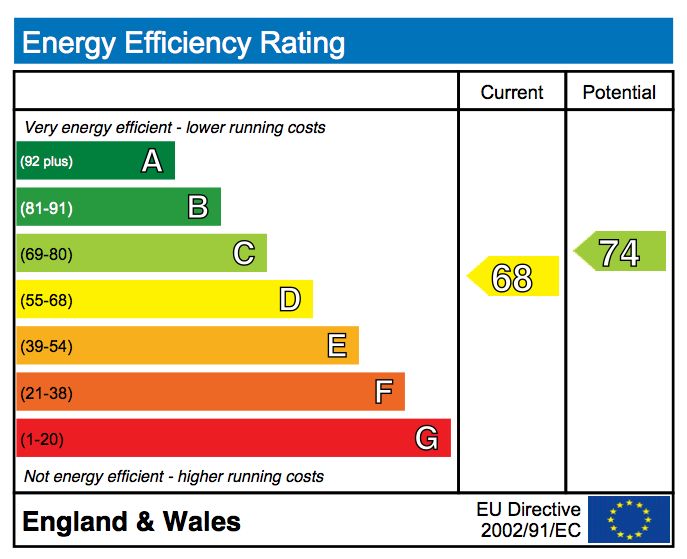 No Cost
Changing Your Behaviour
Saving energy at home can begin with small changes that make a huge impact, such as:
Only fill the kettle with as much water as needed - £13/year
Reduce your dishwasher use by one run a week - £17/year
Swapping one bath per week to a 4-minute shower - £20/year
Turn off lights when not in use - £25/year
Set the washing machine to wash at 30 degrees - £34/year
Turn off appliances rather than leaving on standby - £65/year
Dry your clothes on an airer or washing line instead of tumble drying - £70/year
Turn down central heating by just 1 degree - £80/year
Cut shower time down to 4 minutes - £95/year
Energy Supplier
It's always worth shopping around to check you're with the cheapest energy supplier. If you stay with the same provider, make sure you are on the lowest tariff and ask if there are any discounts available. You might save money by paying your bill via direct debit or switching to paperless billing.
You should also check if you're eligible for financial help from the government. You could get the Winter Fuel Payment, Cold Weather Payment or the Energy Bill Support Scheme.
Low Cost
Draught Proofing
While adequate ventilation is needed to protect against dampness and condensation, other draughts around windows and doors allow heat to escape from the home.
A simple way to make your home more energy-efficient is to draught-proof throughout your home.
Draught-proofing may involve:
Adding covers to keyholes and letterboxes
Hanging curtains at the windows
Placing draught excluders at the bottom of doors
Using sealant strips on windows, doors and loft hatches
Sealing gaps and cracks in the skirting and floorboards.
Energy-efficient Lighting
If you have halogen light bulbs, switching to energy-saving LED bulbs is a quick way to save energy at home and reduce your electricity bills. They don't cost a huge amount more and could save you around £55 a year.
Energy-efficient Appliances
Everyday household appliances use a lot of energy. Things like fridges can account for 13% of your energy bill, while washing machines and dishwashers can account for 14%. So when you replace household appliances, look out for the most energy-efficient option.
Medium Cost
The most energy-efficient houses have good insulation to help keep your home warm and energy bills low. The age, size, and style of your home influences the type of insulation you need. Older houses usually need an upgrade of their wall, roof, or floor insulation to align with today's regulations.
Roof and Loft Insulation
Investing in roof and loft insulation is a great way to make your home more energy-efficient. Without appropriate insulation, your home could lose up to a quarter of its heat through the roof. Insulating your loft could save you around £285 a year on your energy bills*.
There are two different ways to insulate your loft, cold roofing and warm roofing. Cold roofing is when you lay insulation at the joist level. Warm roofing is when you place insulation at the top of the roof, between the rafters.
There are three main types of insulation, rolls, board and foam. Rolls made from wool are common with cold roof insulating. Foam board is more common in warm roof insulating. Foam comes in a spray, applied across the whole cavity, but it is permanent and is sometimes toxic. Loft insulation usually needs a thickness of 270mm, although this varies depending on the material.
*Based on a semi-detached house, installing up to 270mm insulation at a cost of £300.
Floor Insulation
You can lose up to 15% of heat in your home through your ground floor. So installing floor insulation is a great way to make your home more energy-efficient.
If you have a solid floor, like stone or concrete, adding a layer of rigid insulation on top of existing flooring is a cost-effective idea. If you have suspended floorboards, you can insulate the cavity underneath with wool, boards or foam spray. Always make sure the underfloor insulation is right for your home.
A typical suspended floor installation can cost between £1,600 and £2,900, however, it could save you around £180 a year on energy bills*.
*Based on detached home in England, Scotland, Wales.
Heating
If you have an old boiler, it could be costing you money.
Modern boilers are condensing which means they work better by recovering more heat than they lose. Replacing an old gas boiler with a new A-rated condensing boiler could save you up to £445 a year on your energy bills*.
The government have also launched the Boiler Upgrade Scheme, providing grants to install low-carbon heating like heat pumps. A heat pump uses electricity to absorb outdoor heat and pump it into your home. It's cheaper to run one than a gas boiler and because you don't burn gas, you don't emit CO2 to heat your home.
Another low-cost way of improving your heating efficiency is to insulate your exposed pipes and hot water tank to reduce the heat that they lose. A jacket for your hot water tank costs around £16, but it could save you around £70 a year.
*Based on a mid terrace house in England, Scotland, Wales.
Energy-efficient Windows
Replacing older windows with new energy-efficient windows is one of the most effective ways to reduce heat loss and save energy. Windows have energy efficiency ratings of A++ (highest) to G (lowest). The rating shows how well the window retains heat, how much of the sun's energy it absorbs, and how airtight it is.
The Glass & Glazing Federation (GGF) estimates that upgrading an older style UPVC double-glazing to an A rated Anglian window could save you up to £1800 on your energy bills.*
Our energy-efficient windows come in double-glazing, triple-glazing and secondary glazing in a range of frame styles, materials, and colours.
*Savings calculated over 10 years and based on a detached property with uPVC double-glazing with 12-14mm spacer bars being replaced with A-rated windows.
Triple-glazing
Triple glazed windows are a great way to increase the energy efficiency of your home. They are very efficient at retaining heat and only absorb a small amount of heat from the sun. Our triple-glazing is A+ and A++ rated, so it helps improve your Energy Performance Certificate rating too. Although more expensive per unit than double-glazing, we recommend mixing and matching triple and double-glazing to maximise comfort and energy performance.
Double-glazing
Double glazed windows are an energy-efficient and economical option to improve heat retention, reduce draughts and capture natural energy from the sun. Even if you currently have double-glazing, it may not be as energy-efficient as new double-glazing. Replacing old windows could save you up to £184 on your energy bills every year*. Our double glazed windows are B to A+ rated depending on material and style. If your windows are over 5 years old you could save more by upgrading.
Secondary Glazing
Rather than being a replacement, secondary glazing fits behind your existing window. It's a great option if you have a lower budget, or if you live in a listed property or conservation area.
The added layer behind your window will reduce heat loss, draughts and improve your Energy Performance Rating.
High Cost
Solar Panels
Solar panels, also known as photovoltaic (PV) systems, convert energy from the sun into electricity that you can use in your home.
If you live in Great Britain, you may also be paid for any surplus electricity you generate, thanks to the Smart Export Guarantee.
The average cost for 10 solar panels is around £5,500 but could give you annual saving of more than £300*.
You can use a solar energy calculator to see the benefits you could get from installing solar panels.
*Based on installing solar panels in London, annual savings per year based on homeowners being out until 6pm daily.
External and Internal Wall Insulation
Around a third of all heat escapes through your walls, making wall insulation a very effective way to save energy.
The level of insulation you have is often linked to the age of your property. Houses built before 1920 often have no insulation and may need solid wall insulation. Homes built after may only have minimal insulation and need cavity wall insulation. More recently built homes have cavity wall insulation.
The choices here are whether to invest in external or internal wall insulation.
External wall insulation involves adding insulating material to the exterior of the property. Insulation of this type usually needs to be between 50 and 100mm in depth and can cost around £12,000*.
Internal wall insulation involves applying insulation to the interior walls that are in contact with outside air. This is usually done through filling boards or a stud wall with insulating material that's around 90mm thickness. Internal wall insulation can cost around £8,500*.
Although wall insulation is more expensive than some other energy saving options, it could save you £540 a year on your energy bills**.
*Based on a typical 3-bed semi-detached property in Great Britain. ** Based on solid wall insulation at a typical 3-bed semi-detached property in Great Britain.
Energy-efficient Windows with Anglian Home Improvements
Upgrading to energy-efficient windows is a cost-effective way to make your house more energy-efficient
If you want the latest energy saving glazing technology and quality assurance from a national company with teams local to you, then look no further than Anglian.
Our uPVC energy-efficient windows have an A rating or higher as standard, with ratings reaching A+ and A++ to help your home stay warm and save you money on your energy bills.
Shop the full range or contact us today and receive up to £250 off when you request a free no obligation quote online.