Choosing your preferred porch style
Because they're completely tailored to you, Anglian porches are designed to fit your home perfectly and reflect your individual style. There are a number of features to consider when it comes to creating your new porch, including the following:
Roof design
Brickwork
Window frames and glass
Doors
Decorative extras
To help you get started, we'll be considering roof design, brickwork and finishing touches below, but if you'd like more advice on choosing your porch windows and doors, click here.
Porch roof designs
Whether you're planning to install a front or back porch, the roof is a main feature that's not only functional, but an attractive outdoor centrepiece for your home. Anglian offers six different porch roof styles:
What roof designs can I have on my porch?
You have the choice of several different roof designs for your new porch, including pitched, gable end pitched, double hipped to wall, double hipped to ridge, single hipped, and flat.
Pitched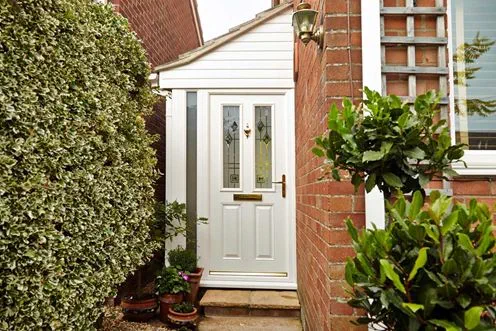 A pitched roof is a versatile design that works well with most homes. It's perfect for wider houses or those with smaller front gardens where there's less distance between the boundary and highway (as per planning permission restrictions).
Gable end pitched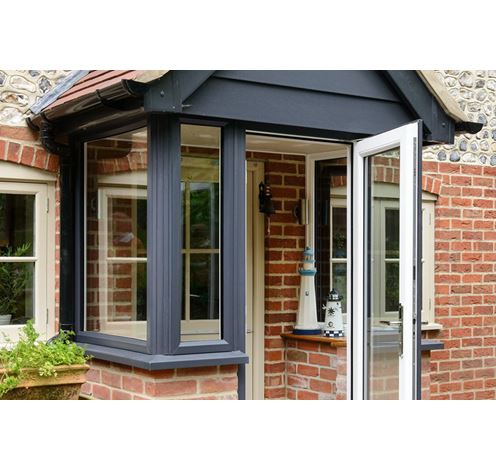 A gable end pitched roof is a good choice for homes where the boundary and highway are more than two metres apart (as per planning permission restrictions). Like with pitched roofs, many homeowners enjoy using the peak at the front of the porch as a decorative feature, often by customising the window frame or glass.
Double hipped to wall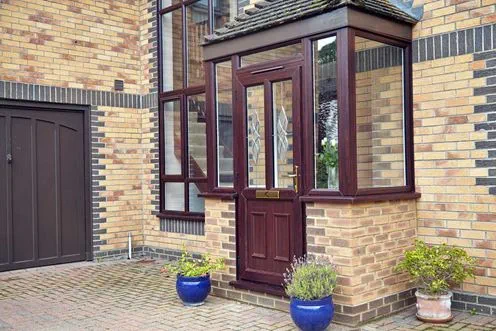 Porches that are double hipped to the wall are like pitched roofs, but have a more traditional appearance. They're Elizabethan in design, and are fantastic for older properties.
Double hipped to ridge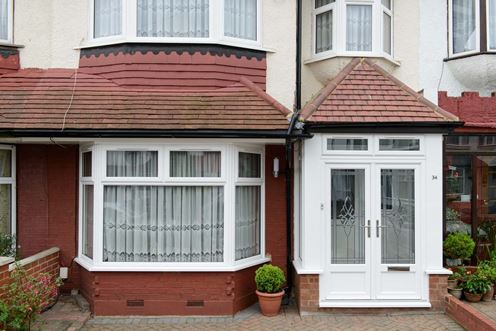 This option is a larger design that's ideal for homes where space isn't an issue. It's one of the more modern designs, and can be equipped with French doors for a particularly grand entrance.
Single hipped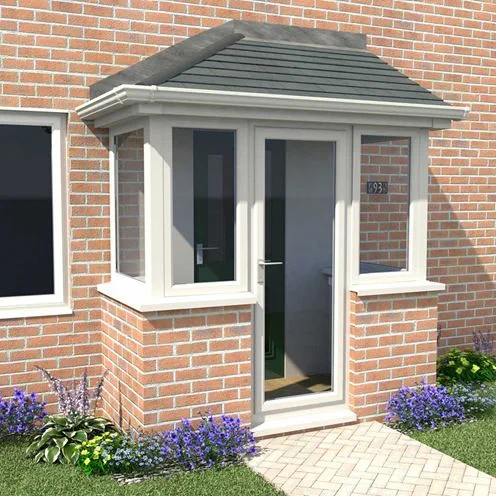 Single hipped roofs offer a smaller, neater design that's a wonderful choice for properties whose floor space comes at a premium, or when the home's front elevation appearance can't be altered.
Flat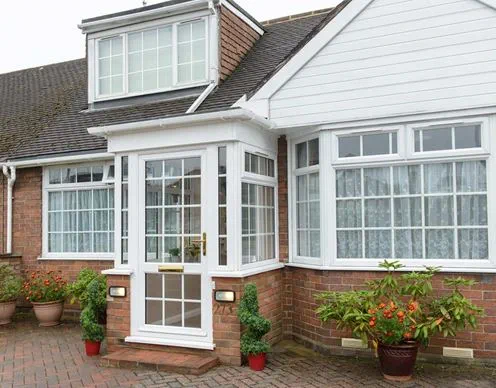 Subtle and contemporary, a flat roof is particularly good for homes that feature a large window located above the space in which the porch is being installed. They're particularly great for bungalows with a low roof line, too.
Finding the bricks to match
Brickwork is often overlooked in porch installations, but it's important to choose materials that complement your home. A traditional and elegant choice, brick porches help to create a seamless transition between the old and the new. Always aiming for a stylish finish, Anglian designers will work with you to ensure you select the bricks that match your home's exterior best.
Curious about our uPVC and aluminium porches? Find out more about our alternative porch styles here.
Added extras
As your porch is created especially for you, there are very few limits when it comes to its design. During your initial consultation with an Anglian designer, you'll be able to discuss what extra touches—be they decorative or practical—you can add to your porch.
From steps and lighting to power points for your electrical devices, the little extras on your porch can be crafted to suit your lifestyle. There are many ways to customise the glass for your windows, or the accessories on your doors, too – we have an entire collection available.
No matter what style roof or window frame you choose, all Anglian porches are guaranteed to be hardwearing, weatherproof and most of all secure, thanks to our multi-point locking system and Yale 3-star cylinder locks. 
Discover more about Anglian porches here, or get in touch with a member of our team – simply talk to an expert on Live Chat, call 0808 271 8342 or fill out our online form and we'll be delighted to help. Alternatively, take a look at our porch guide homepage for more information.