Anglian Home Improvements in Luton
We have a team based in Luton who can come and visit you to discuss your home improvement plans. Just give us a ring and we can arrange a convenient appointment for you.
One of our designers will show you our range of windows, doors and conservatories and help you choose the best products to achieve your vision. They'll be able to discuss your options with you and give you a bespoke quote.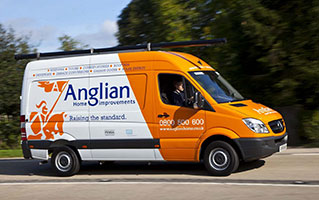 Anglian Home Improvements Luton
34 Wellington Street, Luton, LU1 2QH
Opening times
By appointment only
Call us now to book an appointment, ask us a question or just for a chat!
0800 393 673
Windows
Our uPVC Casement windows are a popular choice for customers in Luton. Also available in wood, these windows are easy to maintain, energy-efficient and secure. You can choose from a range of colours and configurations to ensure that the look you want is achieved.
Conservatories
Our Lean-to conservatories complement every style of property and are popular with customers in Luton. Its clean simple lines make it the perfect choice for a modern garden room. Every conservatory is individually designed and built by our expert craftspeople and can be fully customised.
Doors & Porches
Customers in Luton who choose uPVC windows often match them with a uPVC door such as our Edwardian design. Long lasting and virtually maintenance-free they are available in a wide range of colours.
Meet the Team in Luton
Our team of experts in Luton are waiting to hear from you. We will discuss your home improvement plans and arrange for one of our designers such as Mohzam Ali, Barry Marven and Khalid Omar to visit you.
10 year guarantee

Established in 1966

Made in Britain
Installations in your area
Customer Reviews
Explore our product range