Inspiration Area
Kitchen Windows
Country Kitchen Window Styles
Whether you're a traditionalist who loves the classic farmhouse country style, or you prefer modern country interiors that elegantly mix the old with the new, there's no doubt that a country kitchen can only be classed as complete when the perfect cottage windows are installed.
From information on texture and colour to those all-important finishing touches, you can discover how to channel country style through your kitchen windows below.
---
Go for cottage windows
First things first, cottage windows are your best bet for a country-style kitchen.
Here at Anglian, our cottage windows have been carefully crafted to replicate those found on traditional cottages. Decorative glazed bars that are available in a range of different configurations are used to imitate the appearance of individual panes of glass, and instantly adding a touch of country chic to any property type.
---
Consider colour and texture
Organic textures are at the heart of any country home, and wooden window frames are a fantastic way to bring nature indoors. They're an essential feature of any country kitchen, and are available in a wide range of wooden styles, from a traditional golden oak to a rustic dark woodgrain. 
Coloured wooden frames also work wonderfully in country kitchens, as they act as a great alternative if you're after something lighter and slightly more contemporary in design. Fresh white frames pair perfectly with almost any colour scheme, while cream best suits kitchens with a warm, neutral base. For a flattering pop of colour, you can choose our eucalyptus or olive green frames, too.
What's more is, Anglian's wooden windows use only sustainably-sourced timber. This means you can be confident that the wooden cottage windows you choose will always be of the highest quality.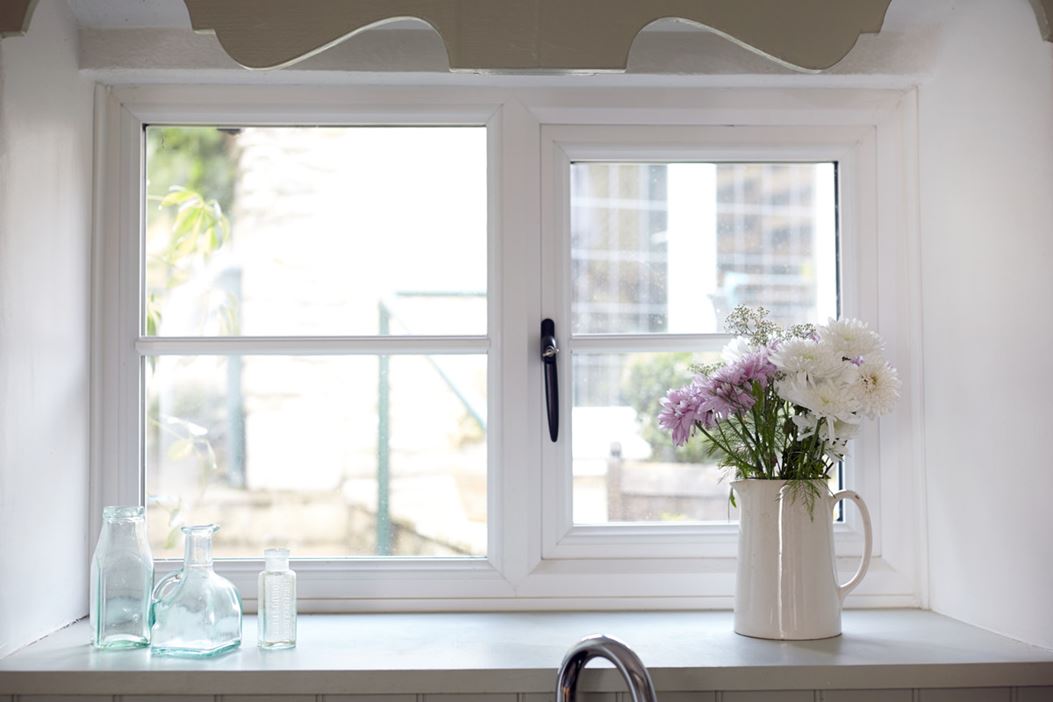 The finishing touches
With the style, material and colour of your new country kitchen windows decided, it's time focus on the finishing touches to complete the overall look.
If you'd like to turn your kitchen windows into a focal point, consider investing in timber shutters. You can add them to either the outside or inside of your cottage windows – thanks to effective double and triple glazing, timber shutters are now purely a design feature rather than a source of added insulation, so you can customise them to your heart's content.
On top of this, you won't want to forget to dress your windows and window sill too. Traditionalists will love plaid curtains, while modern country lovers should consider opting for a sleek, plain Roman blind. When it comes to the window sill, fill it (and your kitchen) with nature, from freshly-cut flowers to succulents and herbs. Your window sill is a wonderful place to begin your own miniature garden.
---
Have we got you thinking about window sills now? You can discover more about dressing your kitchen window sill here.