Chartwell green steel side hinge garage doors

Fir green GRP side hinge garage doors in open position
Add traditional looks and practical design to your home with side hinged garage doors. Also known as swing garage doors, they open outwards on hinges at the sides. Made from either glass reinforced polyester (GRP) or galvanised steel, they provide security and durability.
These doors are perfect if you're always in an out of your garage, or if it has ceilings too low for up and over or sectional doors.
Side-hinged Garage Door Designs
Bath

Cambridge

Imperial

Stirling

Bath

Chester

Harrow

Stirling
Steel Side Hinged Garage Doors Colours
Make your home stand out and with a choice of 10 contemporary matte colours from our steel side hinged range.
White
Black
Steel Blue
Fir Green
Ruby Red
Anthracite Grey
Light Ivory
Chartwell Green
Burgundy Brown
Golden Brown
GRP Side Hinged Garage Doors Colours
Spruce up the look of the exterior of your home with a range of nine colours from our GRP range.
White
Cream Woodgrain
White Woodgrain
Black Woodgrain
Steel Blue Woodgrain
Fir Green Woodgrain
Ruby Red Woodgrain
Anthracite Grey Woodgrain
Dark Mahogany Woodgrain
Benefits of Side Hinged Garage Doors
Secure

Both GRP and Steel side hinged garage doors have standard security features to keep out intruders. Handles are lockable and operate multi-point shoot-bolt locks. A strong steel chassis around the edge of the door helps to prevent forced entry.

Weatherproof

Our GRP and galvanised steel garage doors are resistant to the elements and the damage they can cause over time. Weather seals are fitted between the frame and the doors as standard, helping stop water ingress and draughts. This means you can store your car and tools with confidence.

Strong and Durable

The materials we use for our side hinged garage doors are strong, hard to dent and treated to stand the test of time. GRP is a strong modern composite that's hardwearing and won't rot, warp or rust. The zinc in galvanised steel helps prevents rust and weathering, while the high grade of the steel makes it tough and sturdy.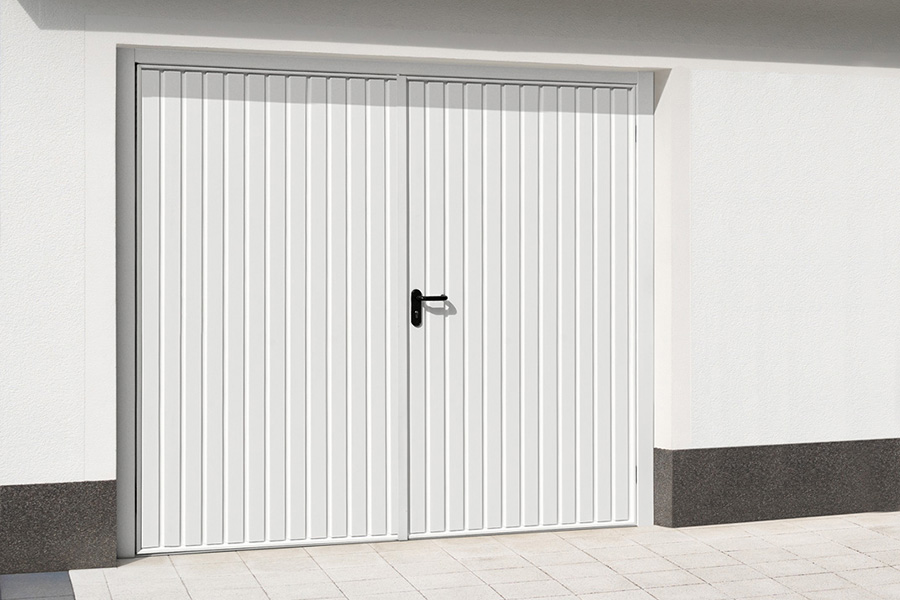 Side Hinged Garage Door Features
Bespoke Design
Configure our made-to-measure side hinged garage doors to suit your home and your needs. Choose a 'third split' door for garage doors with pedestrian access and access for your car, all in one opening. When you agree your quote, our qualified surveyor comes out and measures up to make sure your door is a perfect fit.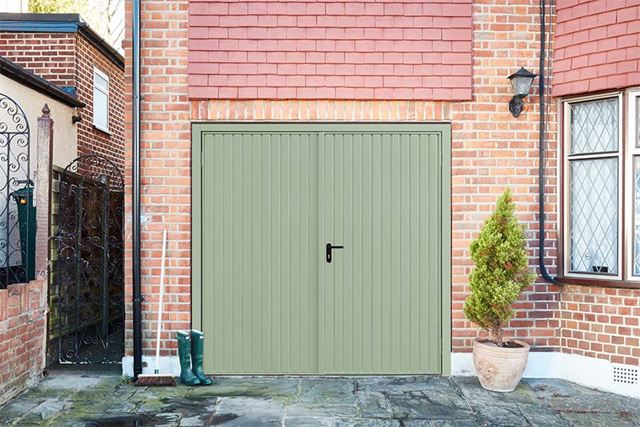 Glazing Options
Depending on the design, we offer a range of side hinged garage doors with windows. Choose from opaque black, clear or stippled Perspex options. Add character with diamond, cross or decorative lead effect glass designs.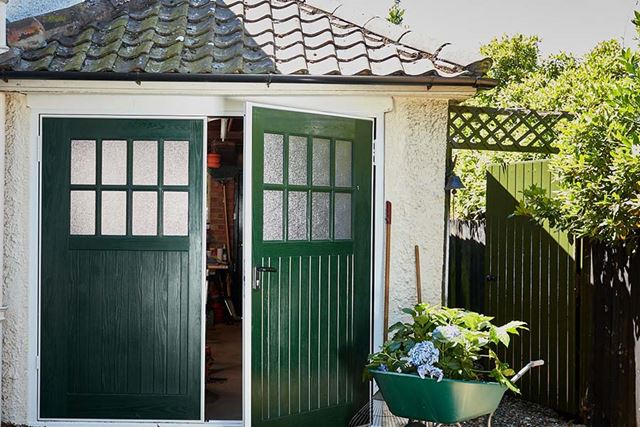 Restrictors
Side hinged garage door have restrictors as standard which keep the door open and help prevent them from blowing shut. This makes them ideal for when you're washing the car or doing some DIY.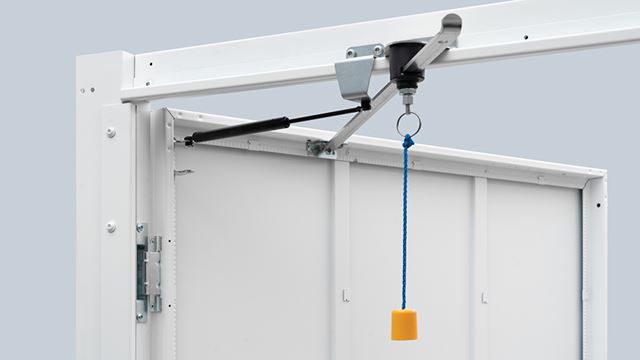 Customer Reviews
Our Accreditations and Licenses
Sets standards that ensure our products and services meet customers' requirements.

Certifies products made from start to finish in a British factory by British craftspeople.

PVC Industry initiative to improve manufacturing, minimise emissions and develop recycling practices
Why Anglian?
Made in Britain

Anglian garage doors are Made in Britain and we are proud to carry the official mark demonstrating that our products are good quality, great value and British-made.

Fully surveyed & installed

Your price includes the home visit or remote quotation, and the survey, manufacturing, installation and aftersales for your new garage door.

Quality guaranteed

Our steel garage doors carry a 5-year guarantee, while our GRP garage doors have a 2-year guarantee.



Get a Price
Side Hinged Garage Door FAQs
How much are side hinged garage doors?
The price of side hinged garage doors depends on the material, style, colour and glazing you choose. Some materials are more expensive than others, while glazing can add to the price as well. The cost of side hinged doors can also be affected by hardware, such as locks and security features. Some manufacturers provide choices with different costs attached where you can add optional extras like security lights, alarms and cameras. Talk to our team on Livechat today about our side hinged garage doors for more information and to receive a free no-obligation quote.
Are side hinged garage doors secure?
Side hinged garage doors are secure, but the level of security on any garage door depends on the security features you choose. This often differs with the company you use and door material. We make our garage doors with high-grade Steel or GRP, which are harder to force than lower quality materials, due to a higher tensile strength. We also fit key locking handles and multi-point locks as standard.
Are GRP garage doors better than steel?
GRP garage doors are not better than steel per se, but they do have advantages. During manufacture, GRP is easier to mould into shape than steel, making it more versatile. Steel needs a lot of high heat and friction to create, while GRP doesn't. Unlike galvanized steel, GRP doesn't need chemical treatment or finish to make it last longer. It is also easier to maintain and will not warp, rot or rust over time. Overall, metal garage doors are more widely used than GRP, and therefore have more options available, like sectional doors and aluminium roller doors. When it comes to choosing the right material for your garage doors, it is important to consider how you use your garage and what you store in it.
What are GRP garage doors made of?
GRP side hinged garage doors are made of a mixture of glass fibres and polyester resin. The fine glass fibres provide strength, while the polyester resin helps to bind the fibres together. Super fine glass fibre strands get woven to create a kind of pliable fabric. This gets shaped into a mould before adding the polyester resin, which creates a strong, rigid panel. This material is durable, weather-resistant and low-maintenance. GRP is a practical, cost-effective choice of door material for your garage.