White steel up and over garage doors

White GRP up and over garage door

Black woodgrain GRP up and over garage doors

Ruby red steel up and over garage door

Anthracite grey up and over steel garage door

Dark woodgrain GRP double up and over garage doors
Strong, secure and low maintenance, up and over garage doors are a wise choice for your home. Also known as one piece garage doors, they move up and back on tracks with sprung retracting gear for a smooth operation. Choose between glass reinforced polyester (GRP) or high-grade galvanised steel in a range of designs, colours and glazing options.
Up and Over Garage Door Designs
Bath

Cambridge

Imperial

Stirling

Warwick

Bath

Buckingham

Cardiff

Cumbria

Derby

Harrow

Kensington

Lancaster

Maine

Salford

Stirling

Surrey
Steel Up and Over Garage Door Colours
With 10 stylish matt colour options available, create a striking steel up and over garage door that is sure to make your neighbours jealous.
White
Black
Steel Blue
Fir Green
Ruby Red
Anthracite Grey
Light Ivory
Chartwell Green
Burgundy Brown
Golden Brown
GRP Up and Over Garage Door Colours
Choose from a range of colour options and finishes with up and over GRP garage doors. White Gloss is only available for the Bath and Maine door designs, while all other colours are available for the other designs.
Choose from over 200 colours from the European colour match system, RAL
White
Cream Woodgrain
White Woodgrain
Black Woodgrain
Steel Blue Woodgrain
Fir Green Woodgrain
Ruby Red Woodgrain
Anthracite Grey Woodgrain
Dark Mahogany Woodgrain
RAL
Benefits of Up and Over Garage Doors
Durable and Low Maintenance

Easy to maintain and durable, up and over garage doors stand the test of time. The zinc in galvanised steel prevents rust and weathering to give the door a long life. GRP garage doors are weather resistant, so they only need a light clean to keep them looking good.

Standard and Optional Security Features

Handles have hard to pick security locks and multipoint locking as standard, which makes the door hard to force. The high tensile strength of GRP and steel also makes them hard to break into. Add electric operation for extra layer of security, including keypad entry so you can lock the door with your own code.

Easy Operation

Up and over garage doors come with retractable gear, making them easier to open and close. When you open the door, the retractor helps move the mechanism up and back along the tracks inside the garage. The smoother open and close means it takes less effort to operate them, and the retractor makes them safer too.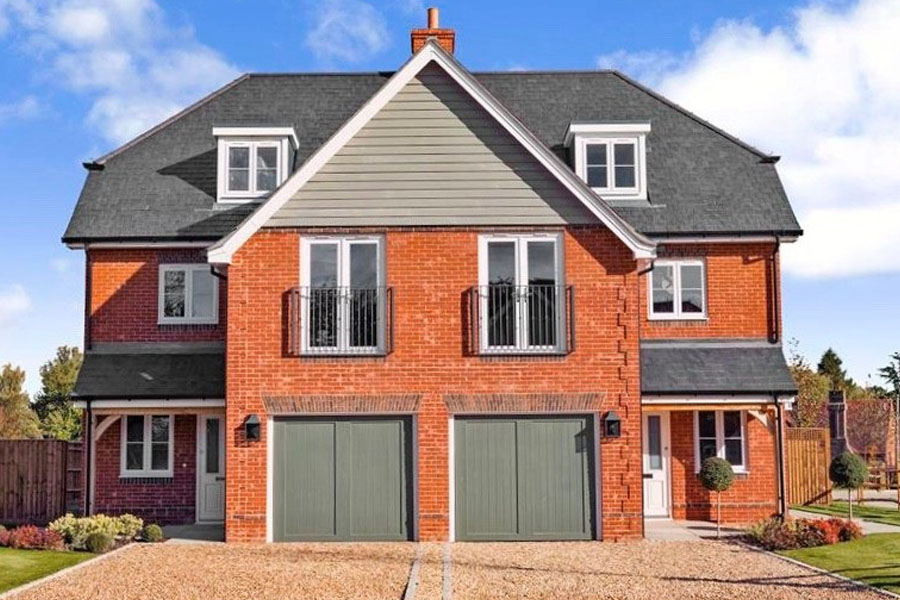 Up and Over Features
Canopy Gear
Optional canopy gear is available to increase shelter. Around a third of the up and over garage door protrudes from the front of the garage when it's open. It makes a great shield from the sun or the rain when you're working on your car or your next DIY project.
Remote Control Access
Upgrade to electric up and over garage doors by adding remote control opening. You get two hand transmitters and a wireless internal wall control button, which lets you open and close the door without using the remote or the key. Add an external wireless keypad so you don't get locked out if you lose your keys and remote.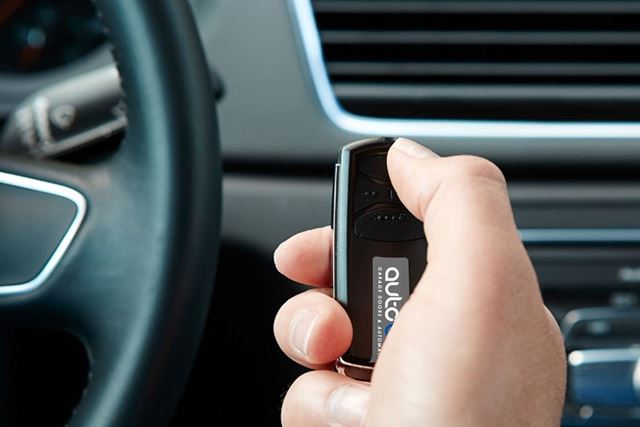 Glazing Options
Enhance your up and over garage doors with clear, opaque black or stippled perspex glazing. Add decorative glass patterns like diamonds, crosses or lead effect. To view the full list of up and over garage door designs with glazing options, download a brochure today.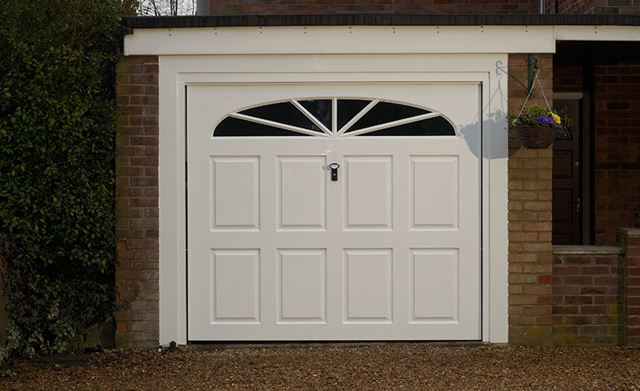 Customer Reviews
Our Accreditations and Licenses
Sets standards that ensure our products and services meet customers' requirements.

Certifies products made from start to finish in a British factory by British craftspeople.

PVC Industry initiative to improve manufacturing, minimise emissions and develop recycling practices
Why Anglian?
Made in Britain

Anglian garage doors are Made in Britain and we are proud to carry the official mark demonstrating that our products are good quality, great value and British-made.

Fully surveyed & installed

Your price includes the home visit or remote quotation, and the survey, manufacturing, installation and aftersales for your new garage door.

Quality guaranteed

Our steel garage doors carry a 5-year guarantee, while our GRP garage doors have a 2-year guarantee.



Get a Price
Your Questions Answered by Us
How much are up and over garage doors?
Up and over garage doors prices depend on the design, colour and optional extras you choose. For example, adding glazing or electric operation with remote control and keypad entry increases the cost, so this is something to consider when buying one. If you have any questions, talk to our team on Livechat to get started.
How much room do you need for an up and over garage door?
The amount of room you need for an up and over garage door depends on the size of the door. You need to allow headroom for the opening mechanism and space on either side so the door doesn't hit anything during operation. A typical up and over door needs 12 inches of headroom for the door tracks. The recommended space on either side of the door is 4-6 inches. Up and over doors need space, so if you have a low ceiling garage and no space in-front, consider more compact options like aluminium roller doors.
Are up and over garage doors secure?
Up and over garage doors are a secure option for your home, but how secure depends on the hardware and extra features you choose. Reputable companies, such as Anglian, produce doors from strong, high-quality materials that are harder to break into. They tend to have locking gear like key operated handles and multipoint locks. Our up and over garage doors have these security features as standard. Add remote control or keypad entry to make yours even more secure.
What is the difference between sectional and one piece garage doors?
The difference between sectional and one piece garage doors is the amount of space they need. A sectional garage door is in hinged sections, moving up a track and bending at the top before sliding back along the ceiling. A single panel door tilts outwards from the garage before swinging up in a curved motion. So you need more space for a one piece door, in-front and inside. Sectional doors are also often more expensive because they need electrics to operate them, while one piece can be manual or electric. Both are practical for different reasons, so when choosing a garage door you need to think about your specific needs.
What is a one piece tilt up garage door?
A one piece tilt up garage door is another term for an up and over garage door. This is a single panel door that tilts outwards when you open it, before swinging up into the garage in a curved motion. The door has pivoting arms on each side that move it up and down on tracks which run up the height of the door and curve up and back into the ceiling of the garage. These doors are a popular choice because they're practical, secure and cost-effective.