Electric Roller Garage Doors
Anthracite Grey Electric Roller Garage Door

Golden oak roller garage door with golden oak PVCU door

Fir Green Aluminium Roller Garage Door

Ruby Red Electric Roller Garage Door

Fir Green Garage Doors in Aluminium Roller Style
Anglian electric roller garage doors open vertically by retracting into a tight roll. This roll is stored in a box that sits over the doorframe on the inside. Even when the door is fully open, you won't lose access to any internal or external space as you would with a traditional overhead garage door.
Completely frameless and made of foam-filled aluminium for maximum insulation and soundproofing, Anglian electric roller garage doors can transform your garage into a multipurpose space, so it's more than just somewhere to keep your car.
Electric roller garage doors are perfect for:
Homeowners with tall vehicles

Garages with limited floorspace

Homeowners with adapted living requirements
Electric Roller Garage Door Colours and Sizes
Anglian electric roller garage doors are available in 11 different colours, so whether it's for a country cottage or a city centre townhouse, we'll have a design to complement your home's exterior.
Our durable aluminium garage doors are available in either standard or compact sizes, which are made to measure by Anglian craftspeople right here in the UK, so they fit your home exactly upon installation. Both sizes are frameless and spatially efficient, but the compact option is the ideal choice for any property which requires a garage with maximum headroom.
Colour availability varies by design choice.
White
Anthracite Grey
Steel Blue
Sage Green
Fir Green
Jet Black
Ruby Red
Cream
Dark Woodgrain
Golden Oak
Duck Egg Blue
Top Benefits of Electric Roller Garage Doors
Space-saving

Our roller shutter garage doors retract neatly into a coil which sits in a drum-shaped box – this is fitted above your door on the inside of your garage. As the door never protrudes, and doesn't take up any overhead room, they're very spatially efficient, and perfect for accommodating SUVs, vans, people carriers or ordinary vehicles with roof racks.

Cost-effective

Anglian roller shutter garage doors are foam-filled to increase the heat retention of your property, saving you money on bills and making your garage a more versatile space. Survey and installation are both included – we'll even arrange for the disposal of your existing garage door.

Secure

Keeping the contents of your garage secure is of utmost importance. Anglian roller garage doors are fitted with anti-lift locking straps, to prevent intruders from breaking in, as well as an alarm which sounds if the door is forced upwards.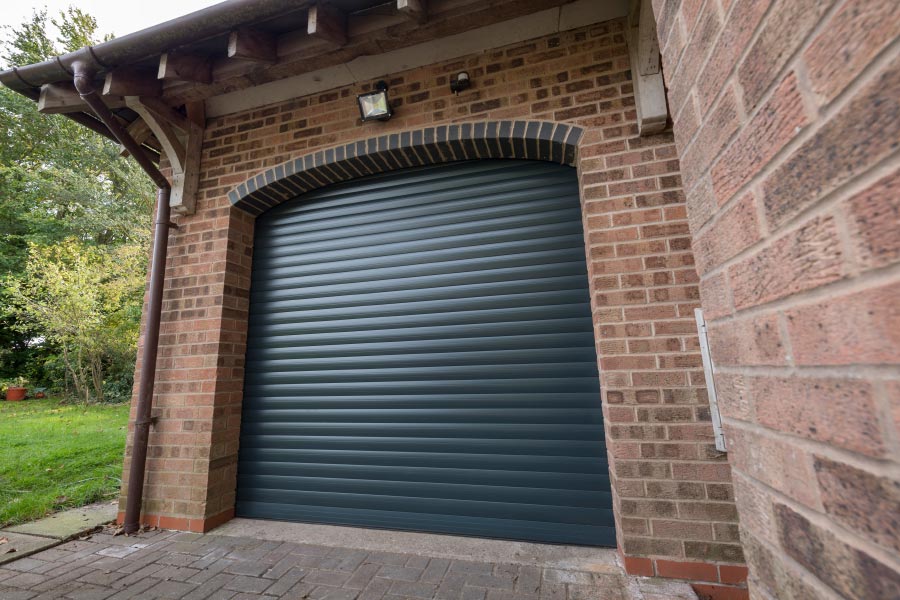 Electric Roller Garage Door Features
Lighting
The installation of a security light is also included with your electric garage door – this will light up automatically whenever you use your remote control, but you can also set it to stay on for as long as you'd like, so you can see what you're doing.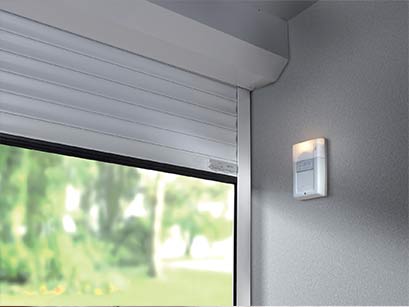 Remote control operation
All our roller garage doors come with a remote control, so they can be opened from a distance, or when sitting in your car. For your safety, as well as that of your vehicle, our doors are fitted with a wireless safe-edge system, so if they encounter an obstacle they will automatically stop and reverse.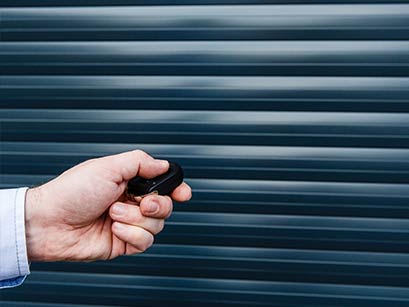 Feel safe & secure
Your garage door is designed to fight back against burglars. Our Roller Garage doors are fitted with anti-lift locking straps.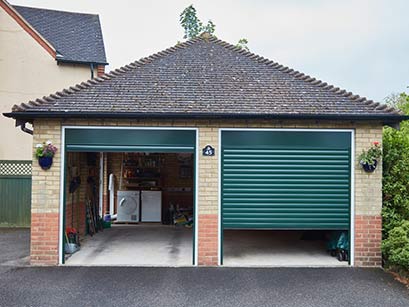 Customer Reviews
Our Accreditations and Licenses
Sets standards that ensure our products and services meet customers' requirements.

Certifies products made from start to finish in a British factory by British craftspeople.

PVC Industry initiative to improve manufacturing, minimise emissions and develop recycling practices
Why Anglian?
Made in Britain

All Anglian garage doors are Made in Britain and we are proud to carry the official mark demonstrating that our products are good quality, great value and British-made.

Fully surveyed & installed

All our garage doors are provided with a full survey prior to manufacture and complete installation.

Quality guaranteed

Your garage door comes with a 5-year guarantee.



Get a Price
Electric Roller Garage Doors FAQ
How does an electric roller garage door work?
Our roller garage doors operate using a simple electric mechanism, which enables them to roll vertically upwards into a compact, drum-shaped box, that sits inside your garage above the opening in the wall. You can operate your garage door via remote control, wall switch and manually, via the internal release crank.
View size and pricing options for your new roller garage door here.
Which are the best roller garage doors?
Manufactured by our expert craftspeople right here in the UK, Anglian electric roller garage doors are made from high-quality foam-filled aluminium. They offer excellent heat retention and soundproofing, making your garage a more versatile space.
What are roller garage doors made of?
Anglian electric roller garage doors are made of foam-filled aluminium, which is durable and completely weatherproof, whilst remaining lightweight. Every door we install is compliant with the latest standards from both CE and Building Regulations.
When should a garage door be replaced?
If your door is over 10 years old, or you're experiencing problems with the opening mechanism, replacing your garage door is likely to be more cost-effective than repairing it. Anglian roller garage doors are covered by our 5-year guarantee, so if you encounter any issues after it's installed, you can rely on our experts to help.
How much space do you need for an electric roller garage door?
Every one of our doors is made to measure in our UK factory, so that it fits your home exactly – and survey and installation is included. There are standard and compact sizes available, both of which are designed to be spatially efficient, but the latter option is perfect for a property on the smaller side.