Decorative Window Finishes
Adding the finishing touches
Decorative glass
Ornate window bars
Unique handles for your windows
---
Adding the finishing touches
Planning is vital for producing the perfect set of windows and that's why an in-depth survey of your home should be carried out before creating your bespoke windows.
There are lots of things to think about: various window styles, materials and glazing options, and a range of additional decorative features.
Finishing touches can completely transform the overall feel of double-glazed windows, adding character to your home. Traditional or modern, there are a wide range of decorative finishes, such as window bars, unique handles and decorative glass, to suit your home's aesthetic.
Decorative Glass
Glass doesn't have to be plain, and there are many ways you can insert patterns, texture and colour into your windows. Decorative glass can be carefully matched to your exact specifications, giving you full control over the final look. Take a look at some Anglian homes to get inspired here.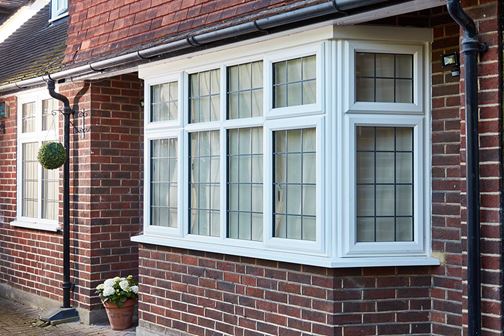 Leaded Glass
Ideal for period homes that wish to maintain traditional features, leaded glass - also known as lead crystal - can add beautiful patterns to your windows. Designs can vary, with Georgian and Elizabethan Lead being two of the most popular effects.
Georgian Lead uses square or rectangular patterns to mimic bars that could be found on timber windows. This type of leaded glass adds a traditional charm and it can be added to uPVC, wooden and aluminium frames. Elizabethan Lead is slightly more decorative, featuring diamonds in a lattice design.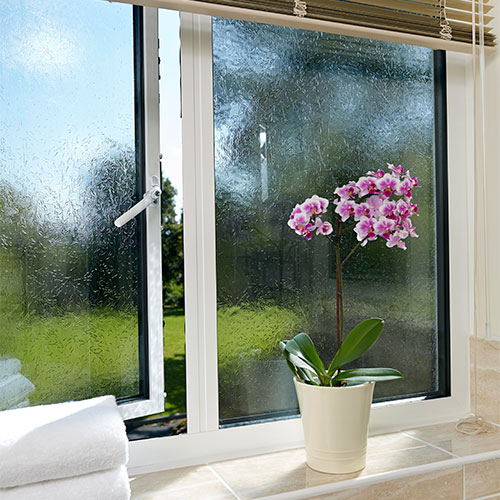 Obscure Glass
Added for practicality as well as style, obscure glass is a popular choice for rooms that require more privacy. Ideal for bathrooms, shower rooms and spaces in close proximity to passers-by, obscure glass is available in a range of textured and etched designs.
Obscure glass designs can vary in levels of opacity and subtlety, with frosted glass being one of the most discreet styles available. Etched glass tends to be more decorative, becoming a focal point in any room.
Jewelled and Bevelled Glass
Jewelled glass isn't just for church windows and it can tastefully inject a hint of colour into any home. Choose from a vast range of designs, including traditional ornate patterns or more modern, art-deco inspired shapes. The Anglian range of jewelled glass for double and triple-glazed windows is called Fusion.
Ornate window bars
Preserve period features in an older property or replicate an authentic cottage style with window bars. The glazed bars help to mimic the appearance of individual panes of glass and they can be configured any way you choose.
Window bars are a wonderful decorative touch for any uPVC or wooden frames, and they can be matched to the finish and colour of your window frames perfectly.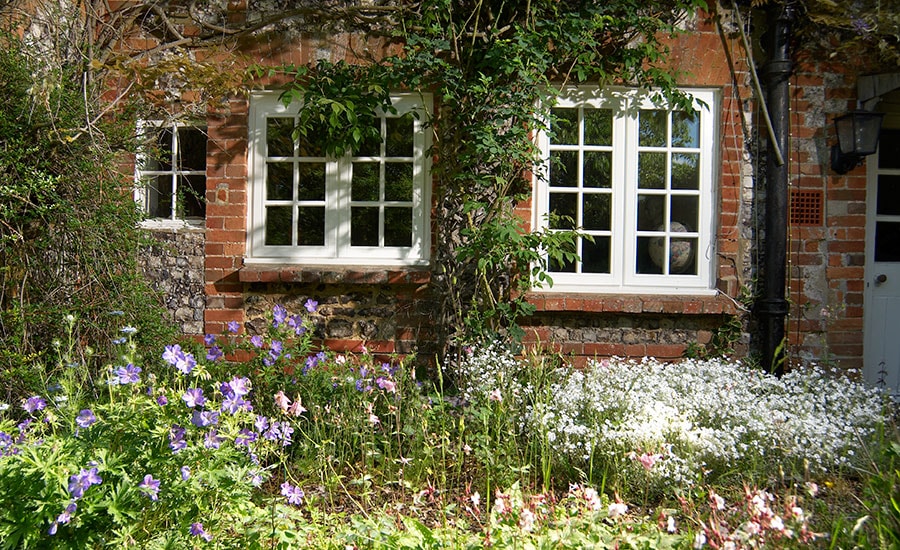 The final touch to any double-glazed window is the handle, and a vast range are available to suit every type of home. Modern, minimal, rustic or traditional, whatever your preferred style, there should be an option to provide you with the perfect handle for your new double-glazed window.
If you'd like to make a statement, opt for a more decorative handle, such as a monkey-tail handle. Metallic chrome and brass handles add a modern, sleek update to your window, while rustic, ornate designs provide a luxurious touch.
Made for you and you only, you have complete control over the design of your windows down to the final, decorative details. To view our huge range of door furnishings here.