Unleash your Creativity by Decorating your Windows
Don't underestimate the impact of the finer details when choosing how to decorate your windows. Finishing touches like glazing, handles and decorative window features are important choices to make that can transform the look of your home. Learn how to enhance and personalise your windows in this guide to creating bespoke window décor.
Learn about decorative glazing options including leaded, obscure, jewelled and bevelled glass
Explore window décor ideas including ornate window bars, decorative handles and colours
Think about decorations to dress your windows like window curtains or blinds
Decorative Glass and Glazing Designs
Window glass doesn't have to be plain and uninspiring. There are many decorative window designs with exquisite patterns, textures and vibrant colours to suit any home. From pre-determined patterns to bespoke designs, our skilled window glass artisans know their stuff. We've re-created glass patterns inspired by old stained glass windows, and even immortalised family pets in decorative glass.
Whether you're looking to maintain period character or you want to add stylish details to your modern property, we work with you to find the perfect glass option.
Here are the most popular glass decorations for windows: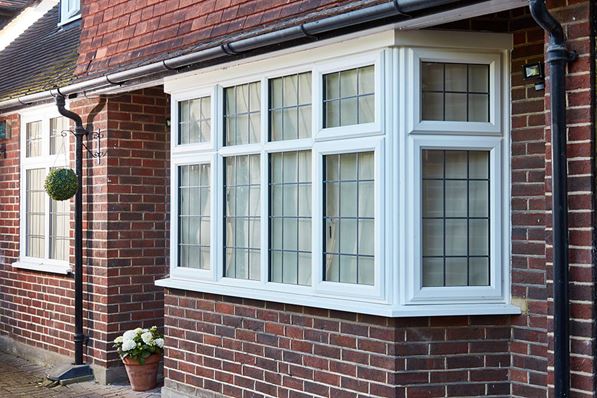 Leaded Glass
Ideal for homes with traditional features, leaded glass adds a strong pattern to your windows. Designs can vary, with Georgian and Elizabethan Lead being popular choices.
Georgian Lead features square or rectangular patterns, mimicking traditional decorative window bars found on timber windows. Elizabethan Lead, on the other hand, boasts a more intricate diamond lattice pattern. These charming designs can be added to uPVC, wooden, and aluminium frames.
Reason to choose: Perfectly adds classic charm to your home or preserves the authentic look of period properties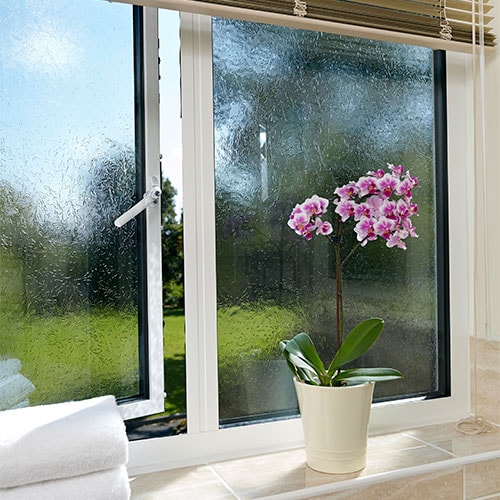 Obscure Glass
Balancing practicality and style, obscure glass is a popular choice for rooms that need more privacy. Ideal for bathrooms, shower rooms and spaces near passers-by, obscure glass is available in a range of textured and etched designs. From discreet frosted glass styles, which diffuse light, to more decorative etched glass designs that become captivating focal points in any room, there are options to match every taste. The range of different frosted glass patterns available for a bathroom is often overlooked when looking at window decoration ideas.
Reason to choose: The best type of decorative window for bathrooms. Obscure glass is great for rooms that need privacy without losing light.
Jewelled and Bevelled Glass
Gone are the days when jewelled glass was reserved for church windows. Now, you can infuse your home with a subtle hint of colour and timeless elegance. Choose from a range of designs including traditional ornate patterns to contemporary art-deco-inspired shapes. Our exclusive range of jewelled glass, known as Fusion, offers so many possibilities for double and triple-glazed windows.
Bevelled glass is a good alternative option. It's where intricate geometric shapes are meticulously cut into a thick outer glass pane. These bevels refract light, creating a rainbow of colours in an effect unmatched by any other decorative window design.
Reason to choose: Embrace a beautiful decorative window style that adds a pop of colour to your home, with contemporary and traditional choices.
Ornate Window Bars
Whether you're yearning to preserve the period features of an older property or aiming to recreate the authentic charm of a cottage, decorative window bars are the perfect solution. These glazed bars mimic the appearance of individual glass panes, adding a touch of elegance to your windows. With a variety of design options available, such as single bar and cruciform configurations, you have the freedom to customise your window bars to suit your unique style.
Window bars serve as a captivating decorative touch for both uPVC and wooden frames. Match the finish and colour of your window frames to the window bars, creating a look that complements the décor of your home.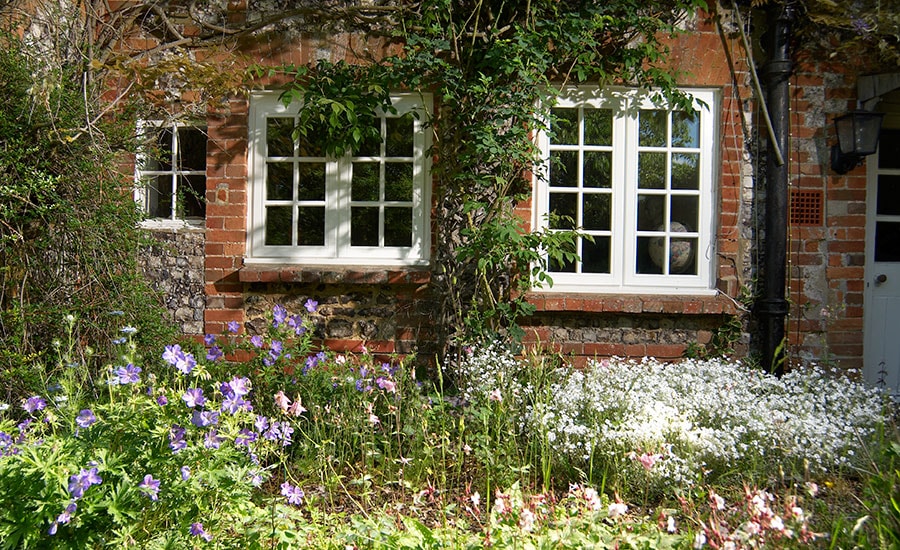 Decorative Handles
The final touch to any double-glazed window is the handle, and a vast range are available to suit every type of home. Modern, minimal, rustic or traditional, whatever your preferred style, there should be an option to provide you with the perfect handle for your new double-glazed window.
If you'd like to make a statement, opt for a more decorative handle, such as a monkey-tail handle. Metallic chrome and brass handles add a modern, sleek update to your window, while rustic, ornate designs provide a luxurious touch.
Made for you and you only, you have complete control over the design of your windows down to the final, decorative details. To view our huge range of door furnishings here.
Choosing a Window Colour is an Important Part of Window Décor
Choosing the right window colour is one of the biggest considerations when looking at window decoration ideas. From sleek and contemporary greys and whites to the natural warmth of traditional wood finishes, the right window colour can transform your space. Let your creativity shine as you explore the endless possibilities of customising your windows with the ideal colour palette.
Ideas for Window Dressing for Those Who Like to Plan Ahead
A beautiful window deserves the perfect frame, both inside and out. This involves selecting the right curtains or blinds that not only complement the style of your windows but also reflect your personal taste. Whether your aesthetic leans towards modern or traditional, it's crucial to consider the practical aspects alongside the visual appeal. For instance, heavier window dressings can provide insulation for north-facing rooms, while lighter options can prevent overheating in sun-soaked south-facing spaces. It's important to balance style with functionality when it comes to window dressing.
More Window Decorations
When it comes to embellishing your home and making it yours, choosing a window style is just the beginning. The possibilities are endless when it comes to using decorations to elevate the style of your windows and add character to any room. Imagine curling up with a good book in a charming window seat or creating a serene nook by the window, complete with a comfortable armchair and an elegant lamp. Embrace the art of window decoration and let your imagination run wild.
Vibrant plants and seasonal flowers can also bring a space to life and change the feel of a room. Consider installing a window box outside to cultivate a small, year-round growing space that brings joy throughout the seasons. For further inspiration on decorating and styling your new windows, take a moment to explore our window gallery.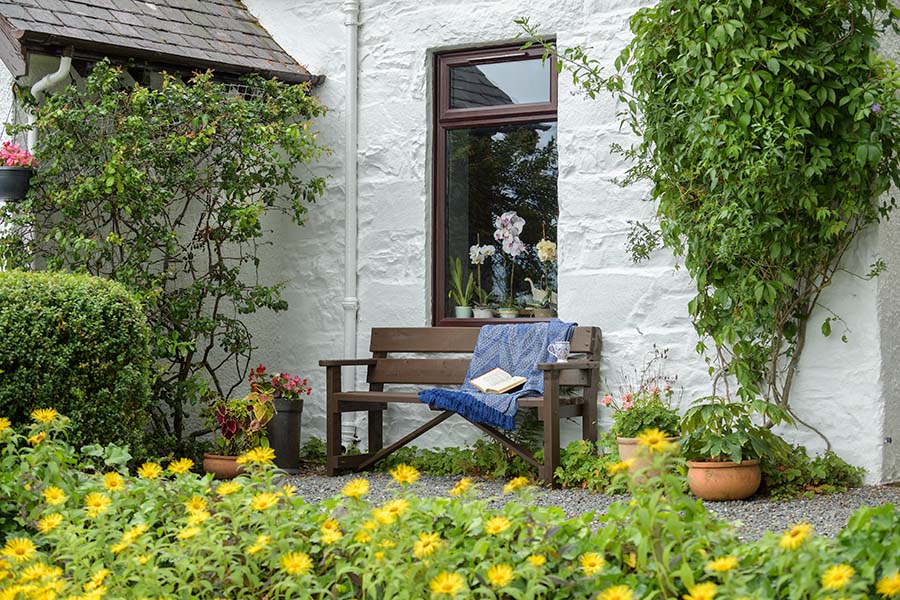 Window Security Remains a Priority
While aesthetics are essential, the safety and security of your windows is just as important. Our windows are equipped with a range of features designed to keep your home secure. These include multipoint steel shoot-bolt locks in the frame and key-locking handles, as well as robust glass and frames that resist external forces and break-ins. We prioritise your peace of mind without compromising on the beauty and elegance of your windows.
Decorating your Windows with Anglian Home Improvements
Transform your windows into captivating focal points with Anglian. For more than 55 years, we have been dedicated to delivering the finest bespoke window designs. Install new windows that give a whole new look and feel to your home. Get in touch with us today via phone or on our website to get a free no-obligation quote.