If you've recently had lovely new windows fitted in your house, you may also want to treat yourself to some new curtains and spruce up your interior décor. However, buying curtains can actually be a surprisingly complicated process with many different aspects to consider. Here are some things to think about when buying curtains for your new windows…


Bespoke or ready-made curtains?
One of the first things you need to bear in mind is whether you want to opt for ready-made curtains off the shelf or go for something bespoke and tailored to your windows. If you need your curtains right this minute or on a somewhat tight budget, then you can go to most home stores and pick up a pack of curtains for next to nothing.
Bespoke, made to measure curtains are going to set you back a fair amount more, but the options available to you are endless. You can have them made to exact specifications so they fit your windows perfectly, and you'll also have much more choice when it comes to colours and fabrics.
You can even make your own curtains.
These great guides
from John Lewis will tell you how to get started.
Which room in your house?
The various rooms in your house likely have different types of windows, and therefore they may well require different styles of curtains.
For example, your living room or dining room is more likely to have full-length windows than the kitchen. Full-length windows have a plethora of different curtains styles available to them, including hourglass, overlaps, tiebacks, tent flaps, and more.
For the bedroom, there are plenty of styles available, but you may be tempted to opt for blackout curtains to help block out the light – perfect if you enjoy a lie-in in the morning!
In the kitchen, many people have windows above their sink, which isn't the ideal place for traditional curtains. In this case you may want to consider blinds, or you could try a valance. A valance won't block out light or keep the heat in but can contribute to your kitchen's décor.
For rooms that have a great view, Jenny Wingfield, Creative Director of design collective
Flock
, gives her decorating advice:
'

Large windows with incredible views are framed well with clean and contemporary style curtains, perhaps neutral tones and simpler, lighter shades of pattern. You don't want the business of a curtain to detract from a stunning view.

'If you're lucky enough to have a beautiful south facing, sunlit room, I'd opt for a lighter coloured fabric as they are likely to fade slower compared to darker hues.'

Related: Bay Window Collection


We also spoke to Kriste Michelini of
Kristi Michelini Interior Designs
.

'My go to curtain is a French Pleat with iron hardware and simple round finials.  It is a classic style that never gets dated.  I love these types of window treatments in dining rooms and bedrooms. Other rooms may lend themselves to shades as opposed to curtain panels depending on the functionality of the room.'


What length and width should your curtains be?
If the purpose of your curtains is more to decorate than to ever close them, the curtains should be roughly 1 ½ times the width of the window. However, most people will intend to draw their curtains, and in which case they should be about 2 – 2 ½ times the window's width so they don't look too stretched when closed.
In terms of length, this very much depends what type of window you have. If you have a floor-length window, curtains should either just touch the floor or stop a couple of inches before. If they drape on the floor too much they will collect dust and also present a slipping hazard.

Kriste:
'For the most classic and elegant look, the width of your curtains should be fuller than the window itself. We typically recommend sizing the width of your curtains to be 2.5 times the width of the window. As far as curtain length, I aim to have the curtain panels just break on the floor, but no puddling on the floor.'
For windows that are not floor length, a couple of inches longer than the window is a fine.
Which curtains for bay windows?
Bay windows can be a little trickier to dress, but they are also some of the most versatile styles of window and provide you with several options for your curtains.
Related:
How To Make A Roman Blind [Infographic] 
You can simply use one set of curtains as you would with any other window, although this will require curtain poles that are shaped to the curve of the bay. If choosing this style, then you could consider combining the curtain with Roman blinds on each of the windows. If you have plain coloured curtains, choose a patterned blind, and vice versa.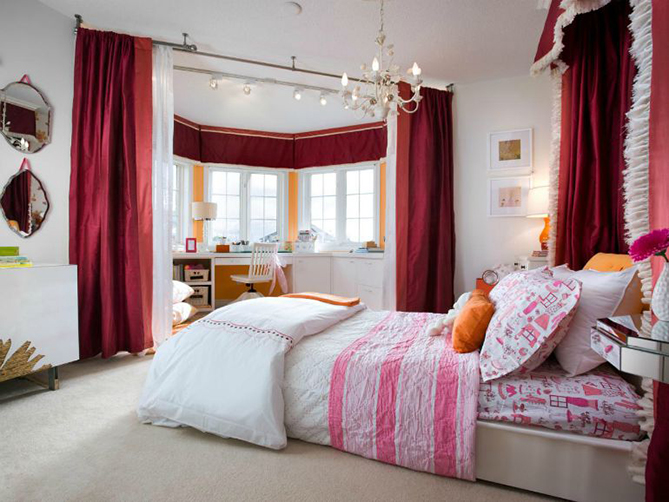 Curtain colour and fabric choice
Colour and fabric of your curtains very much depends on the look and feel you're going for in the room. Curtains can play a vital role in your interior design and can be used subtly as an accent to your colour scheme or a bold statement that draws the eye.

Kriste:
"Colour and fabric choice will make a significant difference to the finished look.  Your window treatments can be the focal point in the room with a fun pattern or bold colour, or they can be a subtle finish to the room by softly framing the windows and simply complementing the overall colour palette of the room."
However, the colour and fabric can also play a functional role depending on which room the curtains are in. The bedroom, for example:

Jenny:
"Fabric is an essential part of choosing your curtains – they really determine and dictate their functionality. If you're a lover of a lie-in, it's best to opt for blackout or lined curtains, which will also help keep the chill out during the winter.
"

Or, what works particularly well is blind behind drapery – opting for a lighter curtain fabric but pairing it with a complimenting darker or wooden blind to keep the daylight out when you're in need of a snooze. This creates a really classic, elegant look."
For rooms that are colder, you might want to go for thicker curtains as that can help trap in heat, whereas warmer rooms would work best with something lighter and thinner.

Do you have any tips on choosing curtains for your home? If so, let us know in the comments below.
If you want to try alternatives to curtains, check out this article on
the various different ways you can dress your windows
.
f

eature image: Interior design by Kriste Michelini, Photography by Lisa Duncan