How To Create Contemporary Windows Throughout Your Home
Contemporary style is a popular interior design choice, with a focus on minimalism, simple, neutral colours, stylish accents and plenty of light.
This particular style works well throughout the home, but especially in kitchens and living spaces. If you're set on a contemporary designed home, this guide will advise you on how to achieve a contemporary window look throughout your entire home.
Windows Colour Schemes and Style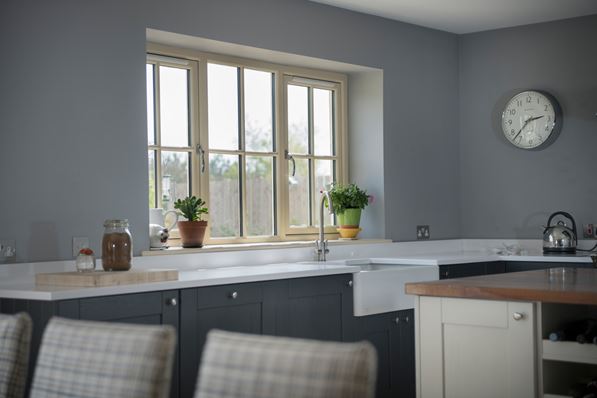 Although a broad term, contemporary windows tend to be bare, large-scale and open, to allow plenty of light into the space.
Floor-to-ceiling windows are commonplace in many modern homes, as all-glass design is incredibly popular in contemporary interior design. However, many homes don't have the luxury of being able to incorporate floor to ceiling windows, so there are other things you can do to evoke this theme.
Aluminium frames are a wonderful choice for contemporary style homes. At Anglian, our range of aluminium windows are available in more than 200 colours to perfectly match your home's design.
Choose our anthracite grey for all window spaces in the home, or on-trend sage green that will look perfect in a modern kitchen space. Our aluminium windows are also available in several classic colours including white and cream, which will fit well in contemporary style bedrooms, bathrooms and living rooms.
Owner and designer of Portobello Interiors, Jane Crick, says: "Clean, sleek lines work best to achieve a contemporary look. To achieve a contemporary look opt for a neutral colour palette – consider blue, black, grey, white and beige tones. Luxurious, lustre fabrics and velvet can be used to dress windows as well as sheer voiles but stick with simple fabrics and avoid intricate patterns."
Curtains or blinds for a Contemporary Home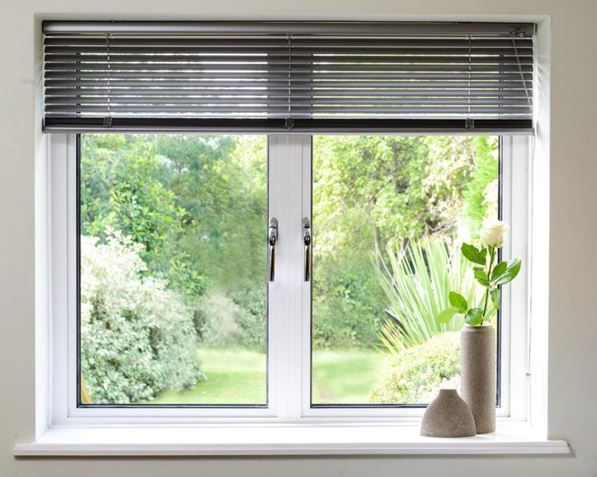 In general, blinds are more fitting with contemporary style than curtains. Venetian blinds in white, grey or black are a great choice and are a practical and stylish option for bathrooms and kitchens.
Roller blinds are also a popular choice, and work well throughout the home. They can be rolled up during the day to keep your windows bare, open and in-keeping with the style.
For bedrooms and living rooms, many people prefer curtains over blinds, perhaps due to the added warmth and sense of comfort they can bring. If so, opt for a floor length curtain in a neutral colour. Avoid using any loud, clashing prints as this will detract from the contemporary look of the room.
Window dressings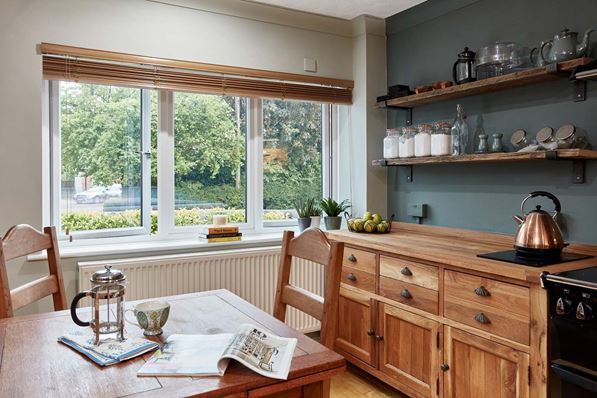 With contemporary design, minimalism is key, so try to keep your window space as bare and clutter-free as you can. Avoid any bold colours, decorations or clutter, and opt to dress the window with greys, whites, or dark blues and greens.
Plants and succulents are a great choice for contemporary windows, especially in the bathroom or kitchen space. If you'd rather not have plants to tend to, copper accents, geometric designs and simple lighting are excellent choices too.