Inspiration area
Bathroom windows
Bathroom windows: Blinds or Curtains?
If you're looking to update your bathroom - putting up a new blind or curtain will help refresh your space and bring a new look to your room. But what's best for bathrooms - blinds or curtains?
---
Blinds
Blinds are a popular option for bathrooms, they need less maintenance than curtains and look neater and more compact. Roller blinds are a practical choice as they are neat, tidy and readily available in PVC fabrics that are suited for steamy and hot bathroom environments. What's more, they can be customised in a variety of patterns and colours to suit your bathroom decor well. Wooden or Venetian blinds are also a modern choice for bathrooms. With the added benefit of being moisture-resistant, they won't damage or spoil in the bathroom environment, and the vertical slats will look neat and sleek.
Curtains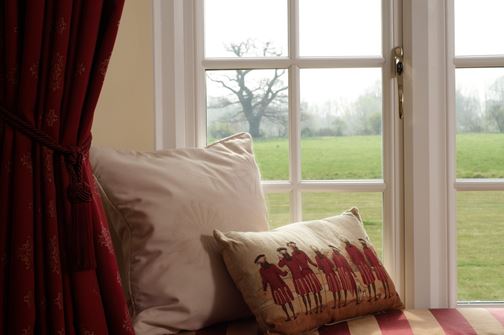 Curtains are a stylish alternative to blinds, and although many people don't think about using them in their bathroom, they can make a great addition to the space. Curtains are available in a wide range of colours and fabrics, meaning it's easy to find a pair to suit your bathroom interior. Café, curtains, window shades, valances and floor length curtains are the best options for bathroom windows, no matter their shape or size. Choose a PVC coating to ensure the curtains won't get damp and avoid cotton or linen as these fabrics will soak up moisture and ruin the fabric. Blinds are the best option for bathrooms if you are looking for something low maintenance. Curtains are less popular but offer more style choice for new dramatic looks.
---