Traditionally, the majority of people built conservatories to make the most of the sun giving them a place to keep plants, but nowadays it has lots of purposes, being used as somewhere to relax, read or used as a dining area. We've found that some of the most popular flooring for conservatories is:
Carpet
Laminate flooring
Wooden flooring
The key to getting the most out of your conservatory is to kit it out properly. It needs the right furniture, the right decoration and - perhaps most importantly - the right flooring.
With so many conservatory flooring types available, how do you go about choosing?
Carpet
Despite rapid growth in the popularity of shiny, hard flooring types (which we'll come onto later), homeowners in the UK still purchase millions of square metres of carpet every month. If you want to make your conservatory warm and cosy even in the winter months, carpet might be the way to go.
As well as being comfortable underfoot, carpet can be laid easily on top of pretty much any sub-flooring – just remember to use underlay for the best results. Carpet is also available in a near-limitless range of colours and styles, making it easy to find something that fits perfectly with your conservatory décor.
The only real downside is that carpet is more likely to harbour dirt, so if your conservatory door leads straight out onto mud or grass, you may find you have to clean it regularly to maintain appearance. The problem will likely be bigger if you have kids or pets, but a doormat should help with this.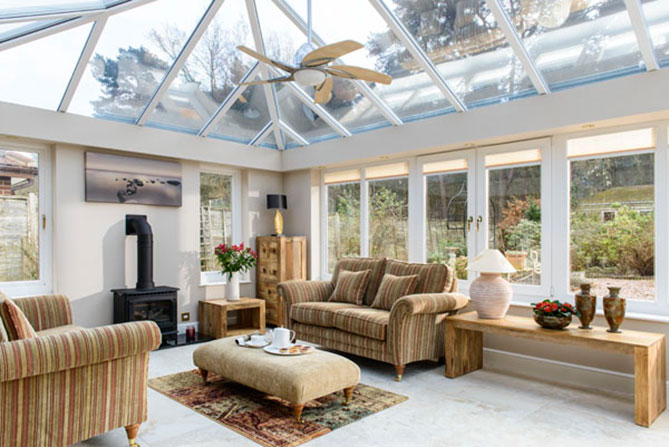 Laminate flooring
A hugely popular alternative in normal rooms, laminate flooring is extremely versatile and usually pretty cost-effective too. There are endless colours, patterns and styles to choose from here, many of which are designed to emulate other materials like wood and stone.
For a start, laminate flooring tends to be a lot cheaper than the materials it emulates, meaning you can achieve the modern and desirable appearance of wood or stone, without having to pay so much. Also, it's much easier to clean than all alternatives, as most dirt and dust can simply be wiped off with a wet cloth – perfect for a space so close to the garden.
Stylishness aside, it's important to think about practicality and understand that some types of laminate flooring are more prone to sunlight and heat damage. You may find, for example, that it starts to fade over time, affecting the conservatory's overall appearance. To avoid this, simply read up on the flooring you pick, and ask the supplier if it's up to the task.
Wooden flooring
Wooden flooring can be a bit of a difficult one, as in some forms it's perfect for the conservatory but in others it just doesn't work because of the conditions that can sometimes occur.
Heat fluctuations can cause problems if your conservatory temperature isn't regulated. Advances in technology does make this more easily achieved, but it's worth bearing in mind how wood will expand and contract in hotter and colder temperatures.
This expansion and contraction can cause the wood to crack and warp if it is subjected to these extremes for too long, but there are ways around this. Heating, air conditioning and Solaroof technology will all help your solid wood flooring.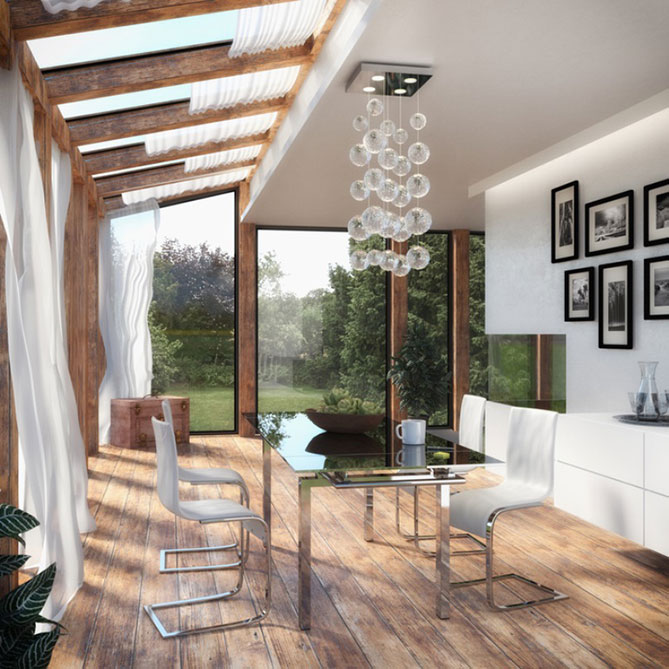 If the lure of a real wood effect is too much, you do have the option of engineered hardwood flooring. This has the same appearance but uses a sandwich construction technique to maximise strength and durability, making it much better suited to the conservatory environment. With the top layer still made of real hardwood, most people would struggle to tell the difference at first glance.
The decision is yours!
Your final decision will depend on a number of factors, like what you use your conservatory for, and whether you have pets that could bring mud inside. You'll also want something that fits in with the rest of the property's style, as well as your own preferences. On the whole though, all of the options above work well and as long as you prioritise quality and get your supplier's input before committing, you should be set for many years to come.