How do you make your house your home? Do you choose colours that reflect your personality or make things to furnish and accessories your home with i.e. bed covers, cushions curtains or blinds?
If you have decided to make windows dressings, fitting a blind to your kitchen windows can make the difference between the windows looking dressed or undressed and it can add to the overall ambiance and co-ordinated finishing touches of a room.
A blind can act as a focal point and add drama to a room. It will help keep the room warm during the Winter, add privacy to your home and stop people from peaking in through the uncovered window.
Blinds can vary in price from reasonably cheap to the hand made and very expensive.
If you want to save yourself a fortune and fancy having a go at making your own blind, then we would like to help you do that!
Blinds can be made from something as simple as your favourite tea towel, table cloth or favourite duvet cover.
If you have little or no experience of making a blind but want to have a go, here is a list of the items that you will and may need.
Depending on the style of blind you choose, you will need:
Good quality fabric, Velcro, cord/rope, ribbon, piping, eyelets, decorations, iron on hem tape, 1 x 2" wooden batten for the top of the blind (cut to the correct length), dowel/hanging rods/poles.
To help you make and install the blind you may need some, if not all of these items:-
Sewing machine,  dress makers chalk, ironing board, pressing cloth, glue, scissors, locking hook/wing, pins, needles, cotton, tape measure,  staple gun, drill, screws and screw driver.

We hope that the selection of tutorials that we have shared with you will dismiss the mystery of making your own blinds. What style of blind will you be making for your window?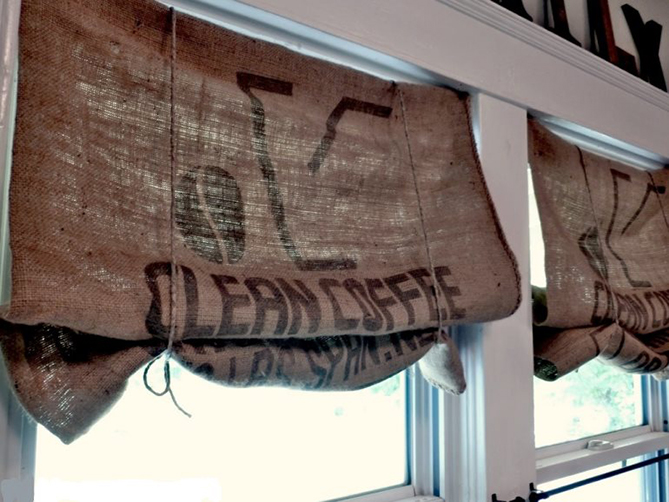 These blinds are made from old coffee bean sacks
Our Top Tips are:-
 

Measure the window - It is always best to measure a windows width and depth, rather than guess its size.  Will the blind fit inside or outside the window recess?
Select the material and backing that best suits your room and colours - ensuring that you buy enough to allow for the turnings.
Lay out the material on a flat surface and measure out the required size and mark with pins or dress makers chalk before cutting.
Cut the material to size - don't forget the old rhyme about "Measure twice and cut once".

 

Double check your measurements before cutting the material.

 

Once the material is cut, you can't put it back together if you make a mistake!
When it comes to hanging the blind at the window, remember that you need to be able to access the mechanism to raise and lower the blind at the window.  Always ensure that you allow enough cord/string or ribbon to secure the blind on the locking hook/wing in the open position.
If  this is your first time of making a blind, it can be a little confusing, so we thought we would help you by attaching three "How to Make" tutorials, which we found of great help and hope that you will do too.


Tutorial 1 - Roman blind
This blind is made by adapting the mechanism from a metal blind. If you have one and it fits your window, but you would like to give it a makeover; this demonstration will explain in pictures how to de-construct the old blind and re-construct the new blind. It looks really easy to make and uses the existing wall fixings.
Image and making information from allparenting.com
Tutorial 2 - Rolled-up blind
This blind needs no dowels, just ribbon to secure it at the height that you want.
Image and making information from Grasshoppersinteriors
Tutorial 3 - Tied Blind

This video we found very helpful and will show you how to measure, fit and install a tied blind.