How we fit your porch
Fitting a new porch in your home is a simple and straightforward process with Anglian, as we break down each and every step for our customers before any work begins. With knowledge of the process and timescales to hand, you'll know exactly what to expect when our team of experts arrive at your door.
Below, we provide an insight into exactly what will happen when you as a customer arrange for Anglian to fit a porch in your home.
Get in touch
Even if you're not entirely sure if a porch is the right choice for your home, you can still enjoy a free, no-obligation quote from Anglian. To get things started, you can either call us on 0800 500 600 or simply send your details over by filling in this form online.
Once we've received all the information we need from you, a member of the Anglian design team will arrange to visit your home at a time that's suitable for you.
We'll talk you through all your options during this meeting, guiding you through the many design choices available so you can create a porch that enhances your home's character. If you're not certain what porch style would suit your home best, this is a fantastic time to ask our experts for recommendations. We have six different roof designs, hundreds of colours for uPVC and aluminium windows and an impressive collection of doors on offer.
After you've selected your preferred style and chosen any decorative extras, our designer will take some measurements for your porch to provide you with a quote. This is provided at no cost to you, and there's no requirement to continue the process after this step. You can spend as long as you'd like deciding whether your Anglian porch is the right choice for your home, though your quote is only valid for six months.
Enjoy a visit from our detailed surveyor
If you've decided to add an Anglian porch to your home, a surveyor from the Anglian team will pay you a second visit. It's best to arrange this visit at a time when the area won't be in use so everything can run as smoothly as possible.
Our friendly surveyor will take measurements of the area and assess whether any special equipment will be required to install your porch. You can sit back and relax as this all takes place, and once the survey is complete, our surveyor will talk everything through with you to make sure you're completely happy. Minor alterations can still be made at this stage to ensure you're 100% satisfied with your porch.
What are the minimum foundations required for a porch?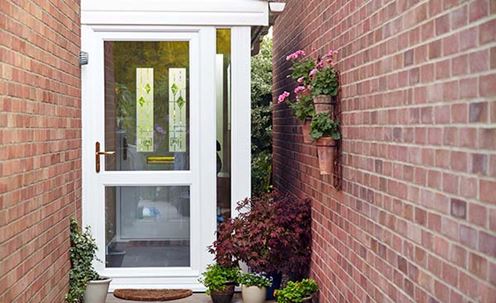 The construction of a porch base is very similar to that of an extension to your house. It is a general belief that because a porch is lighter than an extension the foundation does not have to be very deep. This is not necessarily correct.
Firstly, it is not possible to know precisely how deep the foundation will be until the ground is excavated and inspected for any 'made up areas' - this is where earth has been placed on existing ground. Therefore it will be necessary to excavate a trench through this layer into load bearing ground and by doing this you will ensure that the porch has a good foundation base.
Normally trench foundations are between 650 - 1000mm deep although there are other factors which determine the foundation depth such as tree roots, drains and any other below ground services that should be considered.
What is included in an Anglian Base? In a word, everything:
Removal of the existing hardstanding, the top soil and any vegetable matter.
Excavating of a trench to a depth where the ground will adequately support our structure.
Infill the excavated trench with mass concrete to provide a solid base for perimeter brickwork.
Construct a cosmetic brickwork facing to the correct base dimensions and to complement the existing property.
Can you install a porch onto my existing base?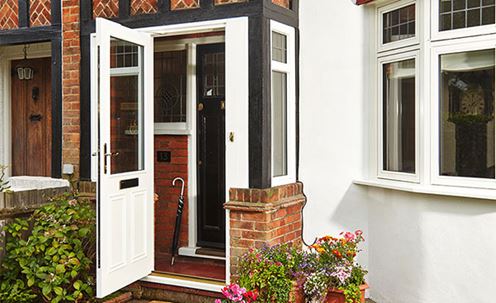 Yes, Anglian can install new wall frames onto an existing base as long as it is in good working order. We are, however, unable to adapt a base, i.e. reduce or extend an existing base.
Fitting your porch
The details and design for your porch will then be passed over to our experienced craftspeople, who produce the products needed. We'll keep you updated throughout this process, but the next time you'll see us will be when it's time to fit your porch.
Next, we'll inform you when your porch is ready for installation, and arrange a fitting date that's convenient for you. Prior to our team's arrival, we kindly ask our customers to clear the area and cover any furniture that cannot be moved. Don't worry, we'll play our part too – after installation we'll remove our belongings, recycle whatever we can and leave your home neat and tidy.
Our team will get on with what they do best – installing your new porch. Thorough checks will take place throughout the process and after we've finished to guarantee your porch is secure and weatherproof. We'll also explain how to take care of your porch, and provide details of our 10-year guarantee. 
What do we do when bricking up from ground level?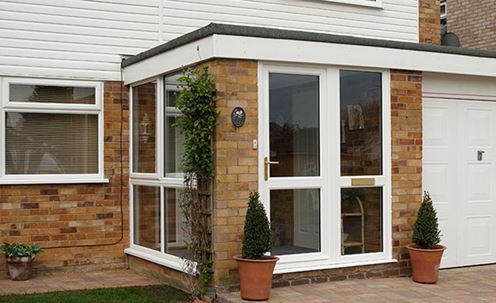 When we are asked to create an infill wall in the place of an existing opening, we would look to bond the new brickwork to the existing structure by toothing out every other course of the existing brick work. This creates a stronger and better looking result. In order to cost correctly for this, you need to include one additional brick length on each side of the existing opening in your area calculation.
Do you take care of any electrical work for my porch?
Yes, we can help with electrical sockets and switches for your porch. Please speak to your sales advisor to fully discuss your own requirements.
Will you remove and dispose of my existing porch?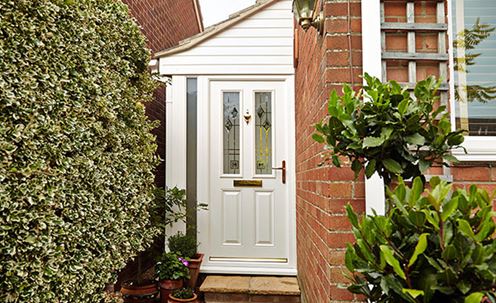 Yes, we are able to remove an existing porch and base should this be required, and then dispose of it for you, meaning less work for you to do.
Every porch and Anglian product is proud to bear the Made in Britain marque, a sign of fine craftsmanship and quality – you can learn more about what it means here. To view the styles of porches we provide take a look here, or head back to our guide homepage for more information.