Welcome to the Conservatories Clinic
Helping conservatory owners diagnose common problems with existing installations
How to keep my conservatory cool in the summer
In the summer, particularly during a heat wave, your conservatory may become very warm. However, there are steps you can take to reduce the temperature so you can keep on taking full advantage of your space.
Get a Breeze Going

When in doubt open a window. Most conservatories are fixed with wraparound windows and doors, so if your living space is on the hotter side, open what you can to create a through draught. You can even install a ceiling fan or air conditioning if you're really in need of extra airflow. Shading your conservatory doors with a garden umbrella can also help cool off the air filtering in.

Install Blinds

Blinds are a no-brainer addition to a conservatory that's too hot. Blinds can be used to create nice, cool areas of shade in your conservatory so you can still enjoy the warmer weather. They'll help block out the sun's rays and thus keep some of the heat at bay. We recommend using Norwich Sunblinds. Solar film can also be fitted to windows to block out heat and UV rays although it does tint the windows slightly.

Solaroofs

Solaroofs are our answer to too-warm conservatories – it's a revolutionary roof system that actually helps mediate the sun's rays with an ultra-thin film fixed to the glass. Install one at the same time as your conservatory and reduce the sun's heat by 75%. It'll keep you cool and help protect your furniture fabric from fading too.

Reduce energy bills

Replacing your French doors could improve the thermal insulation and the energy- efficiency of your home. Enjoy reduced heating bills during the colder months when you invest in new French doors and new windows.

Choose the right décor

There are certain fabrics and décor elements you'll want to avoid in a warm conservatory – like black fabrics, for example, as they'll attract the sun. We're prone to stickiness around warm leather surfaces, too. Instead, you'll want to opt for neutral colours, bamboo fittings and cotton textures, as these will help create a cooler atmosphere.
If you have any additional questions or would like more information, speak to a member of our team today.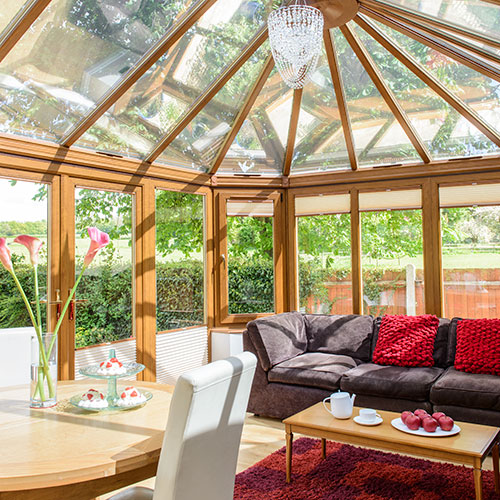 Curtains and blinds guide
We all love a hot summer, after all, we're not exactly used to it in Britain. Though hotter summers can be stifling in homes not built for it, leaving us reaching for solutions to bring the temperature down. And with the heatwaves of the past few years set to become more common, keeping your home cool is increasingly important for us.
Unless you've got air conditioning, curtains are often a first thought to regulate temperature in the home, being cheaper than most home improvements. They're decorative, they block draughts, but more importantly they block the heat of the sun too.
Curtains
Curtains come in many shapes and sizes but more often they fit the window opening, cover the window entirely or sometimes extend to the floor for maximum protection from draughts and sunlight. They are an effective option, tailored to whatever you need them to do, but they don't always come cheap due to being bespoke and material costs. While you can buy off-the-shelf curtains for less, they aren't always as effective at blocking out heat and sunlight as made-to-measure curtains.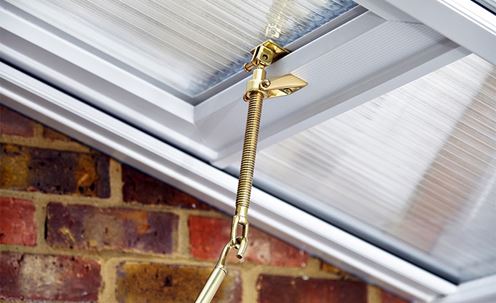 Roman Blinds
Roman Blind are increasingly popular, offering great protection from the sun without blocking it out entirely. Despite being made-to-measure they're quite inexpensive compared to curtains because they use less material while still doing their job. Unlike curtains you raise and lower them in sections, choosing how much light to let in from the bottom up, making them practical too.
Black-out fabric
Black out fabric is fantastic for keeping the brightest of bright days out of your room and blocks out all light. Even the heat of the day finds it hard to break through, helping keep your room cool too. For either Roman Blinds or curtains it is a good choice, but black-out lining does cost a little more than regular lining.