Inspiration Area
Kitchen Windows
Blinds for Kitchen Windows
Many people opt to use blinds in their kitchen because they're practical, easy to maintain and come in a range of styles, patterns and colours to fit any kitchen décor. They also allow you to let as much or as little light in as you'd like, are neat and tidy, and can be a real focal point in your kitchen.
---
What types of blinds are there?
So, you've decided on a kitchen blind – now you've got to decide on what type to use. Luckily there are a number of different blinds available that are suitable for kitchen use.
Roller blinds
A popular choice for kitchen windows, roller blinds are attached to a single roller and are pulled up and down by a cord. They can be customised in the print of your choice, and can even feature different prints on either side, which means you can mix and match if you can't decide on just one.
What's more is, roller blinds have a protective coating that makes them ideal for kitchens, as any mess or spill can be easily wiped clean.
Roman blinds
Roman blinds are great for creating a feature of your kitchen window, as well as a traditional country kitchen feel.
A huge draw of Roman blinds is their ability to show a large amount of pattern even when raised. They can even be easily customised with the fabric of your choice.
Venetian blinds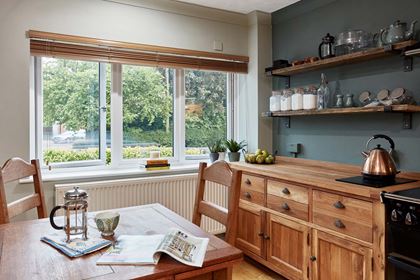 A practical and popular option for kitchens, Venetian blinds consist of horizontal slats made from wood or metal. 
Venetian blinds are widely used in kitchens because they're so easy to maintain. They're odour resistant, and when hit by mess, spills or moisture, they're simple to clean. Even better, you can easily control the amount of light they let in, making them perfect for sunny mornings spent in your kitchen!
---
If you're still unsure as to whether blinds or curtains would be the best fit for your kitchen, take a look at our guide on choosing between the two.