Inspiration Area
Bathroom Windows
Blinds for Bathroom Windows
Blinds are a perfect option for bathrooms - modern, stylish and practical, giving you the privacy and light for a bright living space.
When it comes to choosing a blind for your bathroom window, choose blinds that are water resistant. Moist, humid conditions in bathrooms can cause water damage in real wood blinds, Roman blinds and heavy fabrics.
But if you're looking for a bathroom window blind, don't worry. This guide will help you choose the perfect blind for your bathroom.
---
Venetian blinds
Venetian blinds are a simple and attractive look for bathrooms. They are made of aluminium or plastic - durable materials that won't damage or erode in wet bathroom conditions. Venetian blinds are a compact style fitting neatly within the window frame, easily adjustable to let light into the room. Venetian blinds contribute towards a light, modern and minimal look for your bathroom. Choose white for a clean and fresh look or a boldly-coloured aluminium blind to add a pop of colour to your bathroom and make the window a real focal point.
---
Roller blinds
A popular choice for bathrooms are roller blinds. They are simply attached to a single roller, operated by a cord. Roller blinds are easily customised in a variety of prints, colours and fabrics that work in your bathroom. PVC or waterproof fabrics are best, as they don't absorb moisture and last longer than other traditional materials in a humid environment. The beauty of roller blinds is that you can choose two different patterns for the front and back of the blind, so you can create a real feature of your window.
---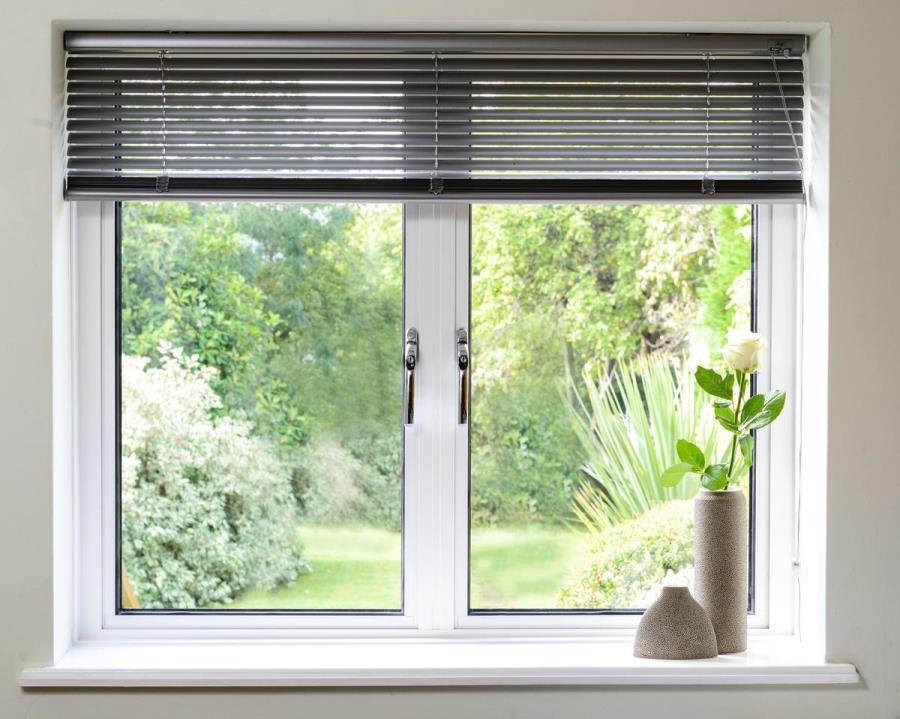 ---
Wooden blinds
Wood effect blinds blend seamlessly with minimal and neutral earthy colours. The beauty of wood effect is that aesthetically it looks and feels like real wood, but is much more resilient in wet conditions. Wooden blinds can be easily adjusted to allow light to shine in or shut light out for extra privacy.
---
Blackout blinds
Blackout blinds are ideal for bathroom windows overlooking a street or close neighbours. They are heavily lined so block out light and trap heat - making them warm in winter and cool in summer. They eliminate noise too, so are the perfect option if you like to enjoy a peaceful evening bath or shower. Plus, they're available in a range of colours and patterns, many blinds come with a waterproof PVC coating too.
---
Browse our range of windows here to make sure your new blinds fit perfectly.