Welcome to the Conservatories FAQ & Resources Section
Let us answer all your questions around designing and building your dream conservatory
Conservatory Costs and Why You Can't Get A Price Online
The question everyone wants to know the answer to, but always struggle to find online. We explain why it isn't as simple as putting in your ideals and getting a price for your conservatory. There are lots of variables that will affect the cost of your conservatory, but all will become clear by the end of this section.
If you still have any additional questions after you've had a read, or would like more information, speak to a member of our team today.
Does a conservatory add value to your house? Are they still popular?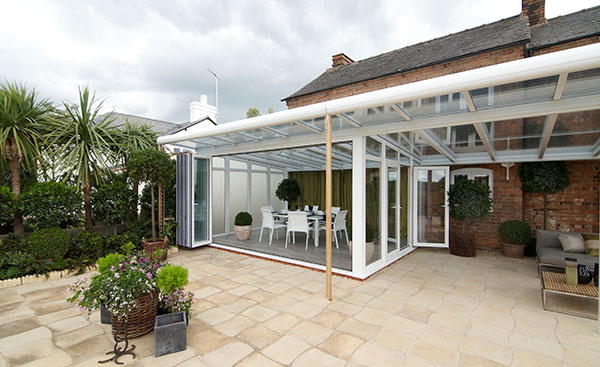 Yes, a conservatory can add value. How much depends on a number of factors, but they can improve the value of your home by around 7% and can even help if you're struggling to sell your home.

Some research suggests that, more often than not, you'll make at least 100% of the building costs back by the time you come to sell.

Are they still popular? Absolutely! During the uncertain housing market of the mid-to-late 2000s, more and more people used conservatories as a way of improving their property rather than moving, and the demand has grown ever since. Now there's even the choice of building a solid-roofed conservatory, making another appealing option.

Facts

Over 95,000 Anglian conservatories have been installed across the UK
There are just under 60,000 installations still under guarantee, worth just over £725 million
Around 50 conservatories are installed by Anglian every week
Is it possible to build a conservatory on a budget?
Yes! We supply many different shapes and sizes of conservatories to suit almost any budget. Whether you want something extravagant and spectacular or more modest and cosy, we can help. Speak to us about your personal requirements, including budget, and we'll work out what's best for you and your home. Conservatories have become more and more affordable over the years, so don't automatically assume you can't afford one.

Our knowledgeable design consultants are able to design a conservatory that is as close to your dream as possible. If your dream is a little out of reach, the consultant can discuss other tweaks to reduce the costs or explain our finance options. It's a free no obligation quote so you have nothing to lose by talking your perfect conservatory design through with an expert.
How much do conservatories cost?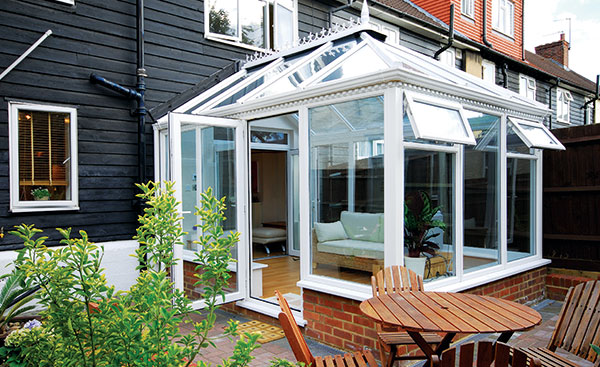 Conservatory costs vary, as they depend on a wide range of factors. Each component, as well as the complexity of the build, will affect the overall price. A simple, classic design is relatively low-cost compared with a grand, personalised conservatory with an unusual shape, decorative glass and large bi-fold doors. Your choice of a polycarbonate, glass or solid roof will also affect the price.

If you select Anglian, you'll be buying from the only company with a BBA accreditation for the whole build, which means your conservatory has gone through vigorous testing for air-permeability, water-tightness, impact-resistance, racking and the effect of wind and snow loads.

Because our conservatories are totally bespoke, Anglian can construct a high-quality living space for almost any budget. All our products are made here in the UK and proudly carry the "Made in Britain" marque. You can rest assured that you're spending your hard-earned money on a bespoke conservatory made by a company backed by numerous independent associations.
Why can't I get a price online?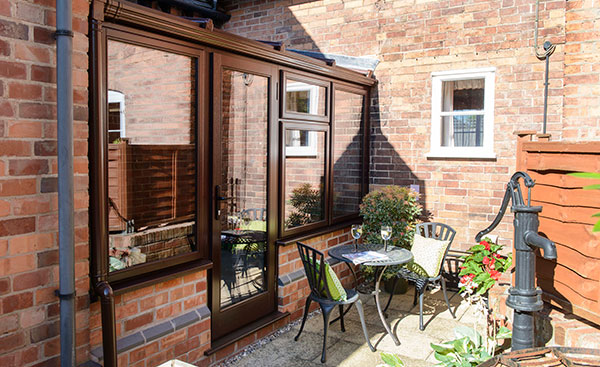 The reason a quote is required is because every conservatory and every house is different. There is no one-size fits all option and so one of our experienced design consultants will need to come and assess your property to work out what's best for you and your house.

Using intelligent new technology we can show you exactly what your new conservatory will look like. The consultant can edit and tweak every feature, helping you create the most perfect conservatory for your home. The consultant will take you through all of the features and benefits and with their vast knowledge, they'll help you pick out a design that is ideal for your property type, be it a terrace house, semi-detached, bungalow or whichever type of house you live in.

We take into account your personal wants and needs as well as your budget and provide you with a competitive no obligation free quote we're sure you'll be happy with.